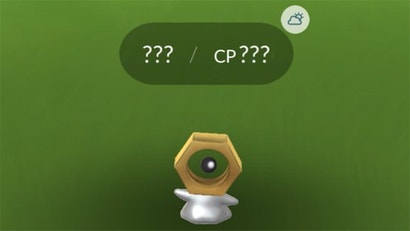 Image:
Kento Suga
A new creature has appeared in Pokemon GO, and no one seems quite sure what it is or what it is doing.
Yesterday, IGN reported that a data miner had pulled a potential new pokemon from the files of Pokemon GO. As of this morning, Eurogamer and IGN have both reported that the regional Chikorita Community Day events in both the Asia Pacific region and the European region ended with players being flooded with a mysterious new creature that could not be caught.
It has no name. It looks like the ghost emoji with an industrial nut for a head. When players capture it, it turns into Ditto, a pokemon that is famous for morphing into other pokemon. As an extensive thread on the Pokemon GO Reddit shows, people are both amazed and frustrated that they cannot catch this weird little creature.
???#ポケモンGO pic.twitter.com/LFLtB12qJH

— Kento Suga(須賀健人) (@kentosuga) September 22, 2018
Kento Suga, the Global Marketing Lead for Pokémon Go, simply tweeted a single image of the pokemon with "???" as the text. Clearly there is something official (and fishy) going on with this thing.
Sadly, it seems that all we know about this pokemon currently is that we don't know anything.