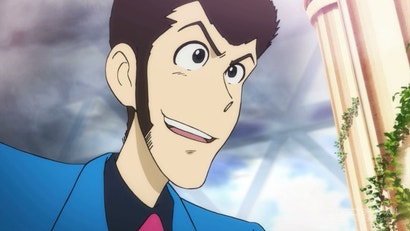 Screenshot:
Nico Video
In the latest Lupin The Third Part 5 episode, there are multiple references to the 1979 film Lupin the Third: The Castle of Cagliostro.
Warning: Spoilers below!
At the end of the episode, Lupin hides out at the castle, which has been turned into a tourist site. If you've seen that Hayao Miyazaki classic, you'll get a kick out of how the show revisits Cagliostro.
ルパン三世 part5 最新話
前から過去の作品出してくるな〜とは思ってたけど、まさか23話での隠れ家がカリオストロとは(☝︎ ՞ਊ ՞)☝︎
上がったわ〜(☝︎ ՞ਊ ՞)☝︎
とんでも展開はともかく、いちいちかっこいい…
最終回楽しみ!#ルパン三世#カリオストロの城 pic.twitter.com/EEmFB0y0VE

— 忍@名古屋仙台ファンミ (@777_godfreeze) September 11, 2018
ルパン三世 PART5 #23「その時、古くからの相棒が言った」 https://t.co/pub9GIKnBN  パート5は今までのルパンシリーズの集大成だな…面白いwあそこが出てくるとか…次回はあのロボ出るか?w pic.twitter.com/VeNsR2PjtU

— ゼファルド@ラルさん (@Zefarudo) September 13, 2018
カリオストロの城 #る#ルパン三世 pic.twitter.com/6kmEfJhGVS

— くーちゃん (@haruboo5) September 12, 2018
Here is a side by side comparison:
A Cagliostro ????❤️#ルパン5 #Lupin5 pic.twitter.com/ekxyBJ0bvx

— Veronica (@veronicafujiko) September 11, 2018
You can watch the full episode on Nico Nico or Crunchyroll.