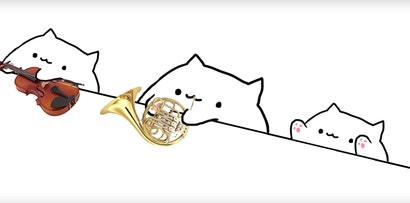 Screenshot:
Hoot Hoot
Want respite from a hectic, stressful world? Here, have some Bongo Cat.
Bongo Cat was originally created by artist Stray Rogue, and wasn't originally called Bongo Cat or even playing the bongos. Stray Rogue had been drawing a cat-like blob called Rogu for some time. In May, they drew Rogu smacking a counter with their cute paws.
smack smack pic.twitter.com/uDGoLbP4JC

— CarnageRogue (@StrayRogue) May 6, 2018
Content creator DitzyFlama edited the image to make it look like Rogu was hitting some bongos instead, which they put on YouTube in early September.
Bongo Cat, now a separate entity from Rogu, took off among animators, artists, and people who know their way around video editing software. People have started animating Bongo Cat playing more and more elaborate songs. This cat has played everything from "In The Hall Of The Mountain King" to your favourite JoJo's Bizarre Adventure opening theme. Here's a small sampling:
Welcome to the Cat Parade pic.twitter.com/8rW8UKgSTE

— Tim Young (@shindags) September 14, 2018
Bongo Cat Country#BongoCat pic.twitter.com/cwb89OkBC2

— Lumpy (@LumpyTouch) September 23, 2018
Yeah, sure! I'll meme!#bowsette #BongoCat #クッパ姫 pic.twitter.com/Iw0pm4zHpc

— ⚡️Krisoyo⚡️ (@Krisoyo) September 23, 2018
when you need to work on your own content but end up making a #Bongocat pic.twitter.com/Mtzn9uU3nd

— cheetah (@chee_taah) September 18, 2018
It's time to d-d-d-d-bongo cat#BongoCat pic.twitter.com/E9rnbk2MKx

— αdri ???? (@TheOpusag) September 20, 2018
I hope this meme isn't dead yet.#Splatoon2 #Bongocat pic.twitter.com/ikuxLi9B3F

— Muse of Dragons (@dragoon_muse) September 22, 2018
Took a crack at #BongoCat and took me a while since I haven't edited in a while pic.twitter.com/Qemp38pExT

— Bryce (@Brooce_) September 15, 2018
thanks so much for all the support on the last tweet, you guys are the best, as promised here's the full video #BongoCat pic.twitter.com/mdu8SObmWh

— moist (@moistdx) September 19, 2018
My contribution to #BongoCat pic.twitter.com/1LnJyYUpXN

— Kirb (@SKirbGame) September 16, 2018
Bongo Cat has even played the greatest song of all time, "Rasputin" by Boney M.
Because the character has become such a runaway success, Stray Rogue has started selling Bongo Cat merch.
25% of all the proceeds go towards Meow Cat Rescue House, an animal shelter in Washington state. Sadly, these t-shirts, mugs and mousepads don't play your favourite song, but they will help kittens in need.