There's a lot to do in Marvel's Spider-Man. Fight crime! Take pictures of famous landmarks (and yourself, doing cool things)! Unwittingly aid a surveillance state!
But on top of all those, you can also unlock a ton of suits from across Spidey's history. Some are from movies, some are new to the game, but most have comic book roots, and we have put together a video and a post to explain them all to you.

There are no major story spoilers for Spider-Man here, but if you don't want to see most of the suits unlockable in the game — everything save the classic costume; the game's new, white-spider-clad "Advanced" suit (as well as some other game-specific outfits); and the three movie costumes from Spider-Man: Homecoming and Avengers: Infinity War — now's your chance to flee.
---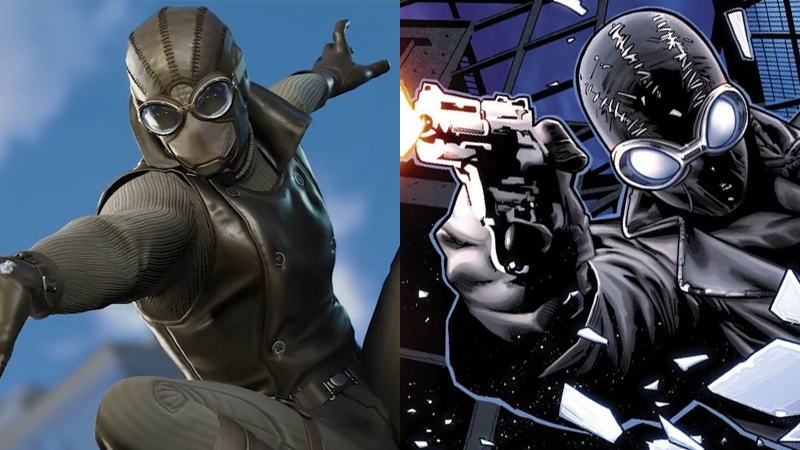 The Noir suit in-game, and on the cover of
Edge of Spider-Verse
#1. (Image: Sony/Insomniac Games, Image: Greg Land, Marvel Comics)
Spider-Man Noir
The Peter Parker of Earth-90214, this Spider-Man — from an alternate 1930s where he fought corruption at the height of the Great Depression — first appeared in Marvel Comics in 2009. He's gone on to star not just in his own miniseries, but also have crossover roles in everything from the Spider-Verse event to the upcoming movie Spider-Man: Into the Spider-Verse, where he'll be voiced by none other than Nicolas Cage.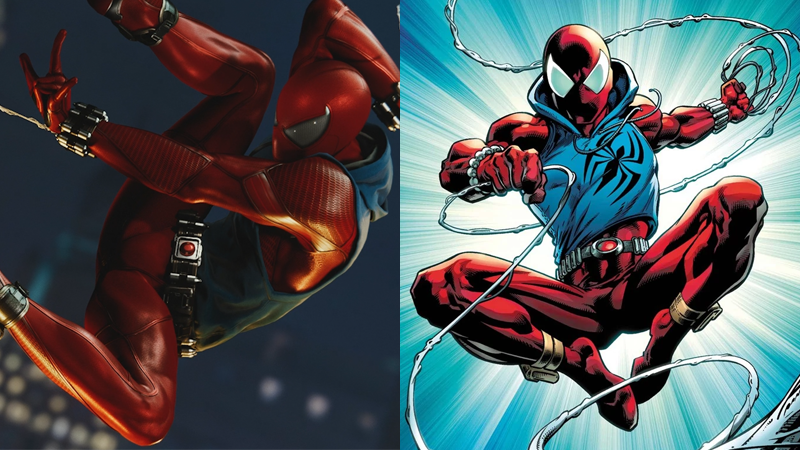 Scarlet Spider in-game, and on the cover of
Scarlet Spider
#3. (Image: Sony/Insomniac Games, Image: Mark Bagley, Andrew Hennessy and Jason Keith, Marvel Comics)
Scarlet Spider
Spider-Man in the '90s is defined by two words: "Clone" and "Saga". This hooded get-up was the original costume of Ben Reilly, the Peter Parker clone led to believe he was actually the real one in an attempt to get Peter to give up the Spider-Mantle. Before Ben took on the role of Spider-Man himself for a bit, he swung into action as the Scarlet Spider, using this ensemble.
He recently made a return to the comics after dying during the Clone Saga's climax, where he had a new costume that was so bad, he was given this old one back a couple of issues into his own series.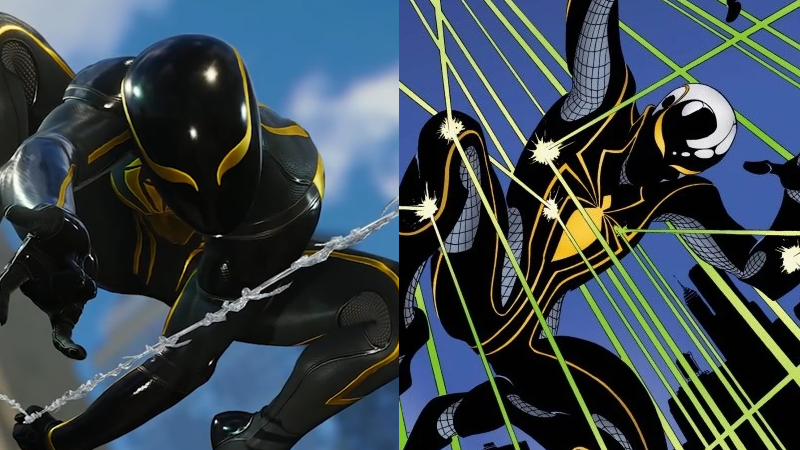 The Mk II in-game, and on the cover of
Amazing Spider-Man
#656. (Image: Sony/Insomniac Games, Image: Danny Miki, Marvel Comics)
Spider Armour Mk II
Created in 2011 as a spiritual successor to the very medieval-looking original Spider Armour, this suit was designed to offer Peter protection from gunfire.
Why this specifically, and why hadn't he thought of that literally decades before? Well, the reason this time was that Peter had temporarily lost his Spider-Sense, which let him just dodge gunfire when he needed to. Without that… well, you need something to stop bullets. And look a bit Tron, I guess.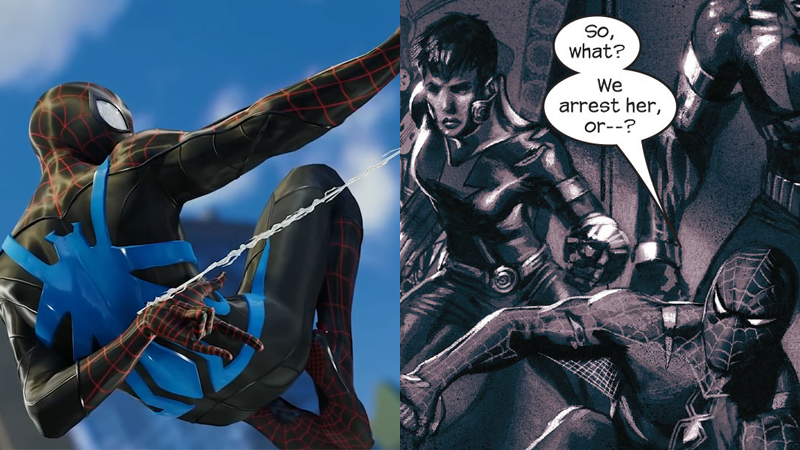 The Secret War Suit in-game, and in the pages of
Secret War
#5. (Image: Sony/Insomniac Games, Image: Gabriele Dell'Otto, Marvel Comics)
'Secret War' Suit
Not to be confused with another more famous black Spidey suit from a storyline called Secret Wars, this rather gauche outfit actually first appeared in 2004. Peter wore it as part of a covert operation alongside several other heroes, lead by Nick Fury, to infiltrate the country of Latveria and overthrow its then prime minister, Lucia Von Bardas.
It didn't exactly go to plan — Fury brainwashed the heroes into helping him, and it lead to a devastating reprisal attack on New York City — and Peter hasn't used it since.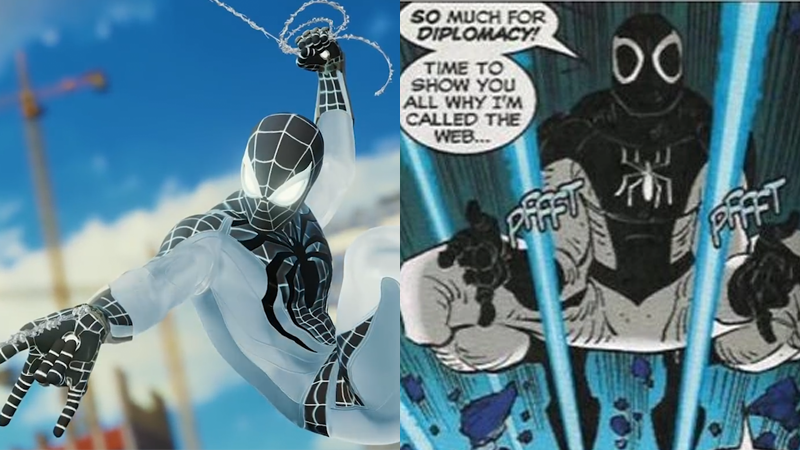 The Negative Suit in game, and in
Spider-Man
#90. (Image: Sony/Insomniac Games, Image: John Romita Jr, Scott Hanna, Gregory Wright and Kiff Scholl, Marvel Comics)
Negative Suit
Although Mister Negative plays a huge part in the game, this suit doesn't actually have anything to do with him. In the comics, it's actually Peter's usual costume, changed into its otherworldly colour scheme by a trip to the Negative Zone.
Later on, when Spider-Man was accused of murder in the "Identity Crisis" storyline and he tried out several new hero monikers, Peter adopted the suit into a persona he named "Dusk".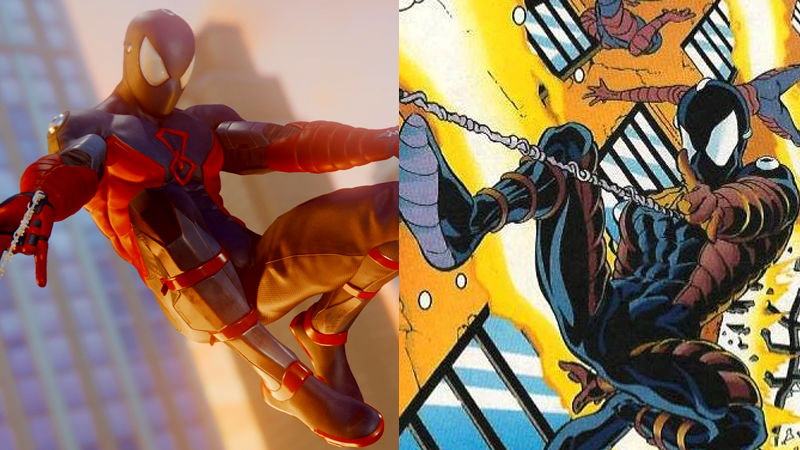 The Electrically Insulated Suit in-game, and as the Electro-proof suit in
Amazing Spider-Man
#425. (Image: Sony/Insomniac Games, Image: Steve Skroce, Bud LaRosa and Bob Sharen, Marvel Comics)
Electrically Insulated Suit
As you might be able to guess, this suit — more bluntly named the Electro-Proof Suit in the comics — was designed to insulate Peter from the shocking attacks of one of his oldest nemeses in the comics, Electro. Don't ask why it took him nearly 30 years to come up with a specific costume for this, but Peter's since integrated insulation into his normal suit for future electrifying scenarios.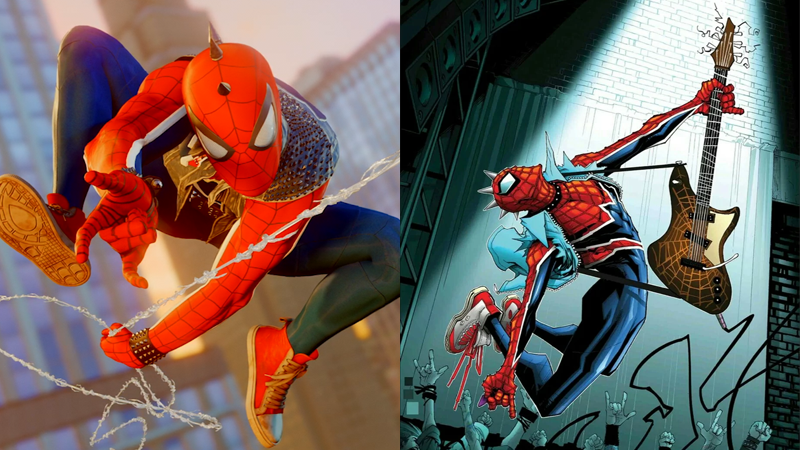 Spider-Punk rocking out in-game, and on the cover of
Edge of Spider-Geddon
#1. (Image: Sony/Insomniac Games, Image: Gerardo Sandoval, Marvel Comics)
Spider-Punk
While in the main Marvel Universe Hobie Brown is better known as the vigilante called the Prowler, in this alternate reality (introduced as part of the massive crossover event Spider-Verse) he was actually the Spider-Punk, a rockin' bandleader who also spearheaded the resistance against his reality's dystopian president, Norman Osborn.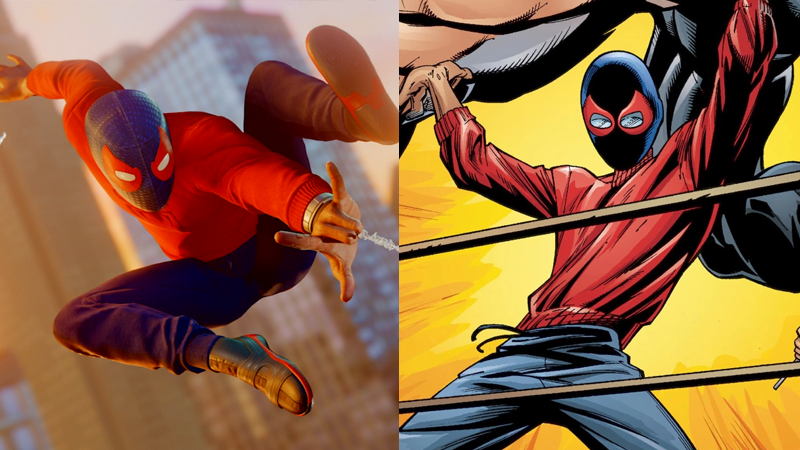 Peter's wrestling gear in-game, and in
Ultimate Spider-Man
#3. (Image: Sony/Insomniac Games,Image: Mark Bagley, Art Thibert, Marie Javins, and Colorgraphix, Marvel Comics)
Wrestler Suit
In multiple versions of Peter's origins, after getting his Spider powers he briefly uses them to become a masked wrestler, making money before the fateful encounter with the robber that goes on to kill his Uncle Ben — yadda yadda great power, yadda yadda great responsibility. This specific suit is the one he wears in the Ultimate Marvel Universe during that process.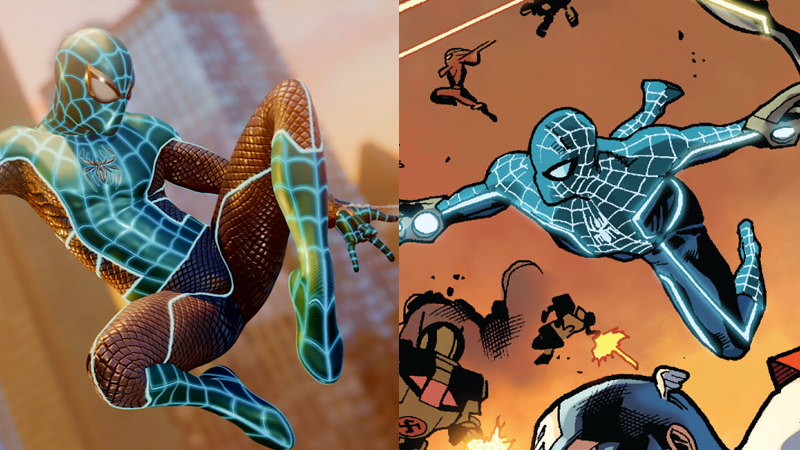 The Fear Itself suit in-game, and in the pages of
Fear Itself
#7. (Image: Sony/Insomniac Games, Image: Stuart Immonen, Wade von Grawbadger, Dexter Vines, Laura Martin, Justin Ponsor and Matt Milla, Marvel Comics)
'Fear Itself' Suit
This suit is from the 2010 event that saw Cul Borson — an Asgardian who acted as the God of Fear — invade Earth and infect the populace with overwhelming fears. Tony Stark worked with the uru-metal-forging dwarves of Nidavellir to craft new suits for multiple heroes to fight back with, including Peter. The gauntlets on each wrist hid blades Peter could use as melee weapons. Talk about overkill!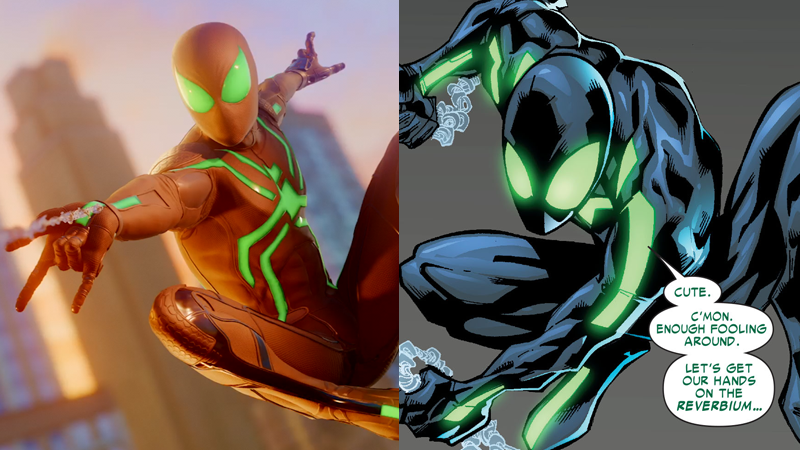 The stealth suit in-game, and in
Amazing Spider-Man
#651. (Image: Sony/Insomniac Games, Image: Humberto Ramos, Carlos Cuevas, Joseph Damon, Edgar Delgado and Joe Caramagna, Marvel Comics)
'Big Time' Stealth Suit
Worn during the storyline of the same name, this stealth suit was first made by Peter to combat the latest incarnation of the Hobgoblin. It could manipulate light to render itself invisible.
The suit in the comics actually had two modes, based on the colour of the spider-light on the chest: Green, like in the game, was the invisibility mode, while red activated a sonic-cancelling mode that could render the Hobgoblin's attacks useless.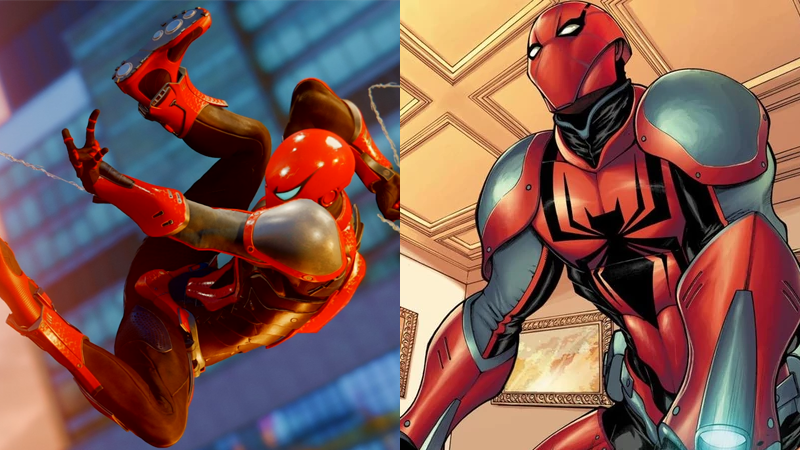 The Mk III in-game and in
Amazing Spider-Man
#682. (Image: Sony/Insomniac Games, Image: Stefano Caselli and Frank Martin Jr, Marvel Comics)
Spider Armour Mk III
Yes, more Spider Armour! This heavy-duty suit was created by Horizon Labs a year after the introduction of the MK II. It was designed as a last-ditch resort to use against the Sinister Six and packed with tech specifically designed to combat each member of the infamous villain team.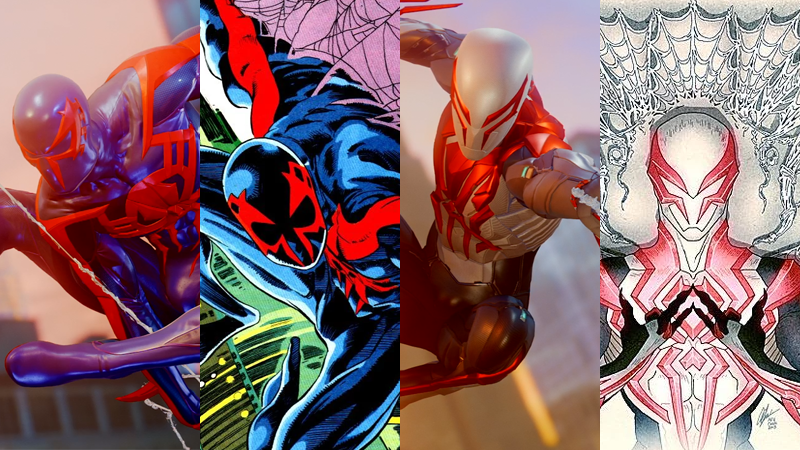 Both the standard and white 2099 suits, and their comics counterparts in
Spider-Man 2099
#3 and
Spider-Man 2099
#1. (Image: Sony/Insomniac Games,Image: Rick Leonardi, Al Williamson and Noelle Giddings, Marvel Comics, Image: Afu Chan, Marvel Comics)
Spider-Man 2099 Black and White Suits
Miguel O'Hara, the Spider-Man of a futuristic alternate earth, gets two suits in Spider-Man. The first is his classic suit, albeit sans the under-arm wings Miguel uses to glide around.
The second, white variant was introduced in Marvel's "All-New, All-Different" roster reboot, and was actually designed by the Peter Parker of the present main timeline for another alternate version of Miguel, who found himself briefly flung back into the present day.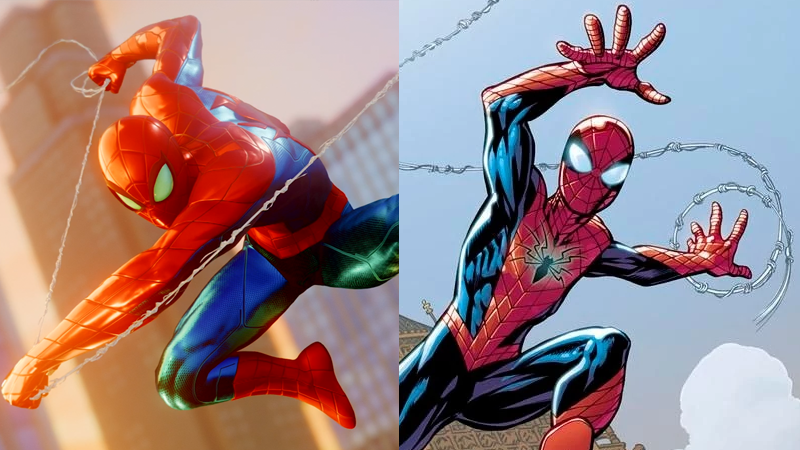 The Mk IV in game and on the cover of
Amazing Spider-Man
#1. (Image: Sony/Insomniac Games, Image: Mark Bagley, Marvel Comics)
Spider Armour Mk IV
So. Many. Spider Armours. This is the latest, and most svelte of all the Spider Armour designs, and was Peter's primary costume in the "All-New, All-Different" range of comics.
Developed by Peter's tech company Parker Industries, this suit was made of liquid nanotechnology that provided all the protection (and more) of Peter's previous Spider Armours while keeping him agile. On top of that, it was packed with a ton of tech Peter could deploy, from sonic blasters to spider-drones. Fancy!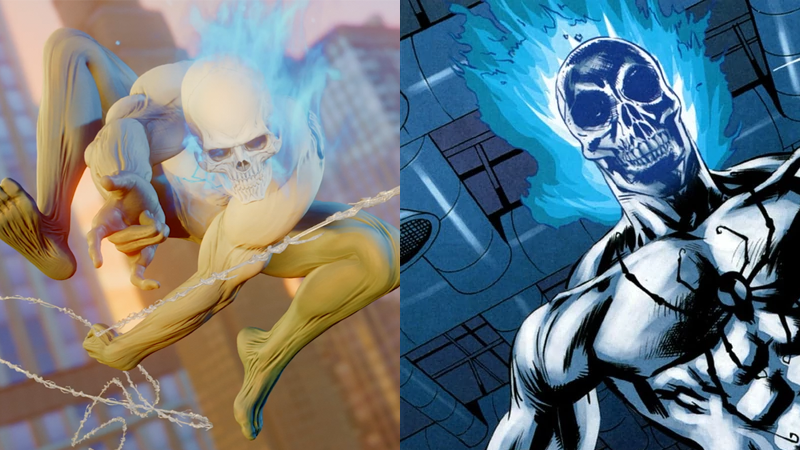 The Spirit Spider in-game, and the Ghost Spider in
Incredible Hulk Annual
#1. (Image: Sony/Insomniac Games, Image: Al Barrionuevo, Mark Pennington and Fabio D'Auria, Marvel Comics)
Spirit Spider
Known as the Ghost Spider in the comics (for reasons that will become very clear shortly), this is the costume of a Peter Parker from Earth-11638, where Uncle Ben never died and actually helped Peter become the costumed hero known as the Amazing Spider. Sadly, this Peter eventually went a little bad, and started hunting down Spider-People from other realities to absorb their powers.
After being killed during the attempt to absorb the abilities of the main reality Peter, he was resurrected by the Doctor Strange of his reality (who was, err, actually Bruce Banner, AKA the Hulk!) and fused with the spirit of vengeance, earning a second chance at life.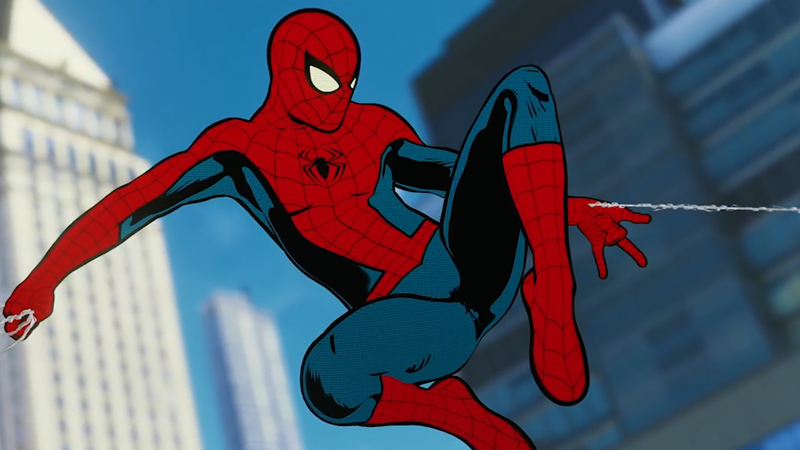 The Vintage Suit, in all its magical, cel-shaded glory. (Image: Sony/Insomniac Games)
Vintage Suit
This suit isn't actually tied to any specific costume in the comics, but is instead inspired by the classic shading and inking techniques Steve Ditko and other artists used to bring Spider-Man to life in his earliest comic appearances.
It doesn't have the under-arm wings Spidey's suit first had, but it does have an extra surprise "ability" in the game: It looks super cool against the photorealistic background of New York.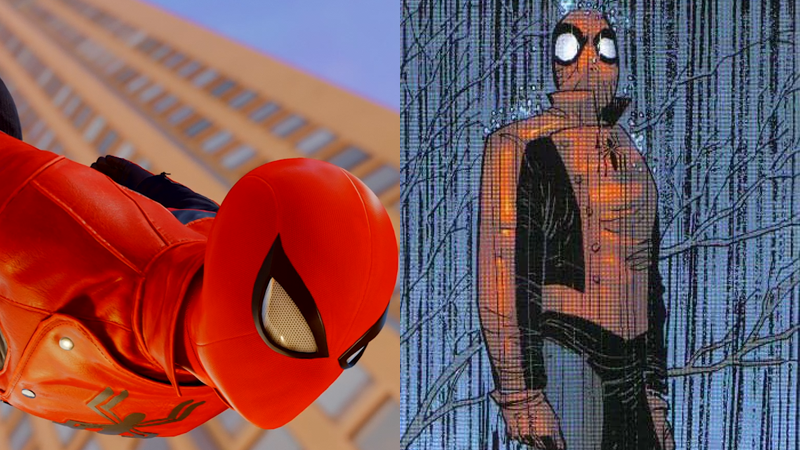 Last Stand Spider-Man in-game, and in
Amazing Spider-Man #58.
(Image: Sony/Insomniac Games, Image: John Romita Jr, Scott Hanna and Dan Kemp, Marvel Comics)
'Last Stand' Suit
This snazzy Spider-Jacket is the costume worn by an older Peter Parker in a potential future, where Peter is on the run after murdering Kraven the Hunter and Doc Ock and being expelled from the Avengers. If that wasn't depressing enough, this Peter goes out in a blaze of grim glory fighting the NYPD in front of Aunt May and Uncle Ben's graves. Jesus.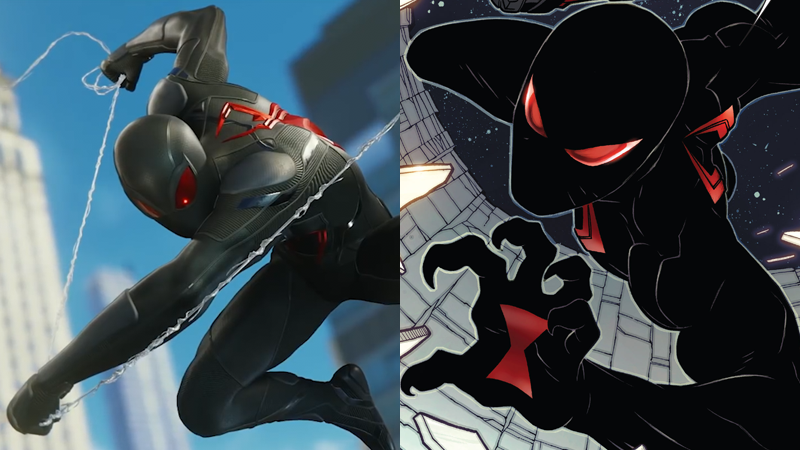 The Dark Suit in-game, and as seen in
Spider-Man/Deadpool
#8. (Image: Sony/Insomniac Games,Image: Ed McGuinness, Mark Morales, John Livesay, and Jason Keith, Marvel Comics)
Dark Suit
This suit is unlocked by completing every one of the 12 Black Cat stakeout activities left behind by Felicia Hardy, who'll play a bigger role in the upcoming DLC for Spider-Man.
But it actually doesn't have any connections to Felicia in the comics — it's a stealth suit that first appeared in Spider-Man/Deadpool, donned by Spider-Man to confront Deadpool after the mercenary was hired to (and successfully does) assassinate Peter Parker… though, unbeknown to him, Spider-Man and Spider-Man's "employer" at the time were one and the same. Womp womp. Peter hasn't actually worn it since.
---
Thanks to Warbly Jets for letting us use their song as featured in Marvel's Spider-Man, "Alive"!