A Spider-Man fan who asked to have a marriage proposal put into the new Spider-Man video game got his wish, but things fell apart for the couple and it may now be removed from the game.
Back in May 2018, Tyler Schultz sent a tweet to Insomniac Games, the studio behind Marvel's Spider-Man, with a request. He wanted to propose to his girlfriend in the video game.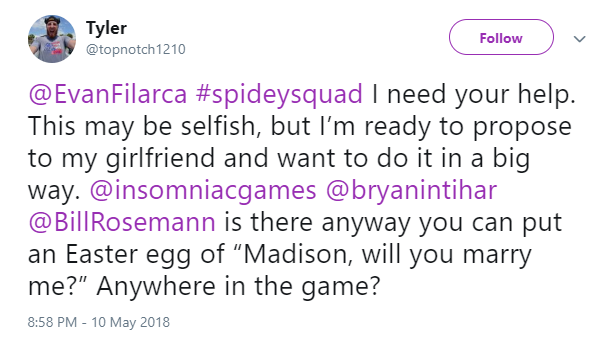 Twitter" loading="lazy" > Image:
Twitter
After a short back and forth, Insomniac Games's Twitter account went for it. As the account tweeted, "Well OK then, who are we to say no to love?" And, indeed, it does seem like Spider-Man would be the exact superhero to help make this kind of thing happen.
The game released last week, and the Easter egg of "Maddie, will you marry me?" is in the game on a theatre marquee. However, there's a problem: Schultz and his girlfriend broke up before the game's release, both have told Kotaku.
In a video uploaded to YouTube yesterday, a sleep-deprived Schultz says that he and Madison, who the proposal was directed to, broke up several weeks ago. To use his exact words, she dumped him "to go with [his] brother."
[Update – September 12, 1:20PM: The idea that she left him for his brother is actually in dispute. In a message to Kotaku, Maddie said the new relationship with his brother began after the break-up, but that this relationship was a friendship and the two weren't dating.]
In a Facebook direct message, Schultz told Kotaku that the idea to ask Insomniac for the in-game message was derived from an idea his now-ex-girlfriend had: To do a proposal at a large convention.
"I sat with it and wanted to one up it, be able to have tons of people see it. The idea then came to me to have it imbeded [sic] in a video game, one of the biggest video games."
To hear Schultz tell it, the people at Insomniac couldn't have been nicer about the whole process. "I presented the idea of what I wanted and we shared quite a few themes from there. It was really cool and the guy was really nice."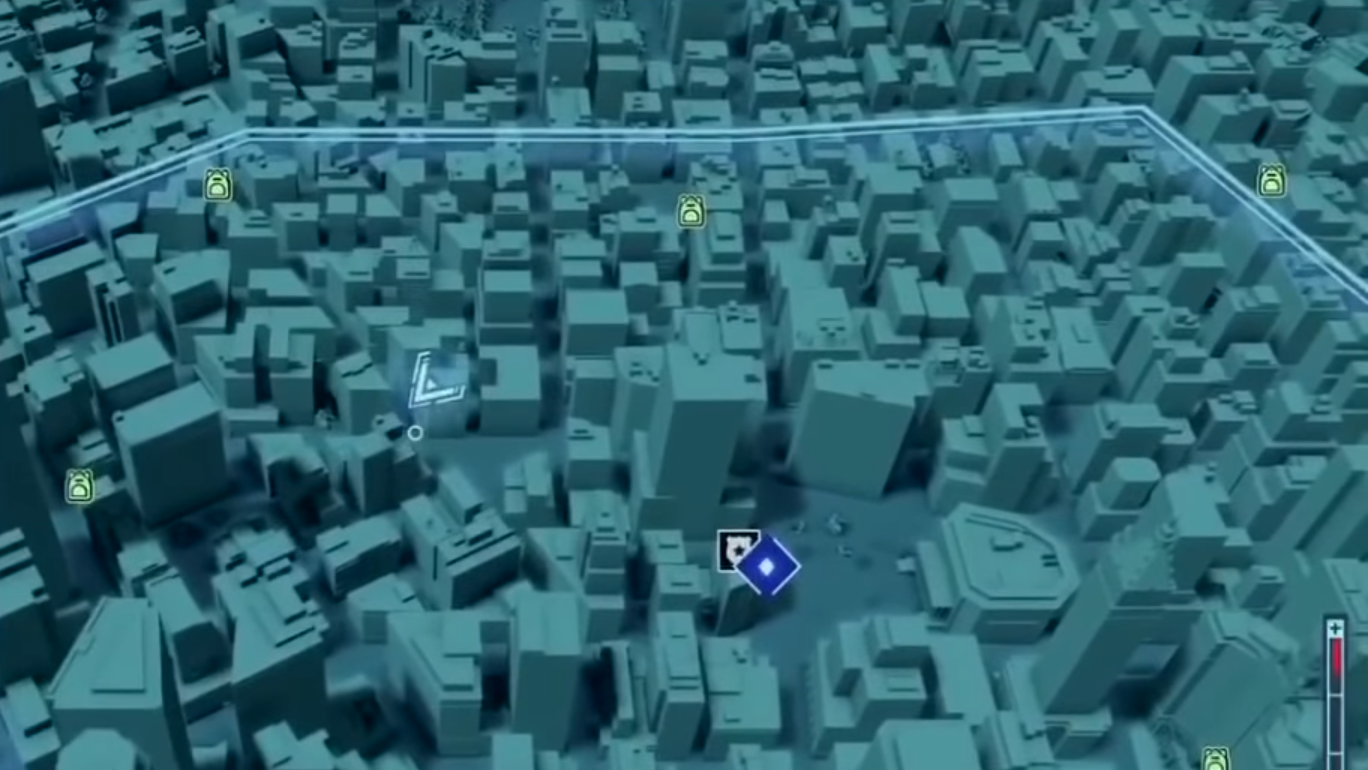 Tyler Schultz)" loading="lazy" > If you go to this intersection you can find the easter egg. (Image:
Tyler Schultz
)
The story doesn't stop there, though. Jacinda Chew, whose job title is Art Director at Insomniac, tweeted an offer to change the sign in a patch since things didn't work out for the relationship in the end. Schultz initially tweeted that he didn't want to change the sign, but then followed up that he had an idea for what the change could be.
Schultz told Kotaku that he wants to replace the wedding proposal with the name of his grandmother, who has passed from cancer and helped ignite Schultz's passion for Spider-Man. She gave him his first Spider-Man comic book as well as a copy of Amazing Fantasy #15, the first appearance of the character.
It's a natural part of life for romantic relationships to begin and end. Not even Spider-Man can alter the pathways of the human heart, and I hope that both Schultz and his former girlfriend go on to lead happy lives.
In his video, Schultz says that "this might go down in history as the saddest Easter egg".
Kotaku reached out to Insomniac Games for this story but did not hear back before publication.
Update – September 12, 1:20PM: Maddie gave a longer statement about the couple's breakup to The Houston Press, saying the relationship soured some time ago and became a "mother and son relationship where I had to remind him about things".
She added: "The things he has been saying about me hurt and that is something we mutually agreed not to do to each other, but it is not being reciprocated now… I think it's just easier for him to hate me than to be hurt by my decision to break up. I hope he moves on and finds happiness because that's exactly what I am doing."
In subsequent conversations with Kotaku, both acknowledged relationship struggles, including fights and arguments. Maddie discussed the failure of the relationship and lamented the "drama" that was coming from this proposal getting further publicity and for her being viewed as the bad guy.
"I don't want to hurt him," she said, while also noting that she'd been harassed and threatened on social media. "It's just ridiculous," she said.
According to The Houston Press, Maddie says she and Schultz's brother may have had a relationship — something she told the Press and Kotaku — but strictly as friends, a key distinction given continued harassment over the initial narrative from Schultz that she left him for his brother.
In a follow-up conversation with Kotaku, she said, "I made a statement that we built/have a relationship, but that doesn't mean we are dating. His brother and I are not dating. We have a friend relationship especially after going through this ordeal together, but we have never been together/dating."
(Note: We've updated the headline of this article. It was originally: "Wedding Proposal Hidden In Spider-Man Becomes World's Saddest Easter Egg." This story has also been updated throughout to reflect the varied points of view about the break-up.)