When not on hiatus, Yoshihiro Togashi brings Hunter x Hunter to life. And in that famed manga, it appears he keeps making secret references to idol girl group Keyakizaka46.
Featuring a slew of members, Keyakizaka46 debuted in 2015 and is the sister group of Nogizaka46, which is AKB48's official rival group.
As Hachima points out, Togashi appears to be a big Keyakizaka46 fan if the continual references are anything to go on.
冨樫先生、ハンターハンターに欅坂46ネタ仕込み過ぎやろ。こんな細かいところまでw pic.twitter.com/lBn2GoECqd

— 社畜のよーだ (@katou443) March 21, 2018
CD product numbers appear on a seemingly unrelated sign.
冨樫の欅ネタが止まらねぇ・・
ひらがなけやきポーズ pic.twitter.com/outhQkofC5

— ギエピー (@peletake_giepi) March 12, 2018
The group's pose also popped up in Hunter x Hunter.
【欅坂46】冨樫義博先生、今週号でも欅ネタ炸裂!漫画内に「AM1:27」とエキセントリック衣装を登場させるwwwwwについて https://t.co/0nt3CThbyC pic.twitter.com/ZgokCodu8j

— そっちか (@CTorgersone) February 20, 2018
Keyakizaka46 has a song called "AM1:27."
今更なのかもしれないけど、ハンター×ハンターのストーリーと関係ないとこでこんなものが(笑#欅坂#けやき坂#ハンター×ハンター pic.twitter.com/GnjYxCVlPm

— ☆ひとろ★じゅんさん (@hitoron828) March 6, 2018
"Which do you like better, keyaki written in kanji (欅) or keyaki in hiragana (けやき)?" asks a character in a seemingly non-sequitur question. Keyakizaka46 is written officially both with kanji (欅坂46) and hiragana (けやき坂46).
ハンターハンターのサイレントマジョリティーって欅坂46が元ネタだったのか pic.twitter.com/attf5Nhf3A

— わあちゃん (@K9999_KUSANAGI) March 21, 2018
The hairstyle Keyakizaka46 member Yurina Hirate sported in the "Silent Majority" video appears to have inspired this.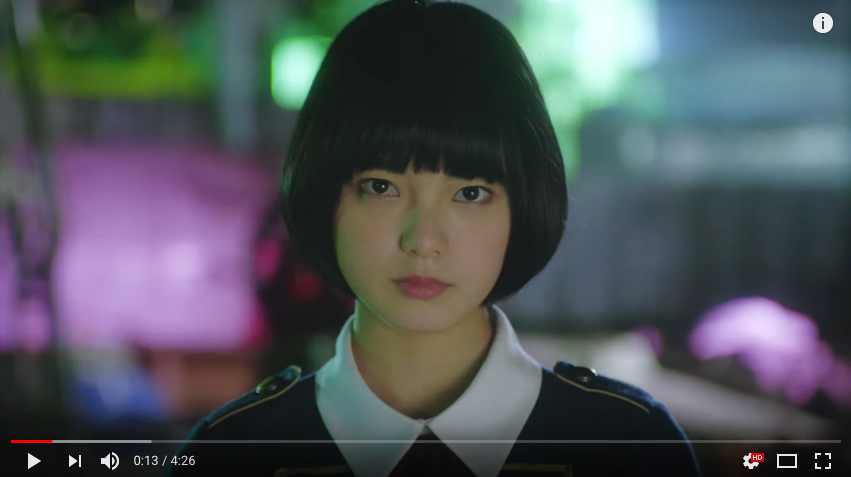 欅坂46 OFFICIAL YouTube CHANNEL" loading="lazy" > Screenshot:
欅坂46 OFFICIAL YouTube CHANNEL
See?
But the references do not stop there.
またかよwwww#冨樫義博#ハンターハンター #不協和音#平手友梨奈#欅坂46 pic.twitter.com/VVPYtH6ADz

— ハンク◢͟│⁴⁶ ????????????かない (@aoi_sugai_19907) October 2, 2018
冨樫先生今週も欅要素ぶち込んでくるとかやってんなぁwwwww
カタミラってとこがまた良いwww
まさか小学生から読んでるマンガの作者と同じアイドルオタクになると思わなかったわwww#ハンターハンター#欅坂46 pic.twitter.com/xImifZtiSt

— ぺー◢|避雷針で干され (@9WhDcESqD4LdwzR) October 6, 2018
Now, this might seem like a series of kwinky-dinks, right?
Well, here is a Togashi talking about buying music in Shibuya, including Keyakizaka46's single "Garasu Wo Ware!"
流行り風邪からようやく復活。武道館大円団に喜びつつの涙。
今回ほどエンペラータイム発動できない自分を殴りたい。
冨樫先生も仕事してるようだし、小生も気合い入れよう。何はともあれ、風邪注意。ポカリスエット最強説。 pic.twitter.com/xN9hBvlvKA

— yoko k (@otomodachipunch) February 2, 2018
Togashi also sent the group flowers for their first performance at the Budokan. Looks like he prefers "keyaki" in hiragana.
For more on Hunter x Hunter, check out its English language site.