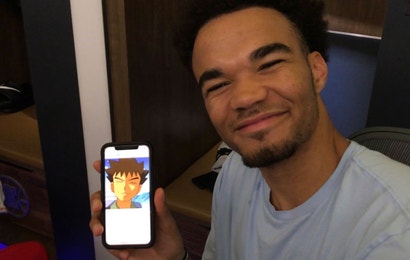 Photo:
Tomer Azarly
This is Jerome Robinson, the 13th pick in the 2018 NBA draft. Or, as he'll now forever be known, "Brock from Pokémon."
Writer Tomer Azarly was in the Clippers' locker room earlier today and pointed out the similarity.
I asked #Clippers' Jerome Robinson (@Rome_Coldbucks1) about him looking like Brock from Pokémon and he showed Shai Gilgeous-Alexander (@shaiglalex) ???????? Enjoy: pic.twitter.com/pYis10oQYd

— Tomer Azarly (@TomerAzarly) October 10, 2018
Please get this man a cameo in the Detective Pikachu movie as a live-action Pokémon doctor.