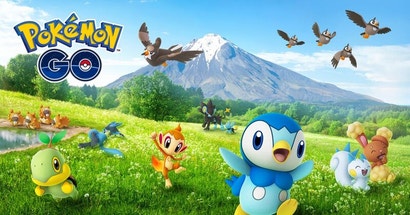 Pokemon GO trainers will soon be happening upon monsters from the Sinnoh region, publisher Niantic announced today. Those are the little guys from 2006's Pokemon Pearl and Diamond and 2008's Pokemon Platinum. The announcement said they should be in-game sometime this week, but some readers are saying these Pokemon are available in-game now!
Pokemon such as Turtwig, Chimchar and Piplup will make their way into the mobile game sometime this week, Niantic said. They added in their announcement, "You can look forward to discovering even more Pokemon over the next few weeks appearing in the wild, hatching from Eggs, and battling in raids."
Pokemon GO launched in the winter of 2016 and, ever since, has been slow-releasing Pokemon from various games into its augmented reality world.