Bandai Namco's fighting game does an excellent job of portraying the personality and likeness of The Witcher 3 protagonist, but fails to make good on the full crossover potential CD Projekt Red blessed it with. Soulcalibur 6's Geralt moves like a witcher and talks like a witcher but spends most of the game's story mode just muttering to himself in between bashing faceless enemy fighters' heads in.
If you haven't already read our review of the game, you should. It's really good, plus I think our editor Maddy Myers, who wrote it, does a good job of capturing the contrast between the game's tight underlying mechanics and its bloated, meandering story mode. Even Geralt's chapter is pretty yawn-inducing, which I might be less shocked by if the silver-haired brute didn't have top billing on the game's box art.
CD Projekt Red and Bandai Namco really went in on this partnership. The latter will even be publishing the former's Cyberpunk 2077 in some European countries when it eventually comes out. But while Geralt makes for a decent fighter in Soulcalibur 6's lineup, his narrative contributions are lacking.
For starters, there's the explanation of how the wandering beast hunter ends up in the game in the first place. Apparently he was performing a contract to hunt down a sorceress suspected of trying to summon demons.
Geralt confronts her and is like, "What are you up to? Stop it." She tells him she's trying to create portals to other worlds, because wouldn't that be cool? Long story short, she opens one up, it swallows him up, and moments later he's fighting some no-name bro on Soulcalibur's version of Final Destination.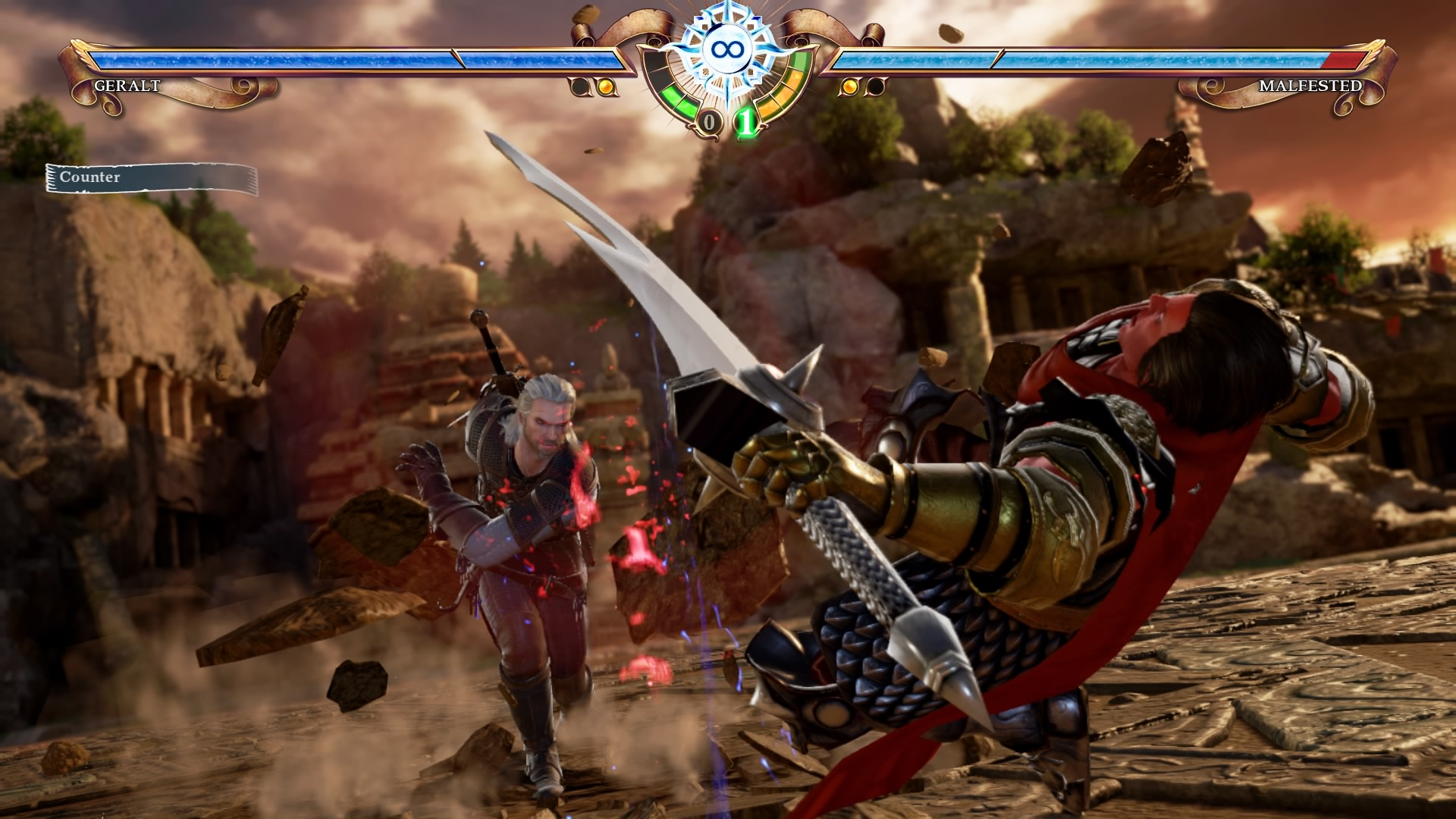 Screenshot: Kotaku, Soulcalibur 6
This guy is called Malfested, maybe because he made his PSN name when he was 12 or something, and he's really easy to beat. From there, Geralt encounters a weird phantom version of Kaer Morhen, the castle all the Witcher dudes hang out it in, only instead of Witcher dudes inside, there's some other guy in a crusader's getup called Zasalamel.
I assumed Zasalamel was some deep cut from the Soulcalibur wikis, and it turned out he was. He's a reincarnating time traveller, apparently, and he decided to pop up in the exact place and time that Geralt got lost in the Soulcalibur dimension. Just to get his arse whooped.
After this fight is when the game tries to take you inside the witcher's mindset with a short text intro into the next chapter.
"Geralt didn't feel at home in this new dimension," it reads. "Magic was not commonplace, no one was being attacked by monsters, and there were no other witchers in sight…" These parts I dug, mostly because they are ridiculous. Also, based on what Soulcalibur has shown us so far, magic is pretty darn commonplace and there are plenty of monsters.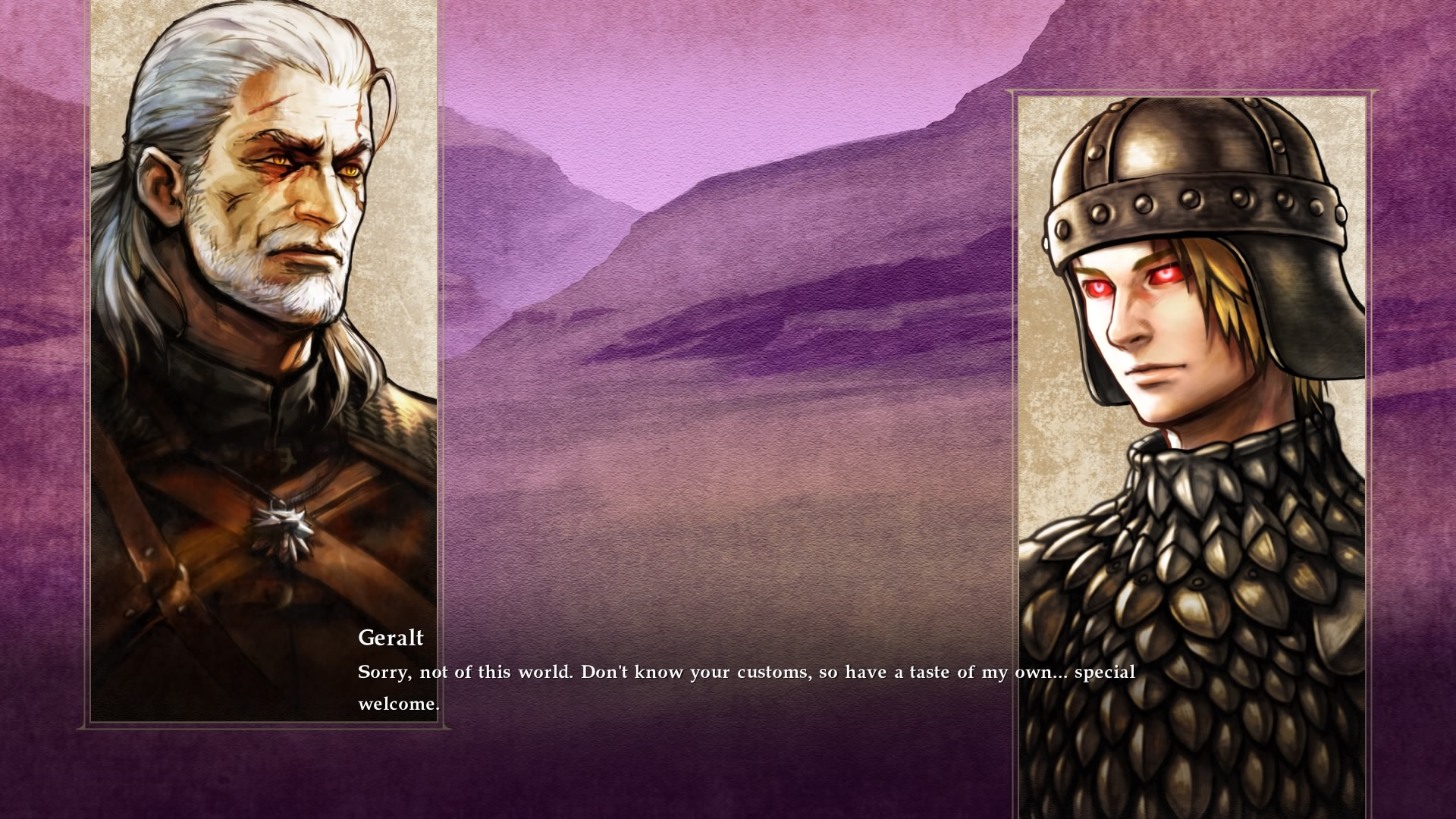 Screenshot: Kotaku, Soulcalibur 6
Anyway, witchers' whole deal is supposed to be using potions and smarts to undo curses and fight magical beasts. Geralt doesn't spend his time doing any of that in Soulcalibur, so I can understand why he feels weird about the whole thing. But also, why isn't he doing any of that in Soulcalibur?
There is one highlight to his storyline. After a few more throwaway fights, more unwelcome appearances by Malfested, and the requisite lecture from the Edge Master, Geralt heads back to fake Kaer Morhen and happens upon Mitsurugi, the Geralt of Soulcalibur back before there was an actual Geralt in Soulcalibur.
The two fight, because of course. I mean, it's on the front of the damn box for god's sake. The bout is somewhat challenging and cool in the way that only a samurai fighting a late renaissance longswordsman is cool (so it's very cool to certain people, such as me. Please stop rolling your eyes).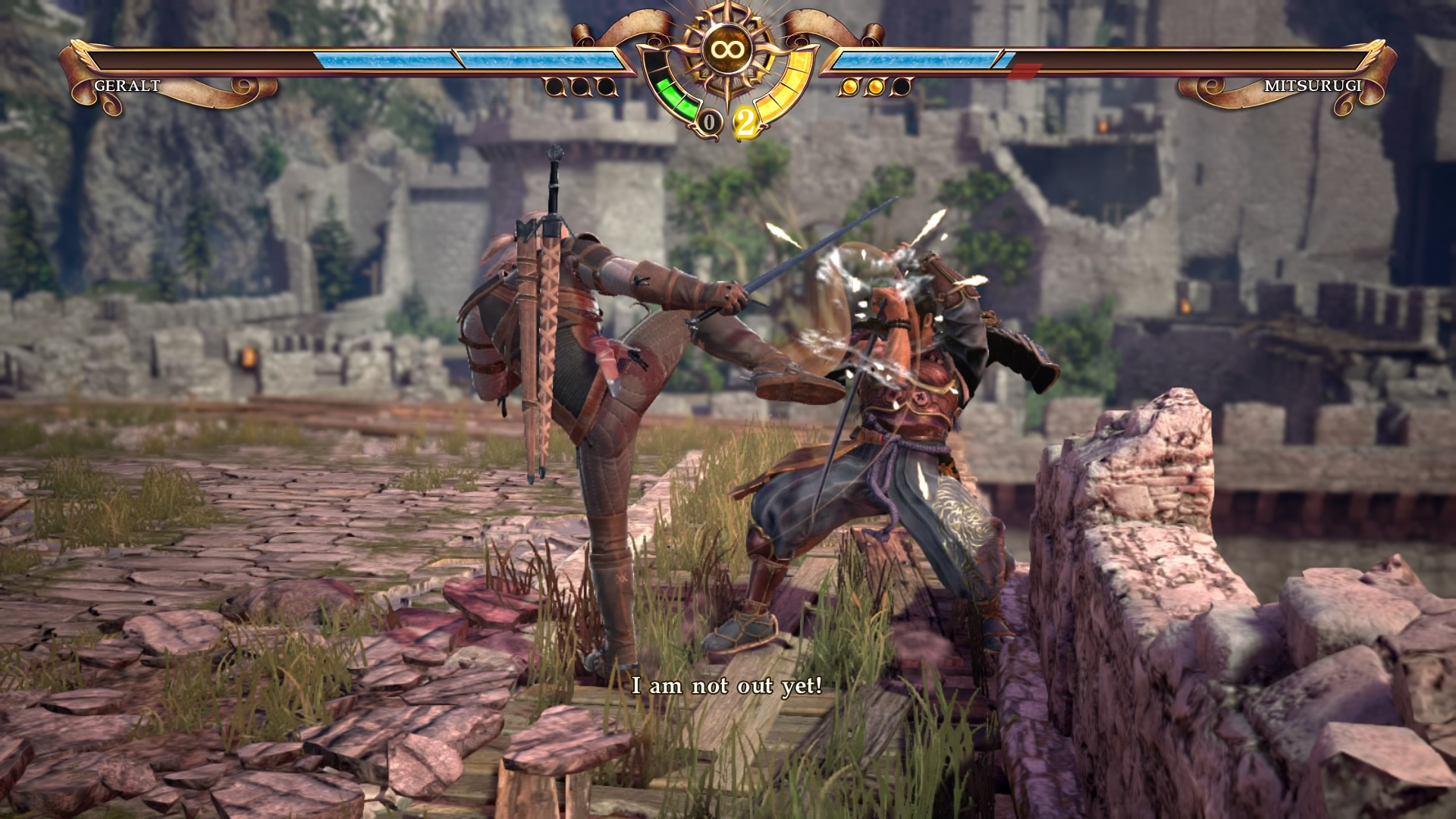 Screenshot: Kotaku, Soulcalibur VI
Like I said, Soulcalibur does a decent job of transporting Geralt's witcher bad-arsery to a fighting game, complete with spells and slick sword combos, and the fight with Mitsurugi really gives fans of the Witcher games their money's worth. Doug Cockle, the character's regular voice actor, comes along for the ride and does an admirable job with the lines he's given.
The only thing that would be better would be if Bandai Namco released Soulcalibur 2's Link as DLC and then Geralt got to kick his arse too.
It's a shame then that the set dressing around the experience, and most of the fights leading up to that showdown, are so lacklustre.
Geralt getting back from the Soulcalibur dimension and telling the Sorceress who sent him there something to the effect of "whoa, that was weird, uh, OK, pay me now" might be on par with Soulcalibur 6's calibre of storytelling, but it definitely doesn't live up to, or in any way hearken back to, the wry humour and twists that made the witcher such a great video game character to begin with.
There's no big reveal, no morbid, tortuous moral dilemma, just a sorceress who's bad with portals and apparently owes Geralt a couple of drinks.
Still, Soulcalibur 6 is on PC, so there's always the chance fanatical Witcher modders will prevail where the game did not.