This is the "Communist" room at the Love Villa Hotel in Nonthaburi, Thailand, which is an hour or so away from Bangkok. The room was decorated with Hitler and Nazi imagery.
Never mind that the Russians fought against the Nazis—or, more importantly, decorating your hotel in Hitler is in poor taste.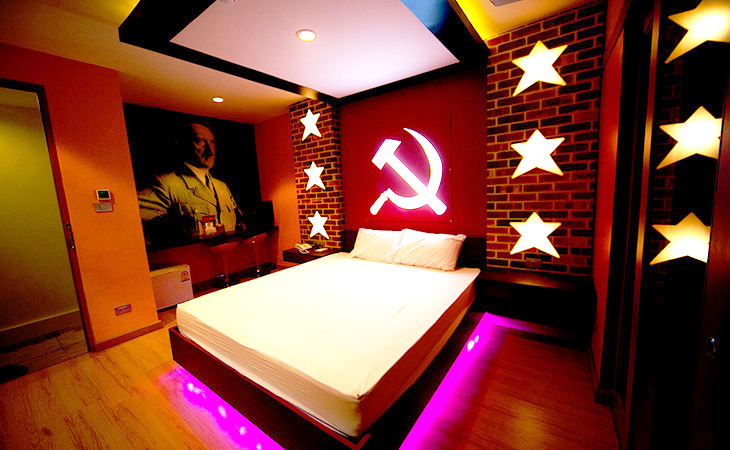 Love Villa Hotel" loading="lazy" > Photo:
Love Villa Hotel
According to Coconuts, the 40-room love hotel opened around two years ago.
When asked about the room's theme and design, the receptionist told Coconuts, "It's just a theme room, it had no inspiration. The designer just keeps changing the rooms to keep it fresh."
"There is no excuse in 2018, for any establishment in any civilized country to turn Hitler into a motif for a hotel room," says @simonwiesenthal, calling on Thai authorities to close the establishment or demand the room be redesigned immediately. https://t.co/VKP2YcN3O8 pic.twitter.com/T4SU9obnVD

— Steve Herman (@W7VOA) October 4, 2018
"This is truly awful," Efraim Zuroff, head of the Simon Wiesenthal Center, was quoted as saying by JTA (via The Times of Israel). "It's horrendous, absolutely disgusting. It shows a complete lack of knowledge and education about Hitler, the harm he caused and the horrifying crimes that he committed in World War II."
The hotel has since apparently removed the Hitler imagery.
Nonthaburi Love Hotel Removes Hitler Mural https://t.co/QgC8QNXutf #Thailand #ThailandNews #ThaiNews #news #Bangkok pic.twitter.com/NRqssWXOdu

— Thaivisa (@georgebkk) October 7, 2018
This isn't the first time Nazi images have caused controversy in Thailand.
Thailand's unhealthy admiration for Hitler as a super hero instead of the word's biggest mass murderer showing again as Bangkok Hotel feature #Hitler Rooms.https://t.co/T1PzJRL0aV pic.twitter.com/UQZ3UIS47v

— ThaiMythbuster (@thaimythbuster) October 4, 2018
Thailand gets caught out with #Hitler shenanigans again. http://t.co/GTPwFQrxuF pic.twitter.com/qKZomhtC8O

— Sean Gleeson (@seanjgleeson) December 12, 2014
Back in 2011, for example, parents and students at a school Chiang Mai, Thailand held a Nazi parade.
Two years later, a man was baffled after his Nazi-themed cafe pissed people off.
Thailand really love Hitler. I have no idea why pic.twitter.com/ZBU6ES5O3F

— Kimmie 2 Times (@Trackmann) June 2, 2015