I never really thought much about the Dreamcast until it had all but vanished. By then, it had become a minor obsession of mine: a major console with weird games I'd heard and read so much about, but never gotten to play.
The Dreamcast had a short life span in stores and friend's houses, getting reduced to an exotic artifact within a decade of its creation. The console's colour scheme and bizarre slate of exclusive games, not to mention its unique controller, are now etched into my brain. That explains why this Switch customised to evoke Sega's final console has me entranced.
The Sega Dreamcast's official run lasted only 18 months. It launched in North America in September 1999 and was discontinued by spring of 2001. Following its failure, Sega exited the console business, and Dreamcast owners were left to ponder what might have been.
The fact that the console's full potential was never realised has granted it a certain cultural mystique, the kind that makes it perfect for plastering overtop ironic vaporwave apparel and, as it turns out, a custom Switch paint job.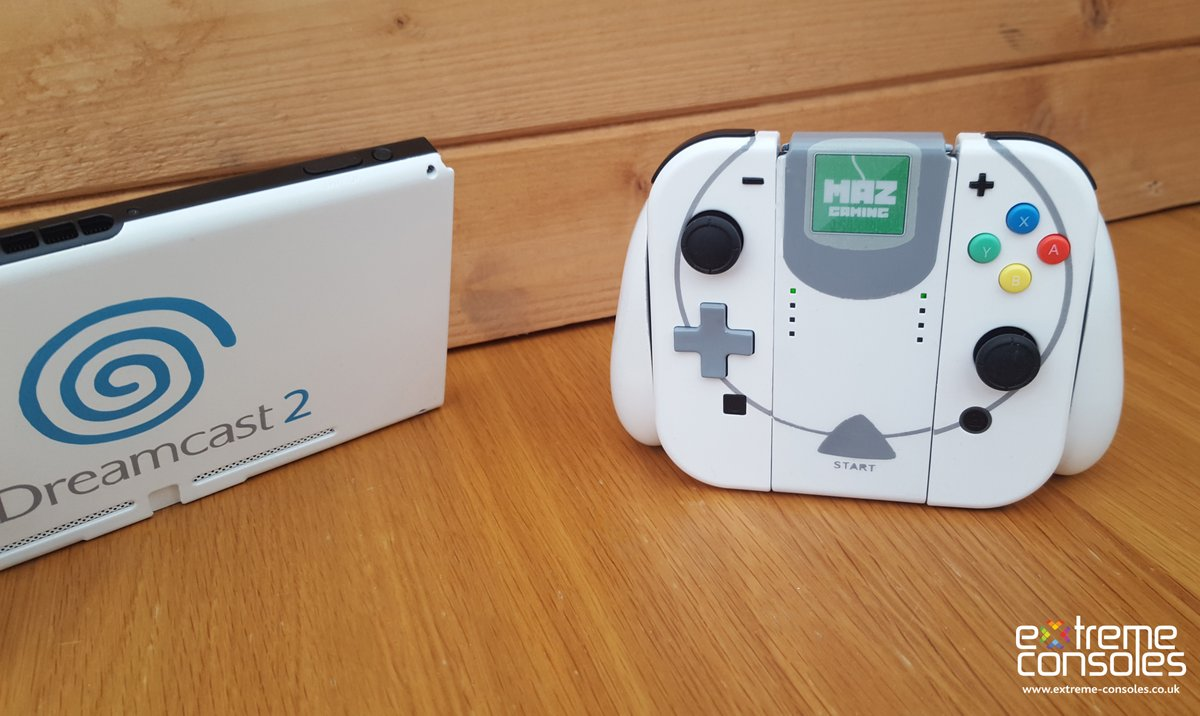 The creation was commissioned by Mark Williams, a retro gaming enthusiast and hardcore Sega fan over at the YouTube channel Maz Gaming, and completed by Extreme Consoles, a console customisation shop located in the UK.
Dubbed the Dreamcast 2, it's actually a pretty straightforward project. Extreme Consoles painted the regular black shell and Joy-Con a crisp eggshell white and added the Dreamcast's spiral insignia to the back.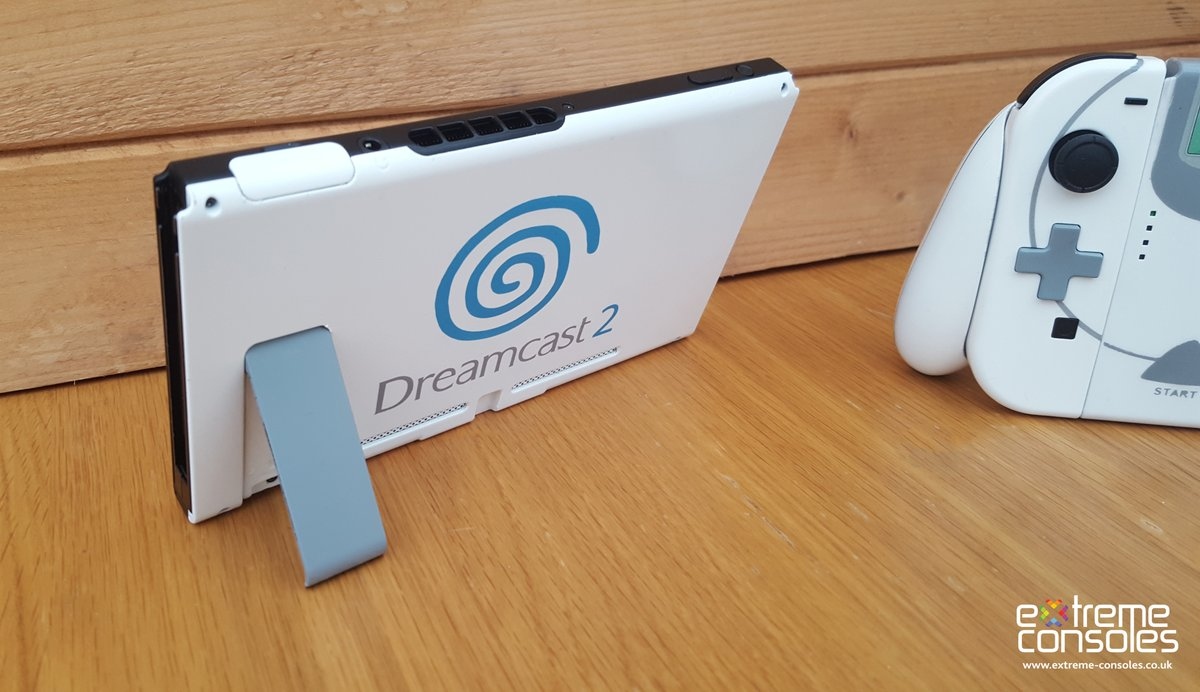 The Joy-Con grip has a little more detail since it's trying to emulate the original Dreamcast controller, which had a small, green tinted LCD screen and giant grey triangle start button at the bottom. They also switched out the right Joy-Con's face buttons to get the authentic colours.
"During that generation I really feel like SEGA tapped into the counter-culture that was running through people of my age at the time and games like Crazy Taxi with The Offspring-heavy soundtrack and Jet Set Radio with the innovative style around graffiti art tapped into the mindset of people at the time and was far and away ahead of its competition," Williams said in an email to Kotaku.
"The Switch as a console reminds me of the Dreamcast in certain ways. Games like Splatoon 2 are clearly heavily inspired by Jet Set Radio." He also points out that while the console is now ancient history, it still has a fanbase devoted enough that some people continue to develop games for it.
Williams said in his video that he wanted a Dreamcast-looking Switch in part because the console has, for him at least, become a de facto home for Sega games.
Last year, there was Sonic Mania, Sonic Forces, and Puyo Puyo, and more recently, Sega has been re-releasing classic games from its back catalogue, like Phantasy Star, with special updates and features that make these releases superior to the bundled ROMs found on the PS4 and and Xbox One.
They're part of the company's Sega Ages initiative, an effort producer Kagasei Shimomura said earlier this year he'd love to see applied to Dreamcast games. GungHo Online even announced earlier this year that Switch will be getting an HD remaster of Grandia II soon. Skies of Arcadia better be next.
It would be especially great, though no doubt extremely unlikely, if other Dreamcast games suddenly turned up again in the late 2010s, especially the ones that never escaped the original sinking ship. I'm thinking of stuff like Sonic Shuffle, a Mario Party-style game that never got ported to the GameCube at the time, and Soul Fighter, a fighting series that debuted on the console and went down with it.
There are others, too, including much more obscure gems which have earned cult followings as a result of how few people ever got a chance to play them. The Lost Golem and Elemental Gimmick Gear come to mind, as well as FromSoftware's Frame Gride, a 1999 online mech game that never got localised.
It seems impossible to expect any of those games to see the light of day again on Switch, but just this year, Devolver Digital announced it was bringing back Metal Wolf Chaos, another FromSoftware game from just a few years later that was similarly lost to the world. You never know.