While your results may vary, I've found that I play fighting games better with a nice arcade style fight stick. Hori's SoulCalibur VI Edition Real Arcade Pro FightSticks for Xbox One and PS4 are very nice, even if I do end up feeling like the guy wearing the band's T-shirt to the concert.
They've got nothing on the sharp metal angles of my beloved Fighting Edge, but Hori has given its SoulCalibur VI sticks the next best thing to shiny aluminium.
Both versions of the Bandai Namco branded controller are housed in coloured translucent plastic. Which colour you get, red or blue, depends on which system you purchase the $US179.99 ($255) controller for.
The PlayStation 4 edition of the Real Arcade Pro SoulCalibur VI FightStick is wrapped in a dark blue plastic. It's almost a match for the limited edition PS4 model Sony recently released. The top decal features some of the game's most powerful male characters.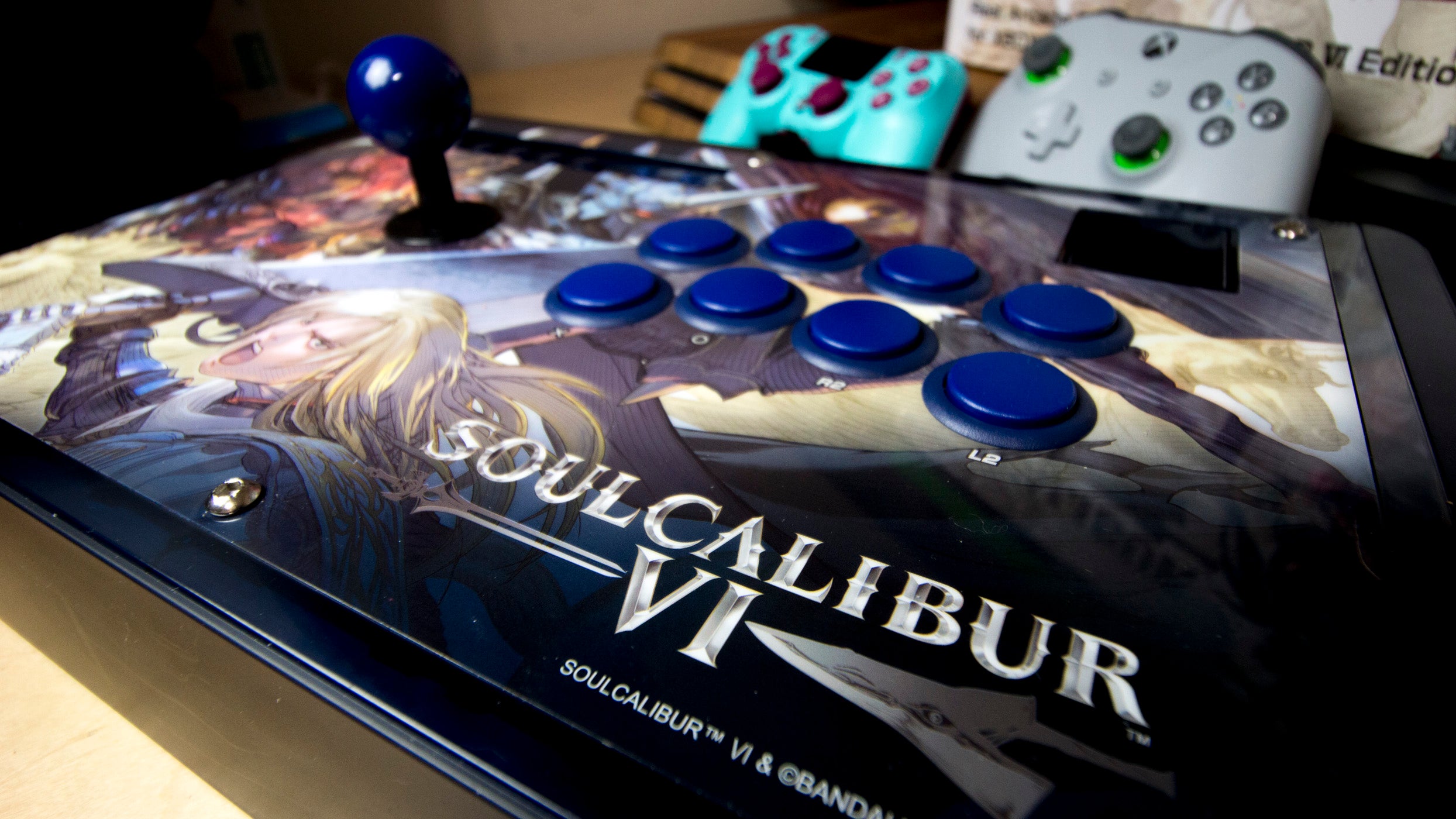 Mmmmm, blue raspberry.
Meanwhile, the Xbox One version of the controller gets a delicious-looking red plastic housing, which reminds me of a candy apple. I want to eat it. It sports images of the women of SCVI.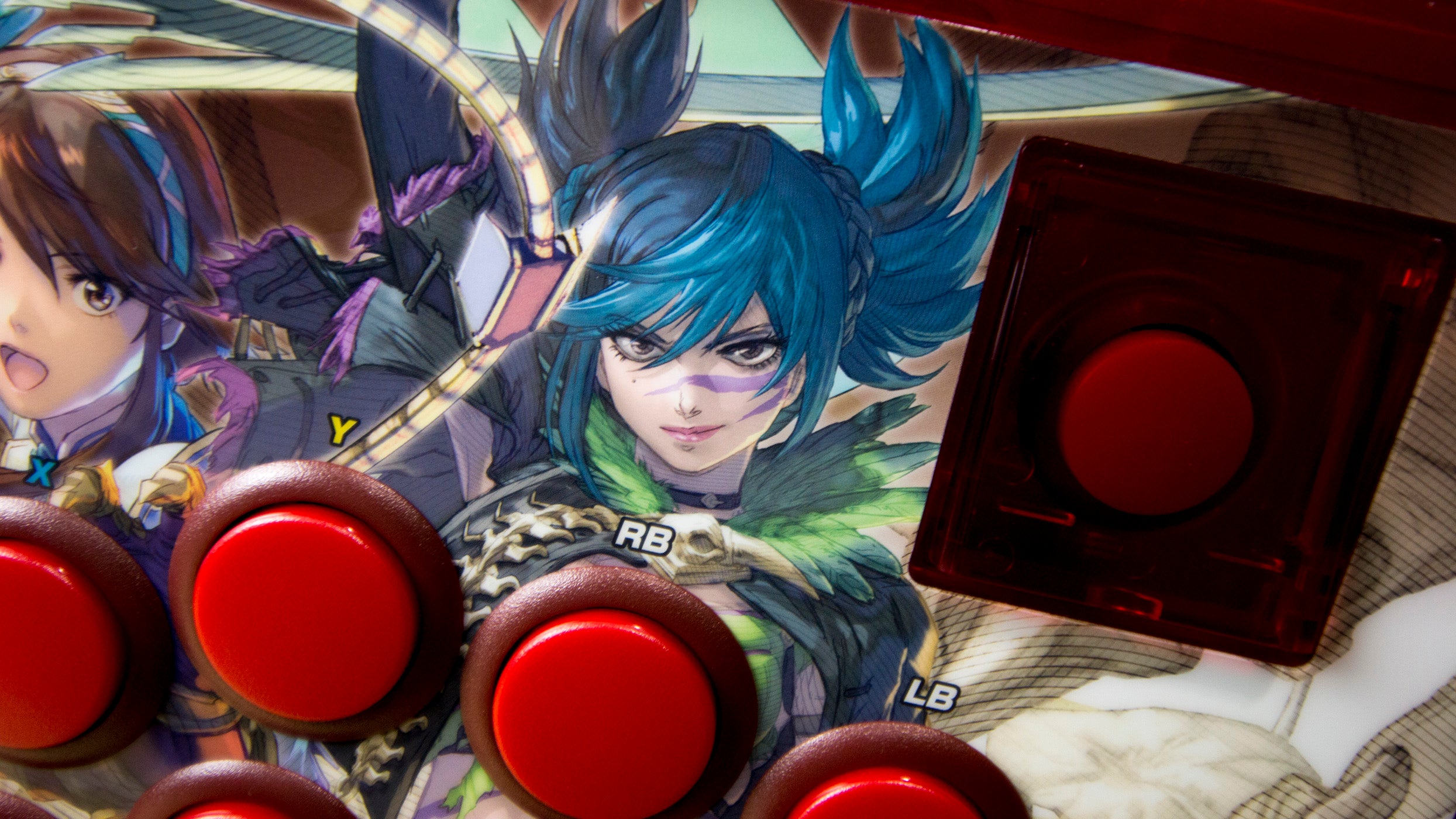 Hey look, it's even got Tira on it, and you don't need to pay extra.
PC players can choose between either model, as both work like a charm plugged into a gaming system's USB port.
Beyond the basic aesthetics (and the touch pad hidden on the back of the PS4 version), both models are pretty much the same. They've got the Hayabusa arcade stick with its lovely eight direction clicking.
Both sport the low profile Hayabusa buttons as well, with beveled edges and fast response. All the buttons one needs to fight are on the face, with a panel in the top left corner for extra bits.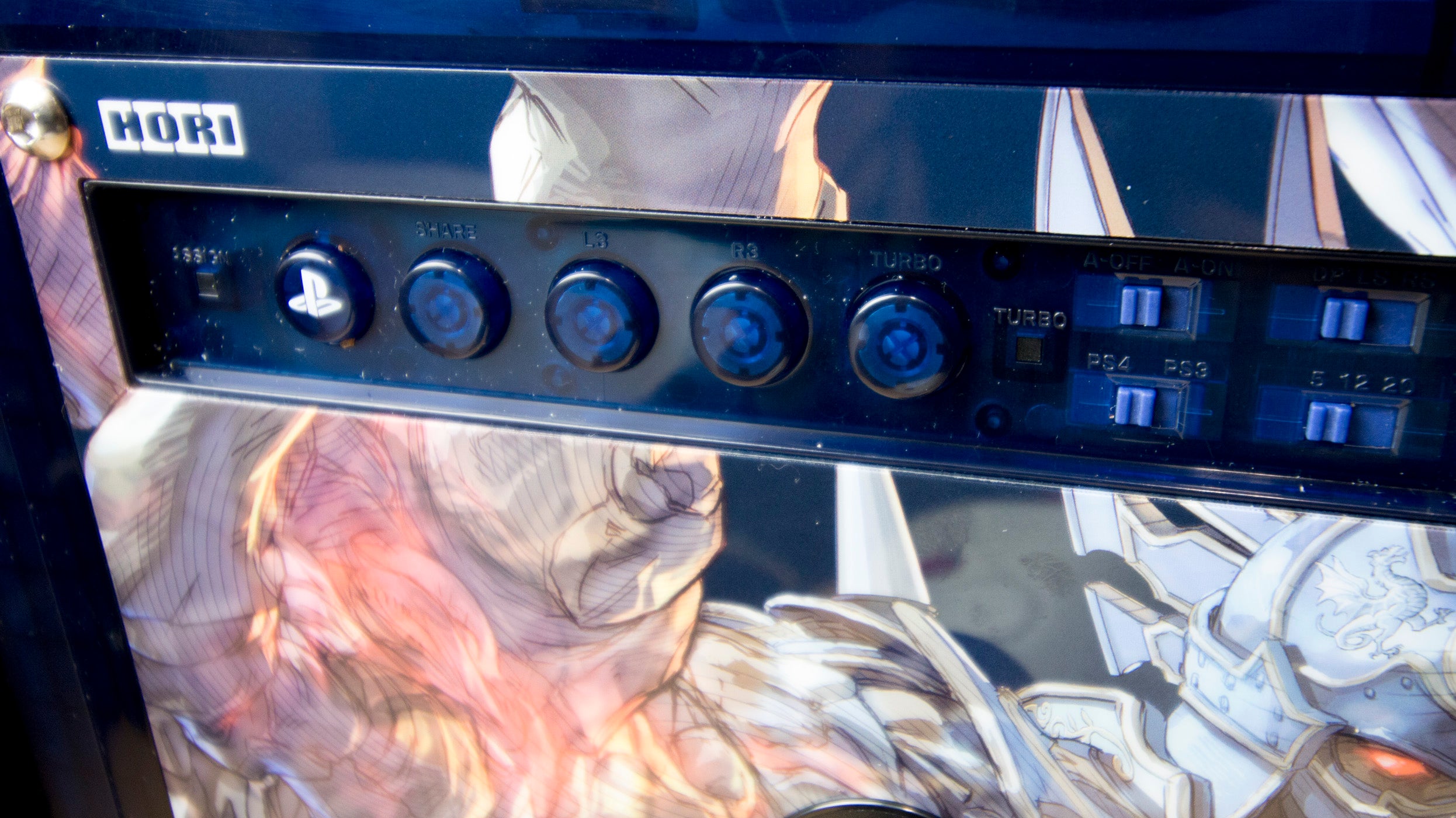 Pardon the dust, I've been using this a lot.
And both feature the cleverly covered options/start button, which serves to keep players from accidentally hitting it during the heat of battle. I like to pretend it's a nuke button for when I lose.
And as delicate and fruit-flavored as these look, both feature a heavy metal base, making them solid and stable, even when being manhandled by a giant child.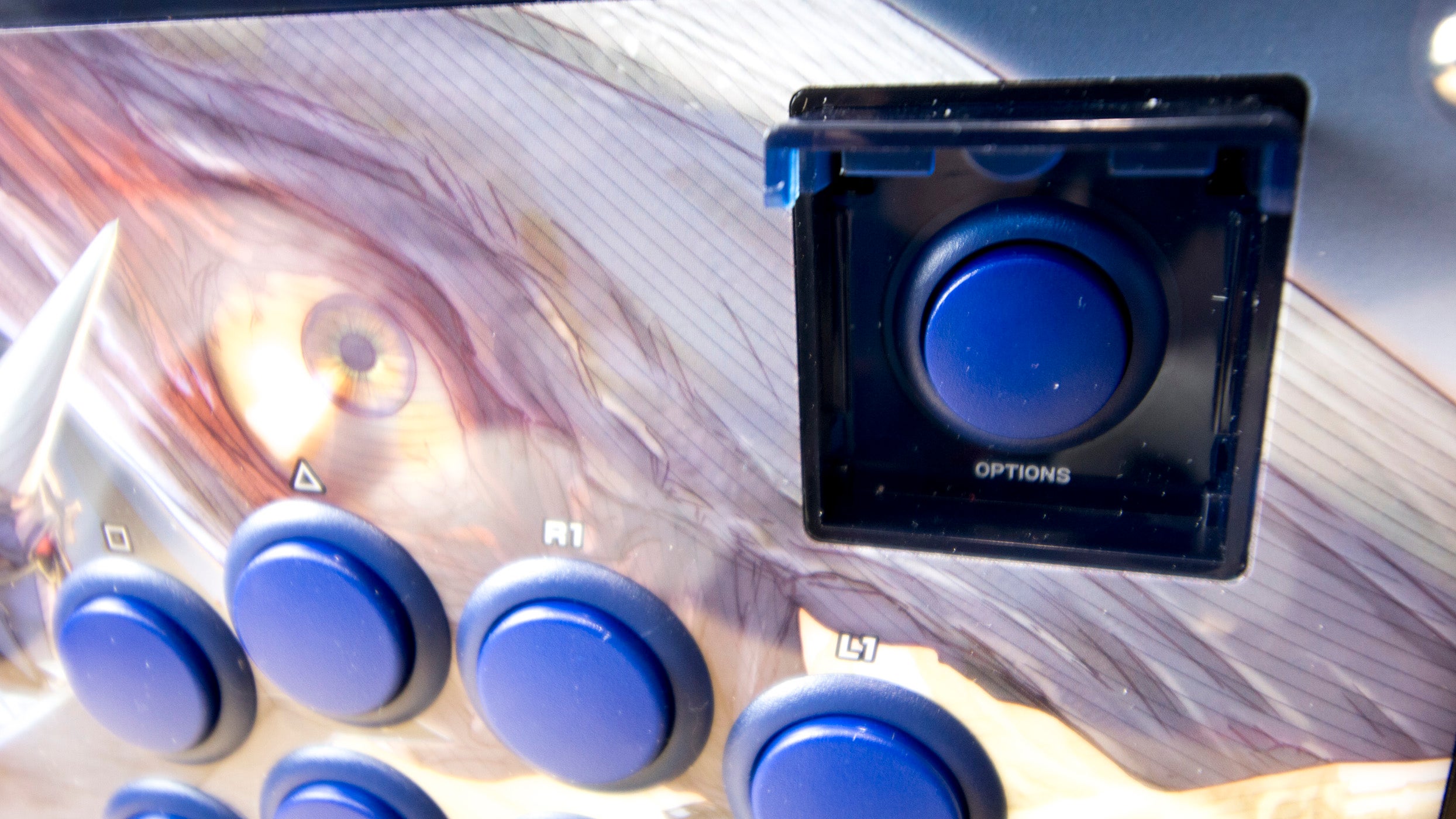 The nuclear option.
It's fun to kick off a new fighting game with a new fighting game controller, especially when they're as nice as these and look sort of like candy.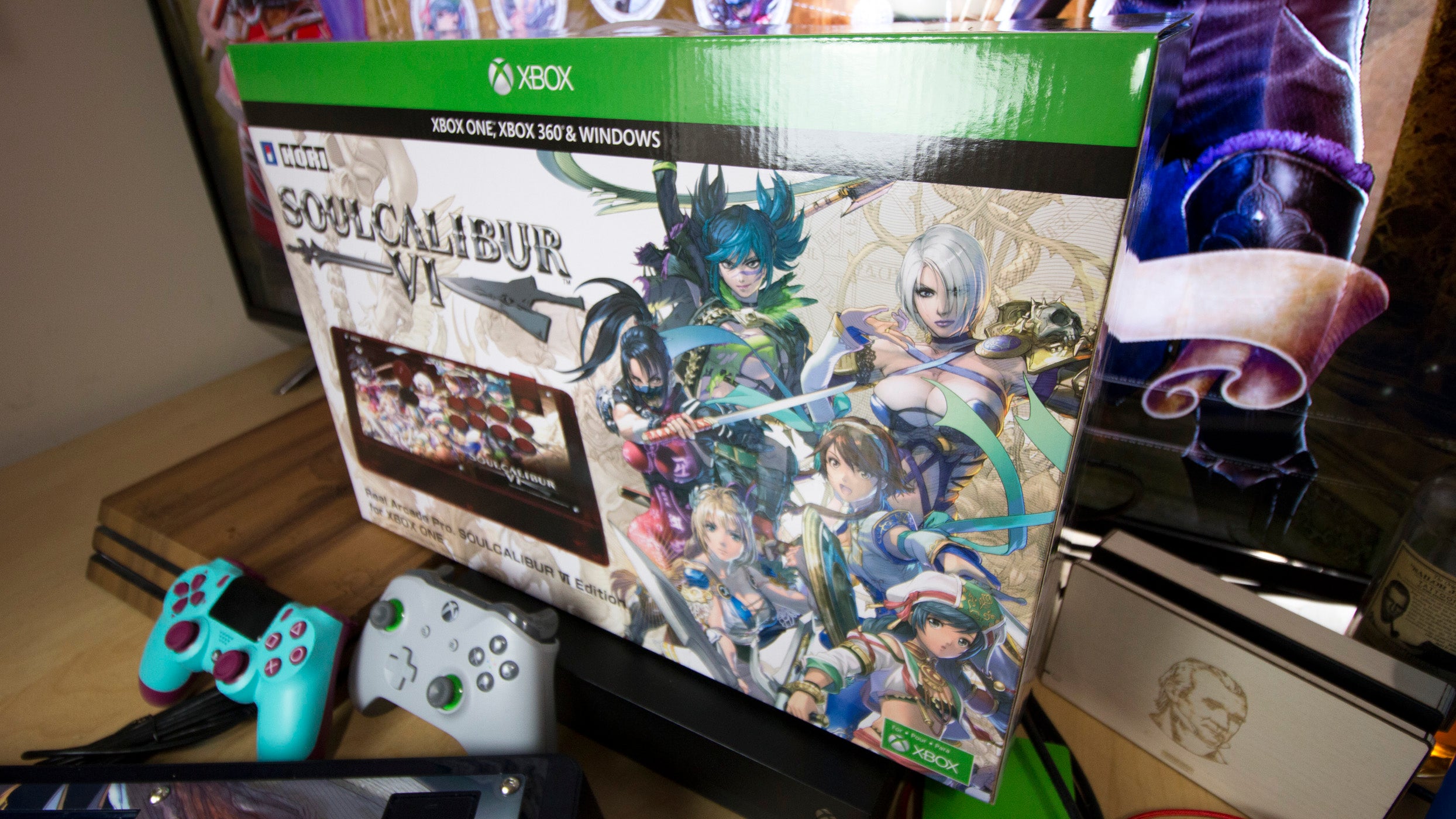 The Xbox version is the prettiest, but don' tell the PS4 version.