When I bought a Surface Laptop over a year ago, I did so largely because I had little faith in the Surface Pro line. I wasn't sure the Type Cover was sturdy, having experienced the first generation. The premium on the hardware I'd need seemed , and Windows doesn't have a stellar reputation as a tablet OS.
But over the last week, I've been able to try out a Surface Pro 6 out of sheer good fortune. And after working all of PAX, typing on couches, blow up mattresses and a transpacific light later, I've done a complete 180 on the device.
I was thinking about the Surface Pro a lot more after seeing the Macbook Air news, a refresh people have been screaming at Apple to make for years. It's probably too late for the classic student laptop, if we're being honest: the keyboard isn't the world-class design it used to be, and the hardware is so long in the tooth even diehard Apple fans will have trouble justifying the cost.
Which is funny, because you could make a lot of similar disparaging comments about the Surface Pro.
Microsoft's continued support of their proprietary charger, instead of just fully adopting USB-C and doing owners a solid by giving them a backup super charger for their phones, remains a disappointment. Having a spare USB port built into the charger is nice. And I use it a hell of a lot!
But Microsoft could also just do that with USB-C, surely.
In any case, my main kicker was that I needed a laptop. It had to be a reliable typing and productivity device for work trips, the odd moments where I have to drop everything and knock a story together, and it had to be sturdy. A laptop takes a lot of bumps and knocks on the road.
Over the last week, those concerns have subsided somewhat.
So we're on the same page, my Surface Laptop is a dual core i5 with 8GB RAM and a 256GB drive. Not enough power for what I really want, but as something to take notes during a meeting, conference, or just something I can pick up and walk around with if I need to relocate for whatever reason, it's fine.
But only just. Chrome is pretty greedy these days, and a dual core CPU really isn't sufficient in 2018. I'd argue that 8GB RAM isn't enough either, but that's less of a problem if you're not trying to muck around with Photoshop, YouTube, a CMS and other web apps at the same time.
The Surface Pro 6, mind you, has done the job rather neatly. First off: the Type Cover is better than I expected. There's still a little bit of bounce from the keys: I've found the default position, rather than trying to lay the keyboard flat, is a vastly superior experience. It doesn't have the solidity that I like from the Surface Laptop – because that's a solid laptop, and the Surface Pro is not.
But it's hugely improved from the initial iterations of the Type Cover. The touchpad is just as good as my Surface Laptop as well, which ticks off two of my dealbreakers for any laptop.
Interestingly, the Surface Pro 6 has a nicer screen than the new Surface Laptop: the Pro 6's native res is 2736×1824 compared to 2256×1504 for the Surface Laptop 2. And that's despite the Surface Pro being about an inch smaller when it comes to screen real estate.
It's better priced, too. A base i5 model with 8GB RAM will set you back $1349. The same configuration in the Surface Laptop 2 costs $1499, and you're really not getting anything extra beyond the traditional clamshell shape. Microsoft says the Surface Laptop 2 will run for around 14 hours, compared to the Surface Pro 6 which tops out at 13 hours.
But when I say better priced, I'm talking exclusively at the low end. The price hike on the i7 or 512GB models onwards are truly exorbitant: an i7 model with 16GB RAM and a 512GB SSD will set you back $3299. You could get a vastly better deal on a Dell XPS 13, one of HP's x360 or Spectre laptops, or maybe even something from ASUS/ACER/MSI's thin and light range.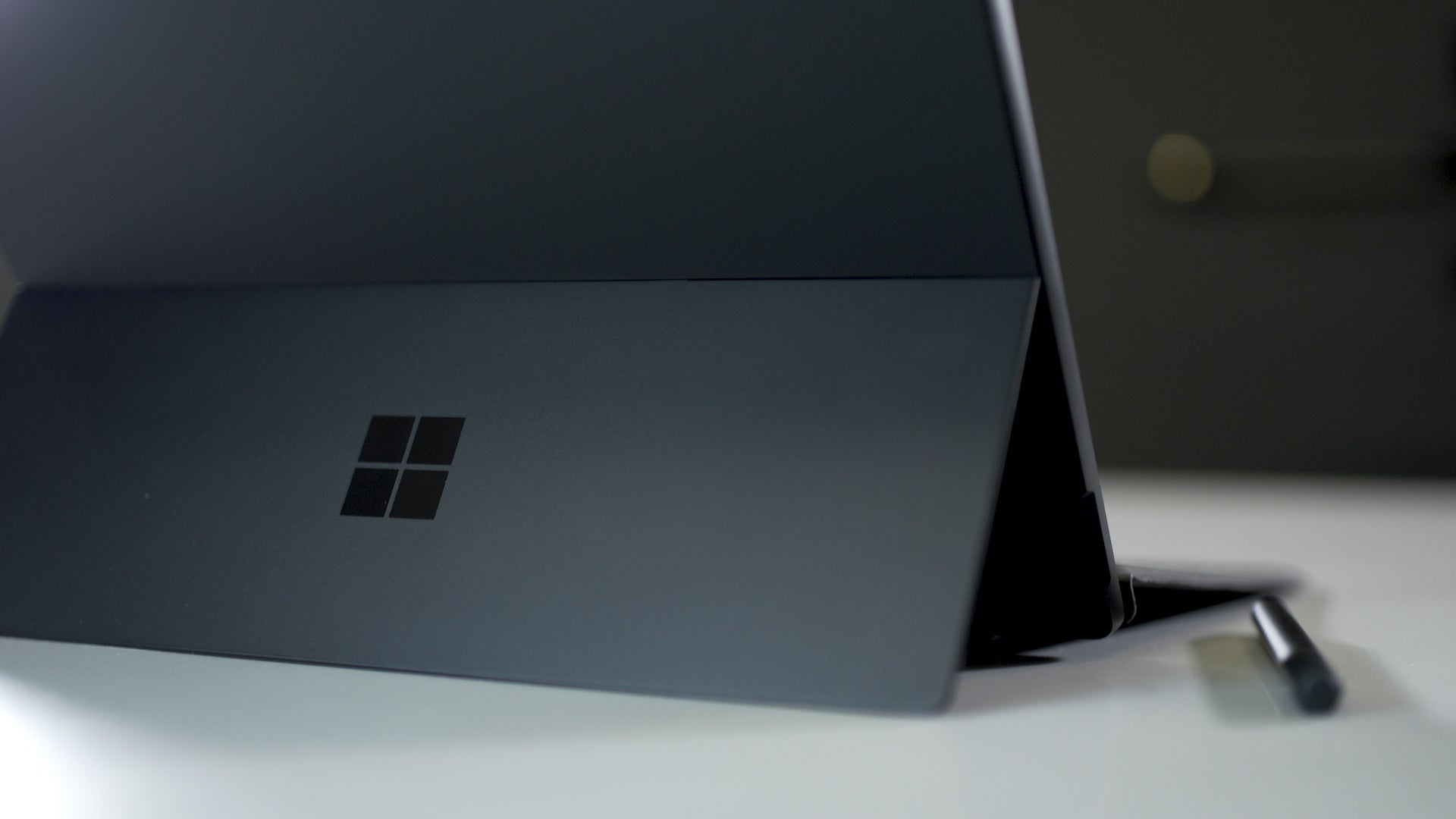 Image: Getty
All of this sounds well and good, but what ultimately converted me was the experience of popping out the kickstand in different environments.
I'll give you a perfect example. Every morning, I'm up somewhere between 0700 and 0730. After checking my phone, turning the alarm off and seeing if anything has blown up in the last six hours (I'd love eight, but let's be real) the next thing is the laptop.
I'll sit up in bed, quickly reply to any emails if a pressing matter has arisen, and instantly jump into the CMS to start scheduling posts for the day. This all takes place within five to fifteen minutes of waking up. If something huge has landed from the US that needs localising immediately, or there's been a major local announcement I have to jump on straight away, that timeline might get cut down to one or two minutes.
It's a good environment for testing the kickstand, which is usually propped up against my knees. I do this with the Surface Laptop as well, although the bulkier size means it tends to hover a little. But it's sturdier, so I'm not worried about it wobbling around while I'm bottoming out on the keyboard.
Being a fraction smaller, the Surface Pro 6 suits this environment vastly better. The kickstand has completely won me over: it's been solid, with a wide enough range of movement that I've not had any issues at all.
And it's surprising how much that smaller size comes into play. My Surface Laptop isn't an enormous device by any stretch of the imagination. But try and use it on public transport or a plane? You'll be lucky if some arsehole doesn't accidentally back their chair into your screen. It's also handy when you're travelling and inevitably stuck at the tiniest table possible.
These things all seem little. But they impact what is probably the most important factor for any tech device: how much fun it is to use. The less hassle you have with fitting it into your life, the more you enjoy taking it out.
That's especially worth considering if you're not prepared for a radical overhaul of laptop designs, which is what's supposedly happening to the Surface Pro next year. One recently unveiled patent shows plans for a device that would let users write on both sides of a reflective laptop screen.
I don't know if I'm ready for that. I still like a good size laptop keyboard. I like having reliable function keys that let me jump to the start and end of sentences, with arrow keys large enough for DOSBox games.
The Surface Pro does these well, more so than I expected. There's still some annoying quirks – Windows 10 sometimes thinks you're in tablet mode when you're not, and it's not especially great at waking up from hibernation.
Previous experience and just general scepticism had convinced me that I would have too many question marks, and so I opted for the Surface Laptop as a result. But if I was buying a laptop today, something under the $2000 mark? I'd be thinking about the Surface Pro, or a non-Surface laptop. Microsoft's 2-in-1 really has come a hell of a long way.