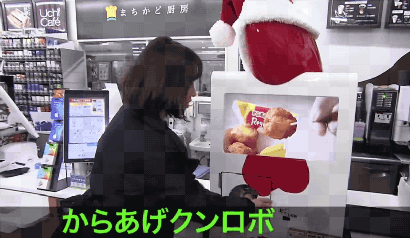 Gif:
FNN.jpプライムオンライン
Japanese convenience store chain Lawson makes some truly yummy chicken nuggets it calls "Kara-age Kun." Now store staff has a helper to make the fried food. Meet Kara-age Kun Robo.
Currently in trials in Tokyo, the robot has turned the Kara-age Kun cooking from six minutes to one.
— まゆこ☆東京生活あと15ヶ月 (@buunyan19701201) December 11, 2018
According to IT Media, the robot can cook up the three different Kara-age Kun flavours: Regular, Red (spicy), and Cheese.
「から揚げロボ」が登場!
人手不足に悩む大手コンビニ、従業員に代わって出来たてのから揚げを提供します。#nhk_videohttps://t.co/CaaNN9JVqs pic.twitter.com/P0D0lUc5N2

— NHKニュース (@nhk_news) December 10, 2018
This isn't a vending machine, as it's still necessary to buy the Kara-age Kun container at the register and scan its barcode.