So maybe you grabbed a new PS4 or PS4 Pro during the Black Friday sales, or you've got one stashed away as a Christmas present for someone. Nice work. But a console alone does not a gift make. You'll need some games to go with that, so here's some suggestions.
This guide is presented by PlayStation 4, delivering awesome gaming power that's always for the players. Incredible games and entertainment are all waiting for you on PS4 and PS4 Pro.
Bucking a long-standing tradition, Insomniac's take on Spider-Man has proved to be one of the best tie-in games ever made. Fantastic animations with flawless optimisation is backed up with a city and enemy design that encourages players to see the world as Peter Parker. Even little moments like traffic jams persist in the game's memory, provided it's still in view and the player remains within a certain distance.
Details like that make Spider-Man not just one of the most polished games of the year, but one of the most technically proficient, with a smooth experience on either the base PS4 or the PS4 Pro.
Perhaps the most surprising and successful reboot of the year, God of War took the angsty, God-slaying Kratos and transformed him into a surprisingly nuanced character wraught with fear and concern for his son Atreus.
God of War smashed everyone's expectations to become one of the best games this year, which you can see in our footage and stories below. If you haven't picked it up yet, absolutely grab it today, and if you know someone in your life who hasn't played it yet but loves AAA action-adventures, grab it for them.
God of War's New Game Plus mode doesn't offer any radical spins on the game's formula, but does reveal how much fun the game is when you're given all the tools it offers you for all your beheadings and beatdowns.
Read more
Here's a fun little fact: Sony's Gold Wireless headset is actually one of the cheapest over-ear wireless headsets around. It's good to have a headset on hand for late night gaming sessions, especially if you've got a big soundbar in a tiny block of apartments.
And here's another bonus: the Gold headset doesn't just work with your PS4, but any other platform you can throw it at. Now that's a value-for-money Christmas gift.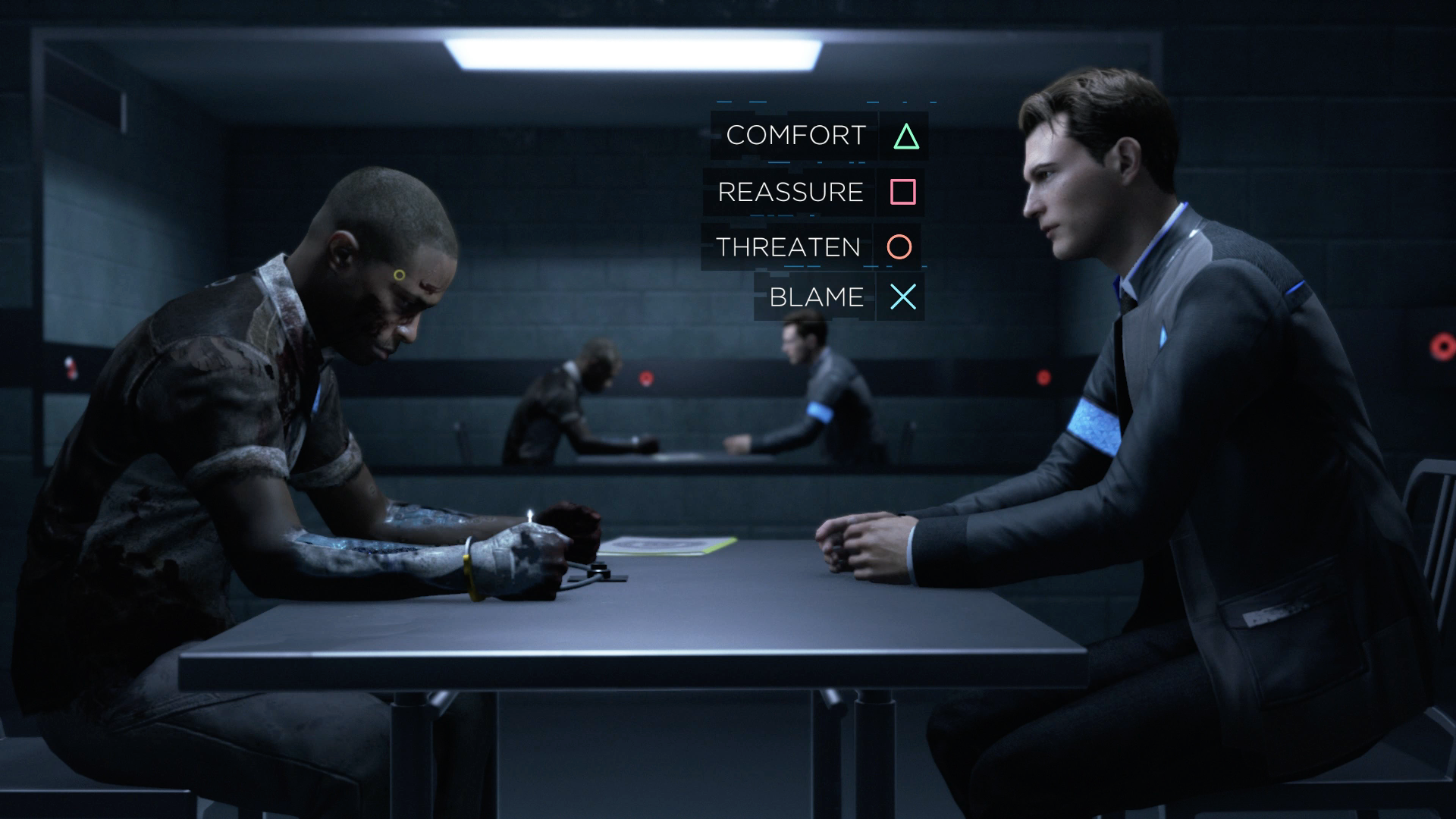 David Cage games are always fantastic watercooler experiences, but Detroit: Become Human is also a great game to share with a group or a family, and families will appreciate the extra leniency with quicktime events, and the ability to replay scenarios through the flowchart. There's also plenty of surprising emotional moments driving Kara, Marcus and Connor forward, as well as a standout supporting performance from Clancy Brown as detective Hank. Try a free demo of Detroit: Become Human here.
GIF: Kotaku
Atlus's dungeon crawler and social simulator combines two things that every great RPG should have: banging music and a killer aesthetic. It's the best entry into the franchise for non-Persona fans, and the constantly evolving story is pure gaming decadence.
Even the menus in Persona 5 have more style than most video games. Well worth the investment from start to finish.
Image: Gizmodo
There's never been a better year for the PSVR, with Sony's headset getting some absolute crackers throughout the course of the year. Tetris Effect is an absolute must for any PS4 owner – it's great in 2D, but even better in VR – and Sony's Astro Bot: Rescue Mission is quietly one of the most innovative and clever platformers of the year, not to mention one of the best uses of VR since headsets hit the market a few years ago.
Plus, Sony's VR is the only platform with the utterly adorable Neko Atsume. Who doesn't want to collect cats?
Virtual reality has certainly come into its own over the past few years, as technology has evolved to produce games and headsets worth investing in.
Read more
Still one of the most reliable and versatile controllers released this generation. There's a range of colours available to match any gamer's play style. Bask in the glory of victory with Sunset Orange, shine bright with Stunning Crystal or turn up the heat with Magma Red.
PS+ users got Destiny 2 for free earlier this year to mark the release of the Forsaken expansion.
Looking for a gift that keeps giving? PlayStation Plus's free monthly games will keep any PS4 owner's game library growing. Already this year, PS+ owners have gotten the following: Destiny 2, Yakuza Kiwami, Bulletstorm, Jackbox Party Pack 2, SOMA, SteinsGate, God of War 3: Remastered, Mafia 3, Bloodborne, Trials Fusion, Deus Ex: Mankind Divided, Until Dawn, XCOM 2, Dead by Daylight, RiME, Just Cause 3, Ratchet & Clank, and more.
If you offered that to someone for $80, it'd be the bundle of the year. Each new game is available indefinitely as long as you add them to your account before the month is out, meaning you can bulk out your account without having to max out your internet connection.
If you have to play one Souls game, it should be Bloodborne. Perhaps the most visually striking of Miyazaki and FromSoftware's creations over the last few years, Bloodborne offers a slightly more streamlined and aggressive experience for newcomers to the franchise that has helped transform combat games across all genres.
An absolute must for fans of H.P. Lovecraft, people who enjoy a challenge, and anyone who wants to bask in a beautifully brutal Yharnam, inspired by Gothic-era London.
It's human nature. When it comes time to talk game of the year we very rarely think back to the first six months of the calendar. The release schedule tends to be November heavy, so it's easy to forget. Consider this a timely reminder of how gorgeous Bloodborne was.
Read more
PlayStation Hits are the perfect gifts that won't break the bank, offering must-have PS4 classics for any collection, from award-winning epics like The Last of Us: Remastered to family-friendly favourites including Ratchet & Clank.