Every year you'll hear a lot about CES "trends". It's basically shorthand for the product or category of product people saw the most on the show floor, most of which has been 8K, something to do with 5G, and so forth.
In the gaming space, the one trend that's impossible to miss at any major brand with a foot in gaming hardware? Enormous, titanic-sized monitors.
Australians have already had access to a few monitors just shy of 49 inches, with Samsung introducing their enormous screen to the local market last year. There were plenty of screen in the 32-35 inch range, and some of those brands (LG for example) will branch out into the mini-TV territory as 2019 rolls on.
Below you'll find a list of all the absurdly enormous screens, most of which will make their way to Australia at some point, that made an appearance.
Lenovo
Lenovo's Australian presence has typically been in the laptop and notebook space – most PC users are familiar with the famous red knob in the middle of their keyboard. Their Legion brand has been part of their push into gaming, and over next year the lineup will span across mice, keyboards, headphones, pre-built PCs and monitors.
One of the monitors is the Y44w, a 44-inch screen with 3840 x 1200 resolution and a 144Hz refresh rate.
Samsung
Image: Supplied
Samsung might not ship their gaming notebooks to Australia, but there's plenty of gaming monitors available. Their 49-inch beast has been available in Australia for a while, and the CRG9 will follow on from the CHG90 by upping the resolution from 3840×1080 to 5120×1440.
Good size screen for sim racers. Maybe not so much if you don't have an RTX 2080 Ti to go with it, but then you're already spending thousands (most likely – local pricing isn't out yet) on a monitor, so that's probably not your biggest concern.
LG
LG's monitors are the most interesting, in the sense that they're doing a few different things. The gaming line of LG's monitors are now branded UltraGear, and the flagship in that category is the LG 38GL950G 3840×1600 – it's a 21:9 screen – G-Sync compatible Nano IPS screen. (It was G-Sync compatible when it was first announced, but these days it would be called G-Sync Ultimate following Nvidia's change in nomenclature around adaptive sync.)
It's not quite over 40 inches, but it's well enough over the standard monitor sizes that you'll feel like you're sitting in front of a TV. Having had past experience with enormous screens, being a fraction smaller could make day-to-day use a hell of a lot more comfortable.
The UltraGear product is quoted at supporting 98 percent of the DCI-P3 colour gamut, and the maximum refresh rate tops out at 144Hz.
On the other end is the 5120 x 1440 49WL95. It's a 49-inch 32:9 screen, one that directly competes with the Samsung's CRG9, although this screen is more targeted at productivity. It does support HDR10 however, so I can see it being a good combination for gamers with a good deal of cash that want a mammoth screen that can also support HDR for gaming on a PS4 or Xbox One. At 5120 x 1440, most games aren't going to be running over 100fps anyway.
Dell/Alienware
If you want the more gaming centric (and the premium that comes with that) then you have the Alienware option. But if you want the long-standing accuracy and quality of the Dell UltraSharp line, then there's a 49-inch beast in there for you too.
Starting with the UltraSharp monitors is the U4919DW, a 49-inch screen with 5120×1440. It's got a 3800R curve and 100 percent support of the sRGB colour gamut. There's even a built in KVM so you can control two computers with one mouse + keyboard setup.
That's nothing compared to the brand new Alienware 55-inch 4K OLED display, mind you. Announced during the Dell keynote, it sports a maximum refresh rate of 120Hz with adaptive sync support. The bezels are pretty bloody tiny for a screen that size, too. No word on pricing or availability locally, though.
HP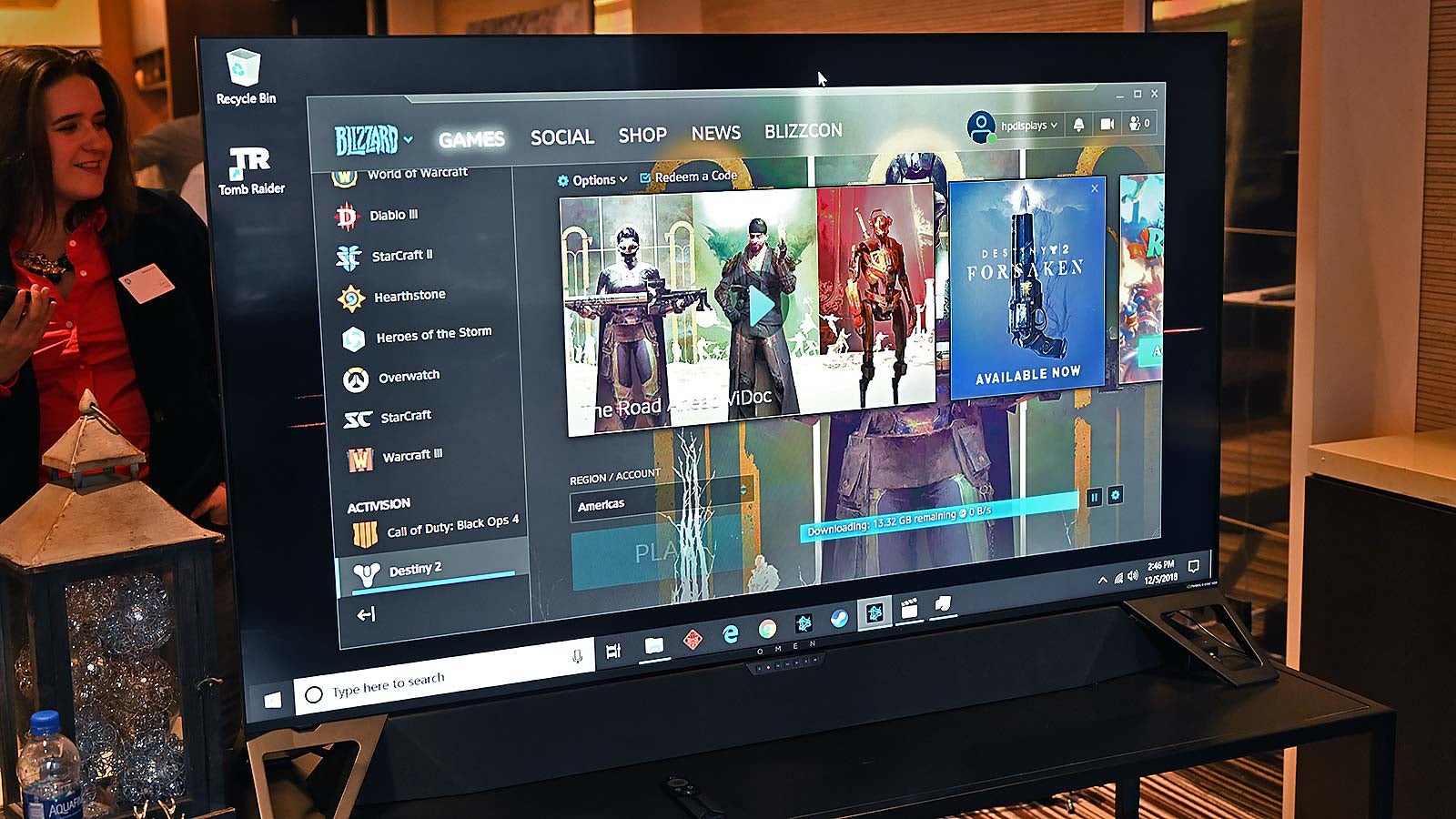 The biggest of the lot is the HP Omen X Emperium 65, a 65″ display running off Nvidia's Big Format Gaming Display (BFGD) tech. That basically means you've got 4K, G-Sync support, a 144Hz refresh rate, HDR10 support, and a peak brightness of 1000 nits with a standard hovering around 750 nits.
I saw this in action at Nvidia's booth the other day, and it's a nice screen. It's even got Nvidia Shield built into the unit, so it really is for someone who wants to replace a TV with a giant gaming display while still having that TV-like ease of functionality.
It also costs $US5000.
A year ago, Nvidia announced plans for a series of gigantic monitors with G-sync built in, running on Android, and sporting a unique blend of features found on no other TV or computer monitor. The monitors, collectively called BFGDs (as in Big Fucking Gaming Displays), had a major issue in those early demos. They were ugly. The displays seemed low quality, with poor dynamic range and a terrible blooming issue that might be acceptable in a $US500 ($703) TV, but not a $US5,000 one. But a year later, the first of those BFGD, the HP Omen X Emperium 65, is finally moving out of the conceptual demo space and into purchasable reality.
Read more
ASUS
ASUS added two 40-inch-plus screens to their lineup at CES 2019. The first is the Strix XG438Q, a 43-inch FreeSync/HDR600/4K screen with a 120Hz refresh rate. It's a VA-based screen with 10-bit support as well, with pricing and availability not known locally or internationally at this stage.
But if that's not enough, meet the Strix XG49VQ. It's a 32:9 49-inch display, with a slightly higher refresh rate (144Hz) and lower brightness (only DisplayHDR 400 compatible). It's running at a res of 3840×1080, and like the XG438Q ASUS claims it'll support 90% of the DCI-P3 colour gamut off the factory line.
MSI
MSI doesn't typically get into the monitor game, even though they've sold screens in their laptops for ages. But at CES 2019 they showed off the Optix MPG341CQR, a 34-inch 3440×1440 curved screen with a 144Hz refresh rate. That'll sell for $US900 internationally from the Australian winter.
MSI also has a 34-inch screen that costs $US1800. The benefit? It's got a resolution of 5120 x 2160, which will appeal to anyone who wants that square picture but would like a little more pixel density than what you get with regular 4K being stretched out so far.
Viewsonic
I have a soft spot for Viewsonic monitors: you can get them locally for a good price, and the quality has usually been more than acceptable. Their 32″ 4K screens were some of the best value locally, so it's nice to see them push the boundary a little with the 35-inch XG350R-C, a 3440×1440 screen with a 100Hz refresh rate, FreeSync and HDR10 support. Good combo for those who game on PC and console with the same screen (or can't get a TV). No local pricing, but it's going for $US788 internationally.
---
Those weren't all the monitors on display at the show, but they were certainly the largest ones that got a roll. It's worth noting the absence of some key brands, like Acer. Their Predator line is still king of the holy trinity (4K, IPS, 144Hz refresh rate) for gaming monitors, and it still costs a few grand to boot. But that product was out last year, and any refreshes to that lineup probably won't be announced until Computex.
So if you need a big screen, 2019 has you covered. And then some, if we're being honest.