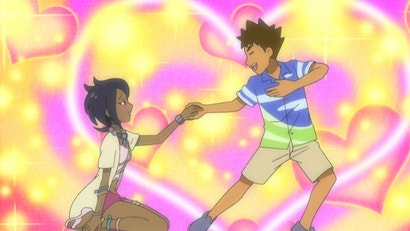 Image: ©Nintendo・Creatures・GAME FREAK・TV Tokyo・ShoPro・JR Kikaku ©Pokémon,Image:
Official Site
,Image:
Anicobin
In the recent Pokémon Sun & Moon episode, Brock is back! And after getting turned down for years, he might finally have a girlfriend.
During the show, Brock seems to have hit it off with Olivia.
After getting rejected throughout his whole life,
will our boy Brock finally be able to receive affection?

Never lose hope my single friends lol ✨#Pokemon #Brock #タケシ pic.twitter.com/0Iph7PGyEV

— Bordoki Doki✨ (@bordsbordo) January 8, 2019
*Brock's name is Takeshi in Japanese.
Like, really hit it off.
My boy Takeshi might FINALLY get the girl ♥️#Pokémon #Brock #Takeshi #タケシ #Olivia #オリビア pic.twitter.com/HWiTOV74uM

— Jermaine (ジャーメイン) Road to 1k followers (@Majinken1987) January 7, 2019
I Just Watch The New Episode of Pokemon Sun and Moon and Brock and Olivia Were Made For Each Other! #PokemonSunandMoon pic.twitter.com/4SMiUxa4Bn

— Chibi Fernando (@Chibi_Fernando) January 8, 2019
Pokemon Sun and Moon about to become the default best series in the entire Pokemon Franchise if Brock stays hooked up with Olivia

LET MY HOMIE WIN ONE POKEMON. pic.twitter.com/nX7yWcM2SW

— TRAFON (@RiseFallNick) January 8, 2019
Y'all best not screw this up , if my boy Brock don't get this happy ending we going to have a problem pic.twitter.com/4aKNA2zJDa

— The_R3B3L (@R3b3lThe) January 7, 2019
Hope this works out because...
Brock gets rejected by every girl but never gives up. #HeartOfAChampion pic.twitter.com/j0cp1ldkoy

— TheGamer (@thegamerwebsite) March 9, 2013
Brock will forever be rejected. #Fact pic.twitter.com/ltlRov8wWU

— Team Rocket (@TeamRocket) September 27, 2013