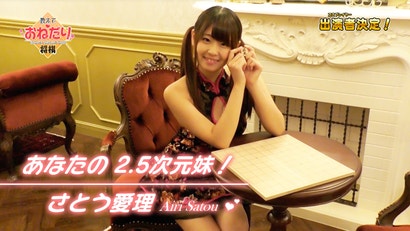 Screenshot:
SilverStarJapan
Nintendo Switch exclusive Oshiete Onedari Shogi (Teach Me Japanese Chess Pretty Please) has players give shogi hints and tips to adult video actress Airi Satou as well as cosplayers Yui Uno and Inori Hanamiya. For a reward, players get photos and clips of them in bikinis and maid outfits.
In total, there are over 1300 photos and over 30 clips, including DLC.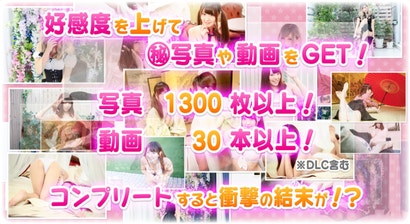 Screenshot:
Official Site
While there is no nudity (the game is rated Cero D, which is 17 years old and up), the digital-only game does have a panic screen that it's calling "Mama ga kita moodo" (Mum Showed Up Mode) in case the player's mother walks in.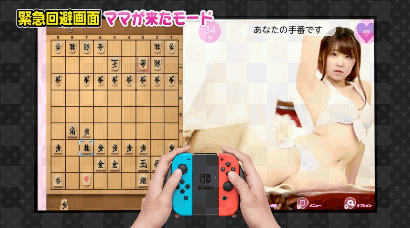 Gif: SilverStar Japan
The game's promotional trailer does not introduce Satou as an adult video actress (her official Twitter does), instead calling her "your 2.5-dimensional sister".
Satou posted behind-the-scenes photos of voice recording for Oshiete Onedari Shougi as well as the latest issue of Famitsu, which covers the game.
♡★♡★♡★♡★♡★♡★♡★♡

ボイス収録楽しかったです!!

ゲーム楽しみー!
たくさんおねだりしてきた!!
滑舌悪すぎて逆に笑えたわ!
でも頑張ったよ!
おねだり将棋発売楽しみ!!!!

電車乗り間違えてのんびり帰ってる!

♡★♡★♡★♡★♡★♡★♡★♡ pic.twitter.com/NKe1udBst1

— さとう愛理☆AV女優 (@satou_airi) September 5, 2018
♡★♡★♡★♡★♡★♡★♡★♡

本日発売の週刊ファミ通に
載りましたー!

ゲーム内の衣装で取材してもらったの!!

ポストカードも当たるみたいだから
応募してね(๑• ω •๑)

♡★♡★♡★♡★♡★♡★♡★♡ pic.twitter.com/e0sKRnayLq

— さとう愛理☆AV女優 (@satou_airi) February 14, 2019
Last year, fetish cosplay title Shin Den Ai: Nani ga Hoshii no? was released on the Switch, which is becoming home to a wide variety of stuff.