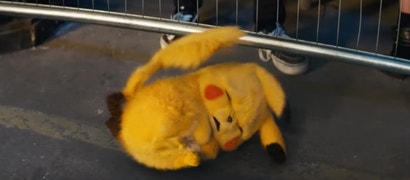 Screenshot:
Warner Bros. Pictures
The latest Detective Pikachu trailer shows a rather down-in-the-dumps electric rodent sleuth. Online in Japan, people have fallen in love with this shiwa-shiwa (しわしわ or wrinkly) Pikachu, calling the character cute and creating fan art.
Here are some images of the wrinkly Pikachu.
しわしわピカチュウ可愛い pic.twitter.com/duzOdtVwlK

— ぽぴー (@gleetwd0426) March 1, 2019
しわしわピカチュウ pic.twitter.com/LGyE4cjOQL

— 蝉野くん (@juvenileS_detox) March 2, 2019
しわチュウ(しわしわピカチュウ)最高よな pic.twitter.com/CS2lrVVIcy

— 汐野辺サイカ (@shionobe) March 1, 2019
One Twitter user called the movie's version "Shiwachu" (Wrinkle-chu). Everyone seems to agree that Detective Pikachu is very cute.
名探偵ピカチュウ絶対観たい… pic.twitter.com/dCxixjhTSC

— cocoro???? (@CocoroCcr) February 27, 2019
かわいい pic.twitter.com/Dw6uPFT4nV

— minaponz (@minaponz1) February 28, 2019
しわしわピカチュウとリパさんの親和性でちゅ pic.twitter.com/WW4zQpioQf

— 鮭だらけ????(新刊通販開始) (@shakemamire) March 2, 2019
レゴでピカチュウつくったよ pic.twitter.com/6o6hPVz4xv

— マンティス (@tis_toys) March 6, 2019
今話題のしわしわピカチュウの落書き置いて寝るね pic.twitter.com/OtO9Bc461p

— ひ (@ichicla1215) March 3, 2019
しわしわのピカチュウが久々のドストライクだったので????⚡️

1枚目は公式アングル意識。

芝に乗せたら可愛いのでは????と思ったけど草野球のおじさん感がすごい。

4枚目は事件の調査で聞き込みに来た時に、正座してたら足が痺れてしまったという細か〜い設定つき。笑#名探偵ピカチュウ #羊毛フェルト pic.twitter.com/sDlgo1OTXX

— らしゃ (@molmichi) March 3, 2019
みんなしわしわピカチュウ大好きか
こんなん描きたくなるわ#デザインカプチーノ#名探偵ピカチュウ pic.twitter.com/ca2oTVfTGy

— ところてん (@tokoroten_1234) March 3, 2019
しわしわピカチュウのクッキー作った#名探偵ピカチュウ pic.twitter.com/NaNxgoFQdm

— 那島ナカヤ (@n_akaya) March 6, 2019
わたしもしわしわのピカチュウ 描きたかったんや………… pic.twitter.com/ol3t5TkCfa

— みんと????チャレ!B29 (@mint_nappa) February 28, 2019
しわしわピカチュウを描いてみたので、そっと置いて寝ます。 pic.twitter.com/XWTNAt6HDV

— りきぞう (@rikizou113) March 3, 2019
しわしわのピカチュウ描きたくて夜中に描いてしまった…#名探偵ピカチュウ pic.twitter.com/9nmMdtaU8L

— ササピー (@donsasasu) March 3, 2019
スルー困難なしわしわピカチュウがTLで盛り上がっていたのでつい……描いてしまった……

チロ太郎さんかと思った。 pic.twitter.com/gbs6nC6r95

— KORIRI (@koriri222) March 4, 2019
しわしわピカチュウが可愛すぎて我慢できずに描いてしまった。ぬいぐるみ欲しい… pic.twitter.com/6YEbbOB4R2

— 獣道 (@kemo_kemono) March 4, 2019
金曜の夜に月曜朝までの仕事が発生したしわしわピカチュウ pic.twitter.com/ozvvI0OxxP

— せるこ (@seruko) March 2, 2019
しわしわピカチュウ………………… pic.twitter.com/7Xnkw3H5Nl

— 黄ばみ人間 (@tensai_0123) March 1, 2019
しわしわピカチュウさんかわいい
クレしんの前が見えねェを彷彿とさせる pic.twitter.com/pG6HS6Ex1I

— ササキリサ???? (@ssm_dp) March 2, 2019
昨日描いたしわしわピカチュウの背景を居酒屋にした pic.twitter.com/SAVTpYEWTK

— ????ωもぶこTWDリアタイ????おじさんω???? (@ochin_mbk) March 4, 2019
しわしわピカチュウ映画観たい……… pic.twitter.com/RPeF0N4cOV

— 斜陽 (@Y54745201) March 2, 2019
絶対見たい。w#名探偵ピカチュウ pic.twitter.com/NPFFrEk0J9

— ????夕燈???? (@yvh1215) February 28, 2019
会社員ピカチュウ pic.twitter.com/LJ1qvVnszd

— コハラモトシ@『アニワル』スタンプ審査中 (@kohara_motoshi) March 3, 2019
しわしわピカチュウを見て息子は「これはピカチュウじゃない」と断言しておりました。再現度の問題か… pic.twitter.com/0nZDd3b53w

— 侑奈よしお兄担@卒業で錯乱中 (@yuuna410) March 3, 2019
しわしわピカチュウが心にささったので刺した pic.twitter.com/Xhw69uxMjX

— しぃさん/フリー予言者ニフラム (@c_san43th) March 4, 2019
ピカチュウさんとIKEAのサメさん#ドット絵 #edgetouch pic.twitter.com/keNzJ7XeGz

— 緑\('ω')/箱verse (@midori_box) March 3, 2019
しわしわピカチュウの可愛さに我慢できなくてやってしまった。早く映画見たいよ〜 pic.twitter.com/PP9ZsJo44N

— ちの (@chino_chino_) March 2, 2019
しわピカ描いてみた!#しわしわピカチュウ pic.twitter.com/KVgNnETU7w

— John designer (@johncreated) March 4, 2019
行け!ピカチュウ...! お? pic.twitter.com/H00z0i0SDN

— いまむー (@tomoyanandayo) March 2, 2019
ピカピ… pic.twitter.com/IAUetjCPw6

— kurageおじさん原稿しなさい???? (@kurage_nin) March 2, 2019