Several years ago, Japanese convenience stores began selling better coffee, offering fresh doughnuts and rolling out eat-in seating spaces for customers. Now, one convenience store chain in Fukuoka has taken the next logical step: a bar.
This week, the Poplar convenience store located in front of Fukuoka's Hakata Station just opened its first bar. It replaces the convenience store's previous eat-in area. This is being called the first of its kind in Japan.
As the official announcement explains, the retro-style drinking establishment is located inside the convenience store. Called Osake no Bijutsukan (The Alcohol Museum), it offers over 1,000 different drinks with prices starting as low as 500 yen per glass.
Osake no Bijutsukan is originally a chain of bars from Kyoto.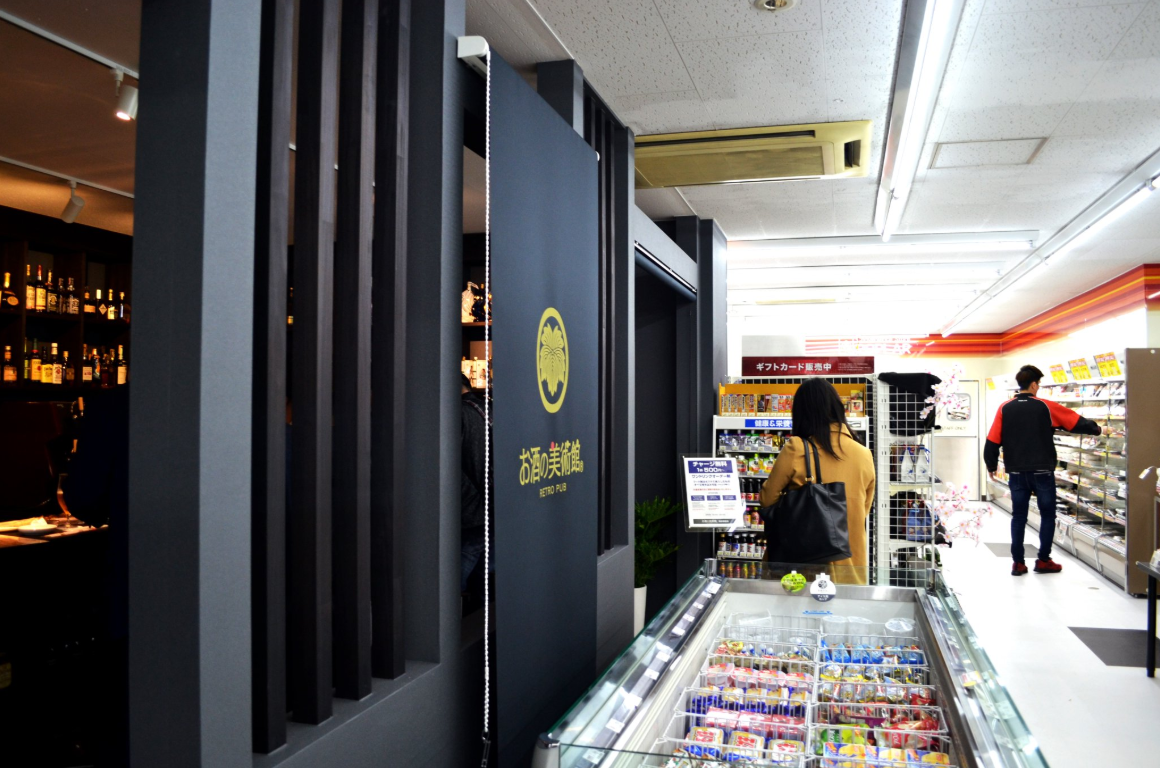 Image:
senior04111021
Since patrons can buy alcohol at the convenience store for takeout or order drinks from the bar, this is being called a kaku–uchi (角打ち), which is a combined bar and liquor store.
As Yahoo! News Japan explains, drinking alcohol is banned at many eat-in areas at convenience stores due to the high number of underage customers.
Here, the store can separate the legal drinking age adults into a bar inside the shop. Customers can buy snacks at the convenience store, carry them into the bar and order a drink. The official release also notes that the bar will be strict about verifying drinking ages.
お酒の美術館
初九州上陸 pic.twitter.com/1qWZKJMhlt

— よう (@ffmuteki9) March 7, 2019
そう、まさかのポプラがw角打ちってよりバー的なでしたね!今の時間満席だったので近々リベンジします???? pic.twitter.com/RIdaGEwq09

— Nozomu M (@nozomu8695) March 7, 2019
本日15時お酒の美術館博多駅前店オープンいたしました!
既にご盛況頂いております????

KBC九州朝日放送さん「アサデス。」の取材も来ていただきました!
本日18:30〜19:00に放送予定です????#お酒の美術館 #博多駅前 #ポプラ #立ち飲み #バー #コンビニ #本日オープン pic.twitter.com/1fPS6NcQUJ

— レトロパブ お酒の美術館 (@senior04111021) March 6, 2019
3月6日にお酒の美術館×ポプラ博多駅前店がオープンいたしました????✨初日から多くのお客様がご来店下さいました‼️

皆様のご来店を心よりお待ちしております

福岡県福岡市博多区博多駅前2丁目3-12
OPEN : 15:00~24:00( お酒の美術館の営業時間 )#お酒の美術館 #ポプラ #福岡 #博多 #立ち飲みバー pic.twitter.com/2tYOc2UPyJ

— レトロパブ お酒の美術館 (@senior04111021) March 7, 2019
本日、3月6日に
博多駅横の
コンビニ「ポプラ」さんに

「お酒の美術館」さん
というバーがオープン
したそうですね♪

コンビニの
イートインスペースを
活用した試み????

ちょい呑みには良いかも
です????

今度行ってみたいなぁ。
プーさん????#博多駅 #お酒の美術館 #バー #希少なオールドボトル pic.twitter.com/qvaQluDW94

— 中洲 最高級店【博多ALBATROSS】 (@nakasu_abt) March 6, 2019
The convenience store hopes this drinking establishment will also appeal to foreign tourists visiting Fukuoka.