Nintendo just announced the new VR Kit for Nintendo Labo. It's a virtual reality set with cardboard. The internet, of course, reacted.
Nintendo Labo is coming up on its one-year anniversary. The first sets were released on April 20, 2018 in North America. Unlike the earlier kits, the VR one includes goggles, which are a more traditional-style peripheral and which are integrated into the cardboard constructions. Some of those builds are certainly memorable.
HOLY SHIT, JAY! YOU GOTTA COME LOOK AT THIS DUCK'S ASSHOLE, JAY! pic.twitter.com/8Eoux878h3

— Jeffrey Grubb (@JeffGrubb) March 7, 2019
The one LABO VR release that has to happen — Pokemon Snap. This idea is free, @NintendoAmerica. You will sell a million LABO VR kits on Day 1. Everyone wants to photograph Pokemon in VR. Everything has led to this. Make it happen and snap that easy money from our wallets. pic.twitter.com/BDmytRrntB

— Direct-Feed Games (@DirectFeedGames) March 7, 2019
someone's gonna hack the labo vr thing so that it's a somewhat functional and nauseating steam vr headset

— Bezier (@BezierToon) March 7, 2019
Nintendo Labo VR lookin kinda clean pic.twitter.com/iWX7fFuNUy

— Sykin (@SykinSG) March 7, 2019
LORD I hope Prime 4 is compatible with Labo VR so I can play through a dark, serious, first person shooter with *this* strapped to my face: pic.twitter.com/LGkqIe9FWK

— Calvin and Hobbies (@CalvinAndHobbys) March 7, 2019
Leaked Labo VR prototype from 2015. #NintendoLabo (Had to make this joke when I first heard the annoucement) pic.twitter.com/teUR3Qg4z8

— Mark Lee (@MarkLee_LCW) March 7, 2019
I'll just throw in my suggestions for games that Nintendo should utilize in the future for Labo VR. pic.twitter.com/XjBrqHjhzV

— Pixelbuster (@Nitomatta) March 7, 2019
I don't see PSVR, Samsung Gear VR or Google Daydream using 4D theater effects. Nintendo's got 'em beat…

— Nicolo (@Nymo) March 7, 2019
Glad to see Labo VR comes with Vomit Tunnel accessory because 720p 60Hz VR is gonna need it pic.twitter.com/LfNnWFaTFy

— Hugh Langley (@HughLangley) March 7, 2019
Nintendo LABO VR looks great pic.twitter.com/CHQwfdeilA

— Sullivan Fitz-James (@LetLemon) March 7, 2019
And now… here's some random images of people looking like complete fools with Labo VR

Tag yourself I'm the guy with the gun pic.twitter.com/0ZyQtoc7Hj

— Pixelbuster (@Nitomatta) March 7, 2019
I was able to get a Labo VR Kit early so I'll play around with it and let you know my thoughts. pic.twitter.com/KyQq3vtN3k

— Daniel Ahmad (@ZhugeEX) March 7, 2019
WAIT IT ACTUALLY IS AN ELEPHANT WHAT TH pic.twitter.com/iFwPFUkMuV

— lemlime (@TheMasaposo) March 7, 2019
Look how friendly Labo VR looks by comparison, with those big ol' eyes pic.twitter.com/3BovzY0lDF

— André Segers (@AndreSegers) March 7, 2019
If I'm being honest, Nintendo Labo Toy-Con 04: VR Kit in a vacuum isn't all that exciting to me, but if nothing is delayed, this is arguably one of Nintendo's greatest publishing years ever, and this is just another thing added on top of that. REALLY hard to complain haha.

— Stealth (@Stealth40k) March 7, 2019
Labo to me is one of Nintendo's few big fails over the last 3 or 4 years. I've literally not touched it once since we built a few things one Saturday morning and the kids never spoke of it again.

— Mark Serrels (@Serrels) March 7, 2019
Personally, I enjoyed putting Labo together with my kids, but now a month later, there is a pile of cardboard in their room. Nintendo Labo sits untouched.
I'm hesitant about the Labo VR Kit. When Nintendo Labo came out, my kids *loved* constructing and playing but neither had staying power and now we have a pile of cardboard. Am I the only one? Maybe the VR Kit experience will be different… pic.twitter.com/kIM5AfDD7g

— Brian Ashcraft (@Brian_Ashcraft) March 7, 2019
Labo was cute but ultimately just a novelty that kept me interested for like…two days. N doing anything VR (game-wise) is the most exciting thing imaginable, but do I really need to build a cardboard headset to experience it? (He says as he searches amazon for preorder link)

— John Ricciardi ☃️???? (@johntv) March 7, 2019
Screenshot:
r/nintendo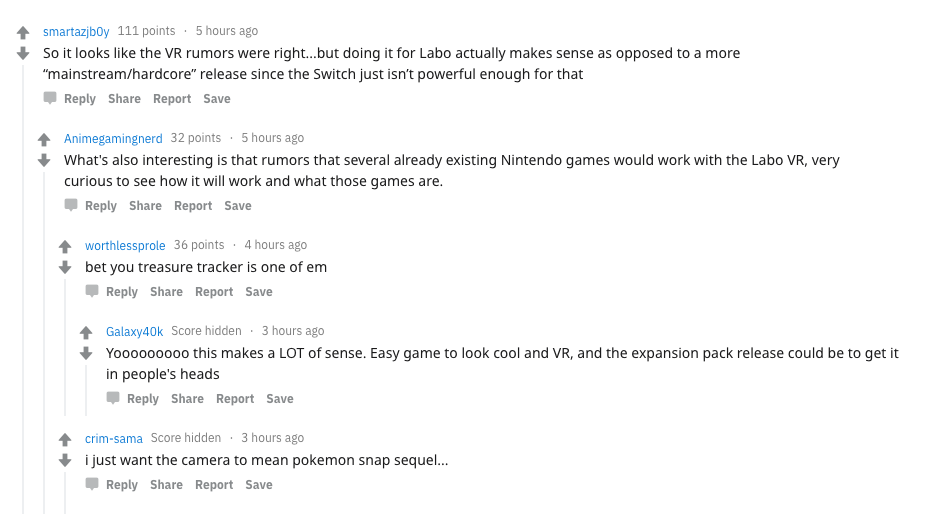 Screenshot:
r/Games

Screenshot:
r/NintendoSwitch