There's been a lot of chatter about ray-tracing this year. But support in games is still thin on the ground, and most people just want to play something reliably at 60fps without breaking the bank. So that's where Nvidia's new GPUs, the lower-end GTX 1660 Ti and GTX 1650, come into play. They're vastly more powerful than the integrated graphics in most laptops, but don't require so much power or cooling that the chassis housing it will make your knees regret it.
Commensurate with the launch, the usual manufacturers have announced a ton of new laptops featuring the new GPUs. Not all of those are coming to Australia, however, so here's a list of the ones that are.
Before we get onto the list, a primer on what's been launched. People are familiar by now with the RTX series of GPUs, Nvidia's flagship GPUs with dedicated hardware to tackle the various tasks required of ray-tracing and other neural-network powered features (like DLSS).
There's a bunch of laptops with those cards already. But for people who just want to play less taxing games at the bogstandard 1080p, an RTX 2070, 2080 or 2080 Ti is generally overkill. So that's where the GTX 1660 Ti came in, a $400-ish card pitched at gamers who were still rocking a GTX 960 (or older).
The largest failing of NVIDIA's Turing-based product stack was the lack of an affordable option. Late last week, the company moved to partially solve that problem, announcing the GTX 1660 Ti.
Read more
Of course, Nvidia went and announced that non-RTX GPUs can do ray-tracing now. It's not worth the performance hit with lower-end GPUs in the first place, but hey, the option is there. But if you just want a gaming laptop that can handle games like Overwatch, Apex Legends and CS:GO this year without having to sign away two or three months' worth of pay-packets, here's what you can look forward to. Note that local pricing and exact availability on most of these laptops isn't available just yet, particularly since most of them have just been announced.
Acer
Nitro 5 (GTX 1650)
Nitro 5 (GTX 1660 Ti)
Predator Helios 300 (GTX 1660 Ti)
---
Gigabyte
Gigabyte is still fairly new to the laptop market, although the AORUS brand has always competed fairly strongly on price and specs. Australians will be getting two 1660 Ti models in 2019, but no 1650 variants.
AERO 15 (GTX 1660 Ti)
AORUS 15 (GTX 1660 Ti)
---
ASUS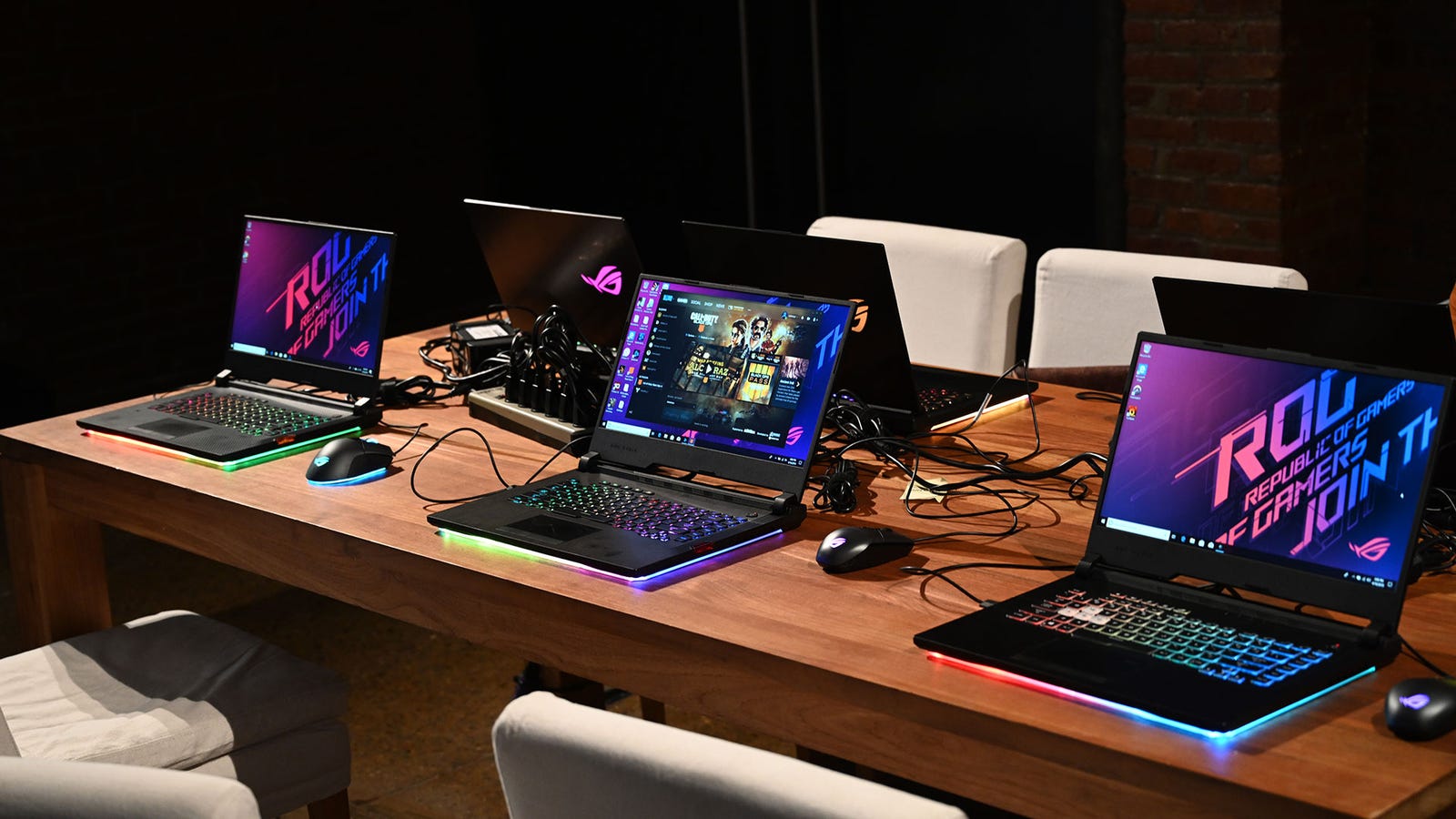 ASUS are the biggest brand when it comes to gaming laptops, certainly in terms of sales. They're also the brand that will have the most models available in Australia, ranging from the esports-focused Strix Scar III line with 240Hz screens, the Strix G laptops and the more slimline Zephyrus laptops.
Most intriguingly, Nvidia also lifted the lid on a range of ASUS laptops that will be shipping with AMD's Ryzen mobile CPUs. Five models will make their way to Australia this year, one in the Zephyrus line and four from ASUS's TUF Gaming brand. The Zephyrus AMD laptop will also be the only GTX 1660 Ti model available in the smaller Max-Q design.
TUF Gaming FX505DT (AMD, GTX 1650)
TUF Gaming FX505DU (AMD, GTX 1660 Ti)
TUF Gaming FX705DT (AMD, GTX 1650)
TUF Gaming FX705DU (AMD, GTX 1660 Ti)
Zephyrus G GU502DU (AMD, GTX 1660 Ti Max-Q)
Strix G G531GT (GTX 1650)
Strix G G531GU (GTX 1660 Ti)
Strix G G731GU (GTX 1660 Ti)
Strix G G731GT (GTX 1650)
Zephyrus M GU502GU (GTX 1660 Ti)
Strix Scar III G731 (GTX 1660 Ti)
Strix Scar III G531 (GTX 1660 Ti)
---
MSI
The next biggest competitor in gaming laptops locally, certainly in terms of sheer volume, is MSI. No word on whether they're following ASUS's lead in having AMD-powered models available in Australia later this year, but there will be 8 separate laptops with the GTX 1650 or GTX 1660 Ti, including the relatively lightweight (compared to most gaming laptops) GF63 Thin model and the GS65 Stealth.
GS65 Stealth 9SD (GTX 1660 Ti)
GP65 9SD (GTX 1660 Ti)
GP75 9SD (GTX 1660 Ti)
PS63 Modern 8SC (GTX 1650)
GL63 9SC (GTX 1650)
GF63 Thin 9SC (GTX 1650)
GF75 Thin 9SC (GTX 1650)
P65 9SC (GTX 1650)
---
Computex is also coming up, and you can't have a tech show in Asia without a laptop or seven being announced. And then there's also the burgeoning category of desktop replacement devices, like the detachable ROG Mothership, although don't expect something like that to be cheap.
Regardless, consider this the start of what 2019 has to offer in terms of entry-level gaming laptops. The range is only expected to grow, and it'll be super interesting to see if more manufacturers start testing the waters with AMD-powered chips. Competition in the laptop market might finally have arrived.