What the fresh hell is even going on here? Image: HBO / Foxtel Now
Who cares about spending $127 million on a show if you can't see the bloody thing?
That's my gripe with last night's episode, The Long Night. HBO reportedly spent 11 weeks filming in freezing temperatures, with several hundred extras, cast members and crew.
Obviously, such a huge effort costs a ton of money. The final season of GoT cost HBO just over $127 million ($US90 million), although the Battle for Winterfell will be one of the most expensive episodes.
So at a minimum, The Long Night would have cost at least $21 million.
It's a shame, then, that you could barely make out what was going on.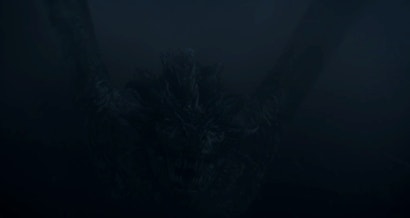 This is supposed to be Dany on a dragon, but you've got bugger all chance of detecting that.
For reference, HBO doesn't fuck around when it comes to their camera rigs. The full package includes an ARRI Alexa, an ARRA Alexa Mini, and a RED Epic Dragon 6K rig, which is light enough to be used with Freefly's MoVI M10 camera gimble. There's also a range of steadycam, handheld and on-rails setups, which HBO has shown off before in a behind-the-scenes video for season 6.
But having high quality source footage doesn't help if everything gets compressed to complete garbage, a situation Australians are familiar with. Unlike most streaming services, HBO Now doesn't broadcast footage in 4K or HDR, the latter of which would have been supremely helpful in dealing with the muddy blacks that ruined The Long Night. You can watch previous seasons in 4K Ultra HD if you buy it on Blu-Ray, but 1080p is the best you can hope to stream.
And that's if you're not using a VPN. Australians going through the official channels are limited to the quality broadcast by Foxtel Now, which broadcasts at 720p for live TV and 1080p for select On Demand titles. And for most Australians, particularly those watching the initial screening at 11am - in the middle of the day, typically in a room with bright light - several sections of the fight were completely unwatchable.
I would like to thank Melisandre for increasing the lighting in this episode by 100 #GameofThrones #GoT pic.twitter.com/ngIQ5tHaDO

— Nora Dominick (@noradominick) April 29, 2019
I'm not saying Game Of Thrones was dark this week but I think Bran saw more than I did.

— Matt Lucas (@RealMattLucas) April 29, 2019
Season 1: Man, this show is so dark!

Season 7: Why the fuck is this show so dark?#GameofThrones pic.twitter.com/bzpXvVBuNs

— neontaster (@neontaster) April 29, 2019
Even identifying key supporting actors in parts of the fight that were better lit, courtesy of Melisandre's magic and the dragons starting to get into the fray, was a struggle. The one saving grace was that I was watching on a monitor close enough that I could lean in and squint. Anyone watching on a larger TV, where blockier pixels are blown up in full view, didn't have that luxury. (The worst scenario was apparently during an invite-only screening, where viewers were treated to a letterbox experience of a 720p image blown up onto a cinema screen. I'm told that the quality was so bad that people started walking out.)
A poignant moment, ruined by the fact that the dragon has all the detail of a
Minecraft
block. Image: HBO / Foxtel Now / Game of Thrones
It's frustrating because this is a situation that flared up last season. Every short of the Starks holding court in Winterfell, where just about every face and object is cast in great shadow, were always a problem. But HBO shot around most of this by using bright, vibrant areas. Shots around Dragonstone were often done by the cliffs, the beaches or something with a view to the water, offering plenty of natural light. Episodes beyond the wall often featured a backdrop of snow. Sam and Gilly's scenes at the Citadel were bathed in candlelight, illustrating their faces in a soft light. And much of King's Landing is covered in the warm daylight; even shots around Cersei's map room where many of the archways are covered in shadow, or underground parts of the city where Qyburn does his experiments, were still well balanced.
Broadcasting in HDR would help alleviate some of the darkness issue, although that's not much consolation if the compression ends up ruining the end quality anyway. The bigger problem is, as Alex Cranz noted, most of the editing and colour grading would have been done in a dark room on a reference monitor, the same conditions that films are edited in.
That's fine if you're in a theatre, but it's garbage for the everyday conditions that people watch content on now. It's especially true for people who stream content on their phones. And then there's the whole issue where people don't calibrate their displays, or they buy screens and TVs that don't have great quality to begin with (particularly if you're getting a budget TV).
Game of thrones looking incredible on $3k OLED TV /s from r/OLED
It's a stunning oversight on HBO's part. Winterfell, and much of the North, has a lot of beautiful blacks, blues and hues that are incredibly subtle, especially when filmed at night. By failing to better account for the conditions that most viewers would be seeing the show in, and not supporting better quality resolutions or features like HDR that most users expect in 2019, all of that went to pot. A ton of detail was lost, and while people will be able to enjoy the full experience in a year or so when the season is released in 4K Blu-Ray, that's nothing compared to enjoying the experience properly for the first time.
It'd be nice to see the episode the way HBO intended. The source footage is shot at a high enough detail, and maybe local cinemas could get their hands on higher-quality footage for one-off GoT marathons. Either way, at least we know where the season is headed. Winter has come and gone, and hopefully it takes the tide of blocky, muddy darkness with it.