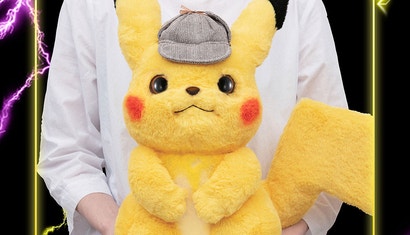 Screenshot:
Bandai
Bandai is releasing a life-sized Detective Pikachu plush toy. His ears, hands and tail are all poseable. Just look at it!
The doll is priced at 21,780 yen (nearly $290) and will go on sale this December in Japan. No word on an international release. 
Check out more images below.
【#メガホビEXPO】
本日受注開始!
完全受注生産なアクションドール
「LIFE SIZE DOLL #名探偵ピカチュウ」初展示⚡️https://t.co/eyZDkf1pvo #PikaPika #DetectivePikachu pic.twitter.com/2p9aaSfDua

— メガハウス とり子@5/25メガホビ (@mega_girlshobby) May 25, 2019
LIFE SIZE DOLL 名探偵ピカチュウ
ふさふさです#メガホビEXPO #ポケモン pic.twitter.com/Hc8nXlsjnd

— ポケモンセンターNAKAYAMA (@pikachu_pcn) May 25, 2019