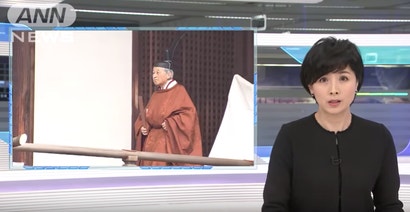 Screenshot:
ANNnewsCH
The current Japanese imperial era ends today when Emperor Akihito abdicates the Chrysanthemum Throne. It is the end of an era.
The Heisei Period began on January 8, 1989 when Akihito ascended to the throne. The day prior, his father, Hirohito, had passed away, ending the Showa Era (1926-1989). Traditionally, new eras begin when the current emperor passes away, but Akihito decided to give up the throne, making way for his son's coronation.
While the country isn't mourning a death, this imperial succession is still bittersweet, bidding adieu to the nostalgic memories of the previous era and optimistically looking forward to what's next.
Heisei was a great period of peace where Akihito connected with the people of Japan unlike any emperor before. May Reiwa be just as peaceful if not more so. Perhaps Amaterasu is smiling.https://t.co/H9WDNoNxfJ

— Steve "Inaba" ???? (@The_Inaba) April 30, 2019
Imperial palace of the last Heisei day https://t.co/jcWUWCw0md pic.twitter.com/MVBiDpJd49

— Kumi (@CooMeCohHash) April 30, 2019
Japan's 85-year-old Emperor Akihito has begun his abdication rituals https://t.co/PvZhczrBFy pic.twitter.com/G09bLXaySf

— Al Jazeera News (@AJENews) April 30, 2019
Starting in 1989 the Heisei Era saw a lot of changes throughout Japan over these past 30 years.. From technological advancements to natural disasters.
The Heisei era will be looked back upon with many mixed emotions..#平成最後の日 #平成 pic.twitter.com/zQjCUn7jw3

— リッチー BlackVelvet (@BritishLuvie) April 30, 2019
Japanese thank departing emperor whose era marked shift from 1980s boom: Japanese expressed warmth and gratitude toward Emperor Akihito ahead of his abdication on Tuesday, but judged his three-decade Heisei era as a period of difficulty and transition… https://t.co/9rjNKtUYm5 pic.twitter.com/kTl7b5ufZu

— Mohmmed AlMosallam (@almosallam_) April 30, 2019
The last 3:24pm in Heisei

— 【裏アカ男子】ヒロサンタ/ユウジ (@hirosanta_san) April 30, 2019
@SoftBank made a video about 平成 (heisei) and they're sharing it on Youtube.
平成〜 ????????pic.twitter.com/ho7T0Y8l6L

— Ako (@akokitamura) April 29, 2019
#Perfume is featured on the cover of Asahi Weekly's April 28 cover, the last issue to come out in the #Heisei era. pic.twitter.com/PMKhi7GV6I

— 朝日ウイークリー (@asahi_weekly) April 27, 2019
ボスCMの平成特別篇を観て平成の終わりを実感。

これからも「このろくでもない、すばらしき世界」でBOSSと共に調査を頑張って下さいっ。https://t.co/IUCk1xUylz pic.twitter.com/zxqNaIJLta

— ゆうやん。 (@tagonin) April 30, 2019
"The prosperity we have enjoyed particularly during the Heisei Era has made people forget the terrors of war ... They don't understand that peace shouldn't be taken for granted." #平成最後の日 #平成 https://t.co/1j8toOQZ9q

— The Japan Times (@japantimes) April 30, 2019
Goodbye #Heisei period. Strangely, I'm feeling a bit sentimental. As "Reiwa" begins, I hope we can all work together to create a better and brighter future for Japan and the rest of the world. #平成最後にありがとう #令和 #Japan #日本人で良かった pic.twitter.com/bxqYUuhBix

— Kaz(カズ) (@KazJESL) April 30, 2019
Today marks His Majesty the Emperor's abdication of the throne. Explore three decades of His Majesty's reign with the April Edition of Highlighting Japan: https://t.co/sH5aVfHKxn pic.twitter.com/vPfKG4cqm9

— japan (@japan) April 30, 2019
Outside #Japan's Imperial Palace in #Tokyo where the country will mark an end of an era. Emperor Akihito is abdicating, bringing an end to the three-decade-long Heisei Era pic.twitter.com/fubQIIlYds

— John Van Dusen (@jvdCBC) April 30, 2019
Within that #Heisei span, the #Nikkei sank 82% from its end-1989 peak to its 2009 post-Lehman low. Since then #Japan's stock market has more than tripled.

— William Mallard (@BillyMallard) April 27, 2019
I hope Reiwa is going to be a peaceful era without disasters????

— Papagena (@beautifulday233) April 30, 2019
The '90s Heisei MOTHRA trilogy is NUTS. Laser beam-shooting imago, battles straight from a Super Sentai production, Mothra going amphibious, and finally, an armored Mothra destroying Grand King Ghidorah with the most KO final move—I love this ridic series so much.#Godzilla pic.twitter.com/tqF8j1kznt

— Paul Le (@AFinalBoy) April 29, 2019
新時代に「本当の意味で羽ばたきたい」
Japan is changing to a new era.https://t.co/500IIFoCFM#平成 #令和 #heisei #reiwahttps://t.co/XUClLQEz6u pic.twitter.com/7aL47wsBxi

— Yoshiki (@YoshikiOfficial) April 30, 2019
The first and last Kamen Rider episodes aired during the Heisei era have shirtless guys in them. Let's see somebody put THAT on the wiki. pic.twitter.com/CYsU3eQHVm

— ポール"Igadevil"サリバン (@Igadevil) April 28, 2019
The TV having a countdown clock to the end of #heisei is too much ???? pic.twitter.com/7cCAK8ug5f

— Joanne Greenway (@10mhardbacks) April 30, 2019
Saw an article mention that the Naruto creator's new series (Samurai 8) will be the first Shonen Jump manga of the Reiwa era, so I was curious—

The first Weekly Shonen Jump series of the Heisei era was a series called Super Machine Run. Ran for 11 issues, March 13 - May 22, 1989 pic.twitter.com/vs5NnwsoNd

— Jeff㋐Ruberg (@jeffinitelyjeff) April 30, 2019
#Japan #Heisei #Reiwa #Emperor #Manyoshu #NewEra pic.twitter.com/LEM0a6WZ6Z

— Pablo Marmol (@pmk_jp) April 30, 2019
Goodbye Heisei Era! ???? https://t.co/7FDTxTabSO

— Brian Ashcraft (@Brian_Ashcraft) April 30, 2019
The new era, called Reiwa, will begin starting tomorrow.