Remember PuddleGate? It was a furore that kicked off last year around August when players started noticing that the puddles in a particular Spider-Man scene had changed from its E3 launch. Players immediately began questioning whether Spider-Man's graphics had been downgraded, complaining that the original footage was misleading.
Of course, Spider-Man's graphics weren't downgraded at all. But the furore at the time caused Insomniac's senior engine programmer to investigate what really happened, and finally we have a precise answer.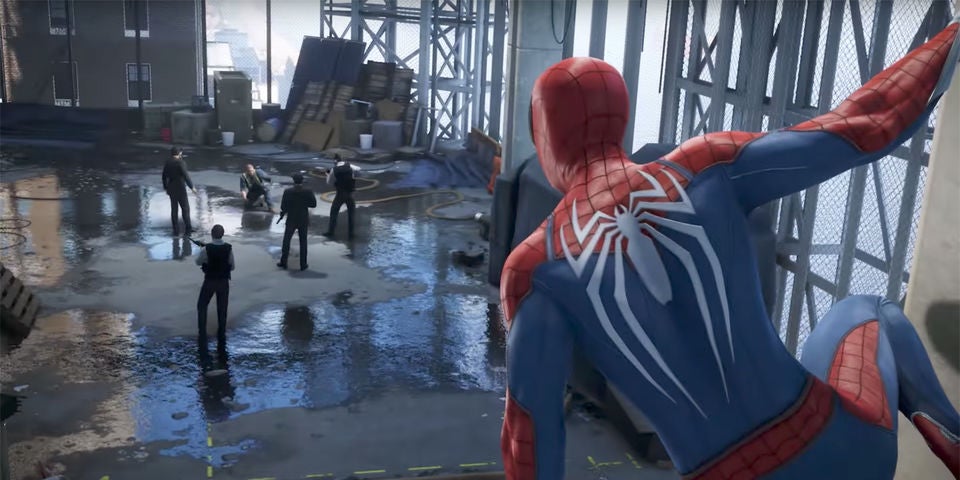 They say there's no use crying over spilled milk, but what about spilled water? That, according to a contingent of Spider-Man fans, is worth a fuss of superheroic proportions.
Read more
When gamers started making unflattering comparisons of puddles between the release version of Spider-Man and its E3 footage, Insomniac explained that it was just a change in the puddle size. That explanation, however, wasn't the full story, as Insomniac senior engine programmer Elan Ruskin explained in a GDC talk this year, which has just been uploaded to YouTube.
According to Ruskin (from 58 minutes in the video below), Insomniac internally didn't entirely know what caused the change. So Ruskin spoke to 14 people internally, and got 14 different answers.
"The internet lost its mind because they thought we had taken out reflective puddles for performance reasons. So we gave this really confusing answer then because no-one actually knew–I had to do an investigation to [figure this out], I talked to 14 people and got a whole bunch of different answers, but I finally got to the bottom of it," he said.
"We switched from hand painting [puddles] to procedurally putting them in. It's just too much of a pain to paint all of the puddles in – it's a different procedural seed."
Ruskin's GDC talk, which also explains more about how Spider-Man's procedural generation works, is completely logical. Developers often spend a lot of time handcrafting demos for E3, especially since in many cases that gameplay doesn't actually exist in-game.
In Spider-Man's case, however, the change was simply practical. The game itself was determining the size and placement of the puddles, whereas the developers handcrafted them for E3.
"Now you can have all the puddles you want," Ruskin quipped.