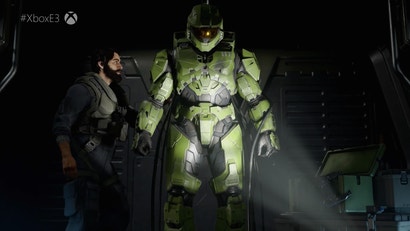 Microsoft finally showed off some footage for Halo Infinite—a weighty name for the sixth major game in the 18-year-old franchise. Halo Infinite will launch on Xbox's newly-announced Project Scarlett console spring, 2020.
Rightfully so, Halo fans were very curious about what the actually game would look like. Today's trailer began with a long CGI intro featuring a stranded man on a space ship reanimating the Master Chief. We didn't get a look at the actual gameplay, unfortunately:
---
Microsoft's January announcement trailer for Halo Infinite was a little nature documentary-meets co-op shooter, complete with ambient violin sounds and birds-eye-view shots of stampeding rhinos.
343 Studios is making the game, which studio head Bonnie Ross once said in an interview with IGN is a "spiritual reboot."
---