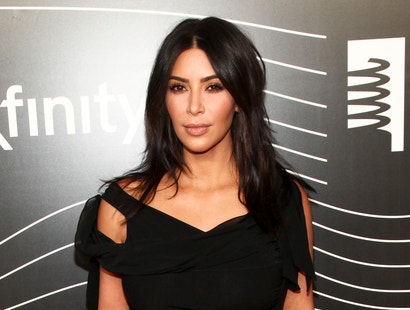 Photo: Andy Kropa/Invision/AP, AP
Kim Kardashian West has not only launched a line of shapewear called "Kimono," but has also reportedly filed a trademark for the word "kimono" in the US. Folks in Japan don't exactly seem thrilled.
Finally I can share with you guys this project that I have been developing for the last year.
I've been passionate about this for 15 years.

Kimono is my take on shapewear and solutions for women that actually work.

Photos by Vanessa Beecroft pic.twitter.com/YAACrRltX3

— Kim Kardashian West (@KimKardashian) June 25, 2019
There's a fun fact, too, apparently.
Fun Kimono Fact- Kanye drew the Kimono logo

— Kim Kardashian West (@KimKardashian) June 25, 2019
Kardashian's representative filed a trademark request for the word "kimono" for use on clothing, underwear, headwear, luggage, dog harnesses and...whips, among other items, including, wait for it, kimono. The application was filed on June 19.
Kim Kardashian filed for a bunch of trademarks on the word "kimono" (even for actual kimono), which, if granted, would allow her to ban Japanese companies from using the word "kimono" in America. Somebody call Cool Japan ASAP. ???????? https://t.co/1OpWPt2lYJ pic.twitter.com/ieCzKfpeLW

— Tokyo Fashion (@TokyoFashion) June 25, 2019
But can she actually trademark a prevalent word like kimono in the United States? As patent attorney Kiyoshi Kurihara explains on Yahoo! News Japan, it is possible to trademark common nouns, but for specific products. For example, the word "apple" is trademarked for computers and phones.
Kurihara points out that it would be possible to trademark the word "kimono" for computer software or furniture. The assumption is that the argument Kardashian's lawyers could make is that the brand is based on her name or that her line of Kimono products are not actual kimono. That is at the center of people's problem with the whole thing.
In Japan, kimono are special articles of clothing. For most people, they are worn only on important occasions, such as at weddings, graduations and funerals. They are passed down within families from generation to generation. The kimono is a special garment with deep, emotional meaning for many people in Japan. Plus, kimono are not underwear, but outerwear specifically designed to cover the body in seasonal patterns and motifs.
So the idea that Kim Kardashian isn't only using the word kimono for her underwear but also attempting to trademark is obviously rubbing folks the wrong way—like really the wrong way.
As of publishing, the English word "kimono" is trending on Twitter in Japan, and the reaction has not been good, with people in Japan worrying that the brand will overshadow the word's real meaning, causing confusion and misrepresentation, or expressing anger at her attempt to take the word for profit.
KIMONO is Japanese traditional clothes.Does this look like underwear?#kimono #KimOhNo pic.twitter.com/36IVDjVixs

— ゆき(低浮上) (@yukiassnowww) June 26, 2019
https://twitter.com/a/status/1143717279890386946
We welcome foreigners who respect, try, arrange and enjoy our culture. However, the name for our traditional clothes 'Kimono' does not mean underwear nor your tool for making money. I suggest you reconsider about it. https://t.co/xkuiNrpicd

— ヘイヘイ(自宅) (@hey2m) June 26, 2019
Not underwear. #KimOhNo #kimono pic.twitter.com/LLmwCkYtJd

— へびねこ???????? (@hebineko01) June 26, 2019
Me wearing A #KIMONO with hakama for my graduation????????????
Very sad to hear @kimkardashian has trademarked "Kimono" for her new underwear line???? #KimOhNo pic.twitter.com/ET5iVojTYa

— Emi????草野絵美 (@emikusano) June 26, 2019
kimono is not underwear!!!!!

????

— TSUMUGI (@wa_tsumugi) June 26, 2019
https://twitter.com/a/status/1143799323882217472
Nice underwear, but as a Japanese woman who loves to wear our traditional dress,???? kimono, I find the naming of your products baffling (since it has no resemblance to kimono), if not outright culturally offensive, especially if it's merely a word play on your name. Pls reconsider

— Yuko Kato (@yukokato1701) June 26, 2019
#KimOhNo @KimKardashian #kimono
子どもだって着る着物を「下着」として世界中で認識させていいと思ってるの?
"kimono" is Japanese traditional clothes.
"kimono" is important for us ( of course kids, teens, too).
It is NOT a under wear.
DON'T TAKE OUR CULTURE!! pic.twitter.com/KBLM5ksFpL

— Hotaruko (@herz4580) June 26, 2019
"Kimono" is our important culture.
Please don't use the name selfishly your underwear.
「着物」は私たちの大切な文化です。
あなたの下着に、名前を勝手に使わないで。 #KimOhNo#kimono pic.twitter.com/p4xVRuBvTT

— 小鉄@ぐるぐる族 (@gudarakudara) June 26, 2019
The word "Kimono" means one of traditional dresses, not underwear.

This is my kimono style. I often wear kimono with my grandma and grandpa????
You can try it on you when you come Japan. #kimono #KimOhNo #culturalappropriation pic.twitter.com/LCtB4lsphm

— 上海ろんろん名瀬 (@Nazeee12) June 26, 2019
Personally, I'm OK with random people naming their underwear brand #Kimono. Maybe it's an homage etc.

But trademarking it so no one else, including the people you stole it from, can use the word/phrase while you make $$$ off of it? That's bullshit. https://t.co/XIL2pzjETJ

— Agnes (@agnesoshiro) June 26, 2019
These are my grandmother's kimonos. Some of these are dyed and embroidered by herself. When I was child, I loved watching she embroidered on kimono cloth. My grandmother who makes beautiful embroidery is also beautiful and I always felt it magical. #KimOhNo pic.twitter.com/29v3pzCGDn

— Ginji_GoldFish (@Ginji_GoldFish) June 26, 2019
This is #kimono I wore to my wedding. I'd like Kim to imagine how she'd feel if someone treated her wedding, prom or baptism dresses as lingerie.
"Kimono" are not just clothes but are a symbol that evokes precious memories and important life events. #KimOhNo pic.twitter.com/gD2KrTzsLR

— Misako Oi (@misakohi) June 26, 2019
I think #kimono is one of the most famous folk clothes throughout the world, and I love wearing it......so I'm very sad it will be known as a name of underwear.#kimono is our culture made with all designer and artisan's hearts.
Respect other cultures, please......#KimOhNo pic.twitter.com/fpLIYfDkyV

— 蟹平 (@kani_hira) June 26, 2019
I love Japanese culture and kimono. This is a big problem.

I am an illustrator and most of the pictures I draw are kimonos.
Kimono is an important traditional culture in Japan. Patterns also have their own meaning.

#KimOhNo pic.twitter.com/BNzvNUw0hv

— 沁 @夏至 (@shamidare) June 26, 2019
Please respect our history as you take pride in your culture.

#KimOhNo @KimKardashian pic.twitter.com/gumjr98w7Y

— Ms.Miura (@R_Miura2) June 26, 2019