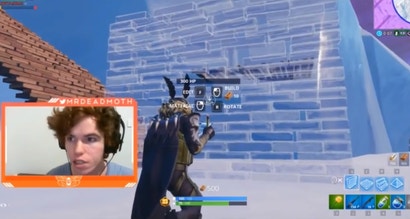 Image: Twitch (MrDeadMoth)
Luke "MrDeadMoth" Munday, an Australian who was suspended from Twitch last year, has pleaded guilty to a charge of common assault for hitting his pregnant girlfriend during a Fortnite stream.
Content warning: this story contains references to domestic assault.
Munday was suspended in December last year after a Fortnite stream in which he assaulted his partner off-screen, an incident that resulted in his suspension and eventual ban from Twitch (although he did return briefly in January).
After a temporary ban from Twitch following the alleged assault of his partner during a livestream, Australian Fortnite streamer Luke "MrDeadMoth" Munday returned to the platform this week.
Munday appeared in Picton Local Court on Monday, where he pleaded guilty to one charge of common assault.
Munday, who posted recently that he hasn't streamed since January and reconfirmed that he was "indefinitely suspended", could be heard saying "fuck off dog, you don't pay the bills" during the infamous stream. The Camden Police Area Command, whose officers responded to the call after being contacted about the livestream, posted on Facebook that Munday (who was unnamed in the Facebook post) was charged with alleged assault at the time.
"While the woman was not seriously injured she was distressed and shaken by the incident," the Camden PAC post said.
The agreed statement of facts tended in court, according to the ABC, said Munday told police, "I just held her down because I wanted her to stop." The ABC added that the statement said the couple's children, one aged three and another aged 20 months at the time, witnessed the entire incident.
The case is one of two Munday is involved in, with his girlfriend having been charged with two counts of common assault (domestic violence), domestic violence assault occasioning actual bodily harm and contravening a domestic apprehended violence order.
The former Fortnite streamer will be sentenced on August 26.
---
If you or someone you know is suffering from domestic violence, you can contact the Domestic Violence Hotline at 1800 656 463 or the 1800Respect national sexual assault, domestic and family violence hotline.