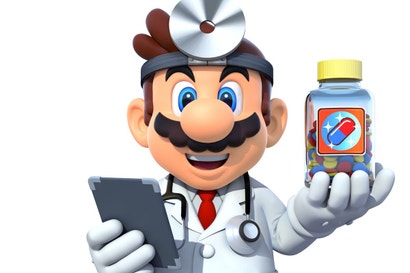 Does Dr. Mario give out doctor's certificates the same way he pushes pills?
I can't imagine Mario would have his medical license for very long, either way. Dr. Mario World is probably the highest profile game of the week, which is a reminder that it's still July and most of the big releases are taking a break. But there's some odds and ends that are worth checking out in places: the Lovecraftian The Sinking City gets a physical console release in stores, having hit the Epic Games Store last week, the Switch gets some Dragon Ball Xenoverse 2 love, and there's a follow-up to the excellent Dragon Quest Builders on PS4 and Switch.
On top of that, there's a suite of smaller indies that look a bit different. SolSeraph and Spy Tactics in particular look sweet. Here's what's out this week:
Dr Mario World (Android, iOS)
Monster Jam: Steel Titan (PS4, XBO)
Dragon Ball Xenoverse 2 (Switch)
The Sinking City (PS4, XBO, PC)
Dragon Quest Builders 2 (PS4, Switch)
God Eater 3 (Switch)
Grass Cutter - Mutated Lawns (XBO)
Doughlings: Invasion (XBO)
Aggelos (XBO)
Streets of Rogue (XBO)
Arcade Simulator (PC)
We Become What We Behold (PC)
Adventures of Isabelle Fine: Murder on Rails (PC)
Space Warfare (PC)
Boom Boom Bovine (PC)
Ascend (PC)
SolSeraph (PC)
Godhood (PC)
RED HOT VENGEANCE (PC)
Blazing Chrome (PC)
Exile of the Gods (PC)
Eagle Island (PC)
Boon Boon (PC)
Notes (PC)
Spy Tactics (PC)
Onto the trailers! Let's start with that reminder of how Dr. Mario World works.
See anything you like?