Image: Lets Go Digital
Sometimes, giving the internet an inch can turn into a really fun mile.
The latest thing to set people off lately has been the unveiling of a patent filed by Sony. It was first discovered by Dutch tech website Let's Go Digital, and supposedly relates to the dev kit for the PlayStation 5.
Devkits have sometimes just been the raw hardware in a standard computer case, but over time they've gotten more elaborate and advanced, too. Apart from generally having more power, storage and RAM than the retail consoles, there's often differences in the chassis design.
The Xbox One X dev kit, for instance, had an LCD panel on the front that could monitor temperatures and frame rate, along with three front-facing USB ports. The PS4 Pro dev kit was an aluminium beast, with massive grills on the front and three front-facing USB ports of its own, along with an array of LEDs.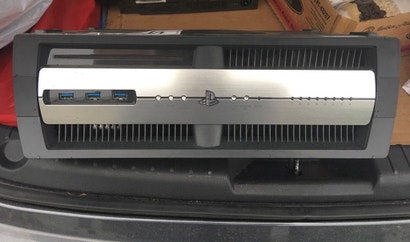 Image: kaneda2004
So it's pretty normal for dev kits to look a little ... different. But according to the patents filed by Sony, the PS5 dev kit looks like a bloated Star Wars resistance bomber, or a bit like an Intellivision with the middle carved out. One developer even posted on Twitter (which has since been deleted) that the patent design was real and they had the devkit in their office.
Image: Let's Go Digital
The whole V shape is a bit obvious. Past history says there won't be any relation between this design and the final consumer product, since retail consoles often rely on a sleek design as part of their appeal.
Still, that hasn't stopped the internet from having a ton of fun with the design:
— F1agg Σagl3t0n ???????????????????? (@NM_Che56) August 20, 2019
saw the PS5 dev kit leak and only one thing came to mind @hateshaliek pic.twitter.com/sbeWd5S1LS

— Echo Vessel (@echovessel) August 20, 2019
PS5 dev kit looks like it belongs in the Dell gaming product line from 2002 ???? pic.twitter.com/ABSSGOdVCC

— SlayerSantiago (@SlayerSantiago) August 21, 2019
— Hydro???? (@AquaticRampage4) August 20, 2019
Seeing everyone talking about the PS5 Dev Kit reminds me of the concept images people made of the xbox 720 pic.twitter.com/7qP5icHHeR

— megas (@megasmatey) August 21, 2019
You're all looking at the PS5 dev kit images wrong. It's actually a new isometric RPG. pic.twitter.com/dhE7m9YZis

— Wesley Yin-Poole (@wyp100) August 20, 2019
Clearly it's a rocket pack. pic.twitter.com/iyd2YpHPdE

— Charles Lai+ (@comtar) August 20, 2019
— JayDub (@JayDubcity16) August 20, 2019
Looks like the battery on my EGO weed trimmer pic.twitter.com/1EGP6eLEkT

— A10Pilot (@A10Piloting) August 22, 2019
The supposed dev kits for the PS5 look like some weird projector pic.twitter.com/KQia5WFPC2

— Pixelbuster (@Nitomatta) August 21, 2019
One user cheekily pointed out that the patent design isn't that bad given the history of devkits:
ps5 dev kit is ew, don't they know what's possible pic.twitter.com/RkMXrfcF4Z

— raid magazine (@raidmagazine) August 21, 2019
Personally, I'm all for it. Consoles should be weird as hell. Live your best life, Sony. Make the PS5 a UFO or something.