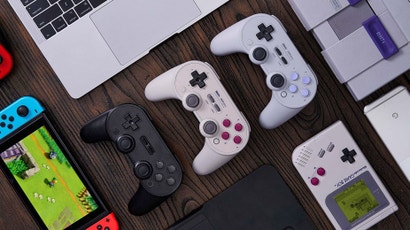 Image: 8BitDo
I got one of these bad boys recently, and the weekend is the perfect opportunity to continue using it in every scenario possible.
It's one of the new, customisable bluetooth controllers from 8BitDo, the SN30 Pro+. It works with just about every platform, and while I've mostly been using it to mess around with my Switch, it's worked a treat with my PC (via a cable, because my motherboard at home doesn't support Bluetooth!) so far.
Someone asked me the other day whether the D-Pad was an improvement on the Pro Controller and, after a bit more testing in Smash Ultimate and Mortal Kombat 11, I can confirm that the D-Pad is a little better! I'm still more of an analog stick player though, although in fighting games specifically, I genuinely still prefer playing with the keyboard.
It's also been an interesting experience replaying MK11 - I meant to play it early at launch, but fucked my neck so badly I couldn't sit at a computer. And when all of that happened, the reports came out about the conditions that some of the developers were working under. I've been thinking about that while I've been playing the story and it's been ... interesting, to say the least.
Anyway, that's me covered. And possibly some board games — I finally got my copy of Wingspan. What are you playing this weekend?