Cyberpunk 2077, releasing April 2020, asks the big questions about our technology-driven future and what it means to be human. Also, it has tatas and badonkadonks out the wazoo ⁠— but some mixed messaging from the studio has left fans confused as to whether all the cut scenes will be in first person.
In an allegedly legitimate DM with the official Cyberpunk 2077 Twitter account, posted on the CD Projekt Red Cyberpunk 2077 forums, the company said cut scenes and sex scenes would remain in first person, in line with the rest of gameplay.
It's worth noting that the source of this DM is unclear — but the Cyberpunk 2077 Twitter has publicly affirmed their commitment to first-person view in the past.
Sorry, we are fully committed to FPP.

— Cyberpunk 2077 (@CyberpunkGame) August 30, 2018
CD Projekt Red was specifically referring to general gameplay when asked, but cutscenes are another matter entirely. The majority of the game's scenes play out in first-person, but CD Projekt Red confirmed to Kotaku during a preview at E3 2018 that V would feature in some third-person cut scenes. The company said then that you'd be able to drive vehicles in third-person, which was shown during the recent deep dive footage.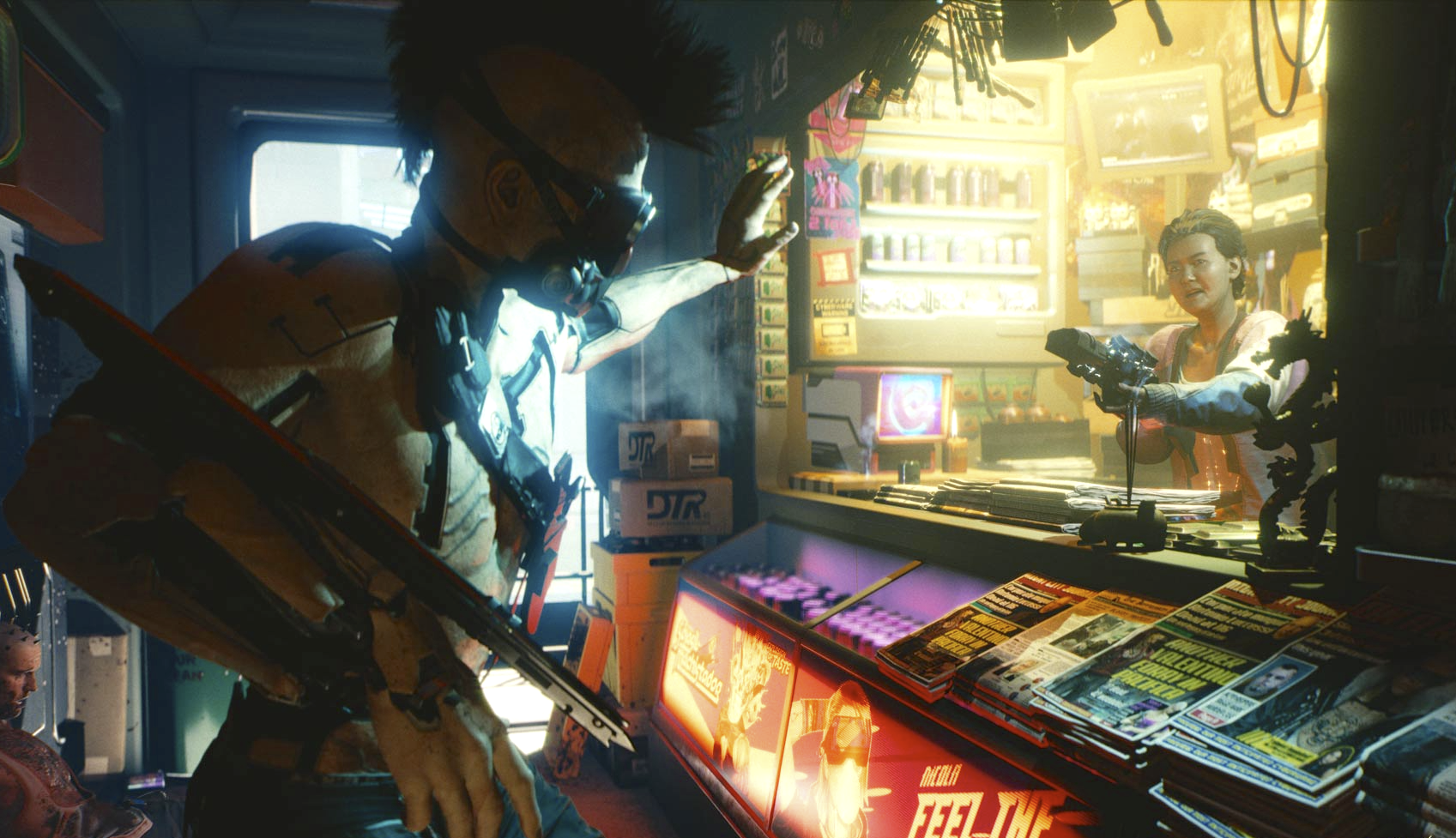 The next game from the makers of The Witcher 3 is looking impressive, and perhaps most importantly, it looks like a real video game. A 50-minute behind-closed-doors E3 demo of Cyberpunk 2077 showed attendees proper gameplay, played live, that appeared like something we might actually see in the next year or two.
Read more
Debate raged in the official CP2077 forums over the idea of all cutscenes being in first person, with several users questioning how such a perspective could be anything other than awkward.
Given that it heavily borrows from the themes of the original Cyberpunk 2020 tabletop RPG, it makes sense that CD Projekt Red would want Cyberpunk 2077 to be pretty fluid when it comes to identity. We don't have the full picture on how that pans out just yet, but post-Gamescom CD Projekt Red has confirmed once nice little bit that will hit players the second they start a new save.
Read more
"[It's] probably just dialogue and a fade to black, since there aren't any cutscenes and FPP romance scenes would be cringey," said user Night_City_Native. "I agree it's going to be cringey. There is a reason why no one has ever done this. It just won't look right. I wonder why they decided to go full FPP," said another user named 100K.
But after all that, it's still not clear whether Cyberpunk 2077 will be first person only or not, as in a recent podcast, lead quest designer Paweł Sasko neither confirmed or denied this move, responding to live questions during a CP2077 community podcast. (Skip to 63 minutes below.)
The first person perspective isn't exactly suited to intimacy — at least not until games firmly exit the uncanny valley and perfect the art of human interaction. Games have a long and awkward history with sex, and as innovative as Cyberpunk 2077 will be, it has a mountain to climb to avoid the awkwardness that first person will bring.
The first-person view would also be of interest to the Classification Board. Under the current guidelines, a first-person view would be rated as having more impact than a third-person view. It's doubtful the change would push the game over from R18 to refused classification — although it would be a huge factor between the MA15 and R18 ratings — but it would be one of the elements that CD Projekt Red and its local distributors would have to outline on the classification application.
For now, we'll have to wait and see how this works out next April, or when the studio officially clears everything up.