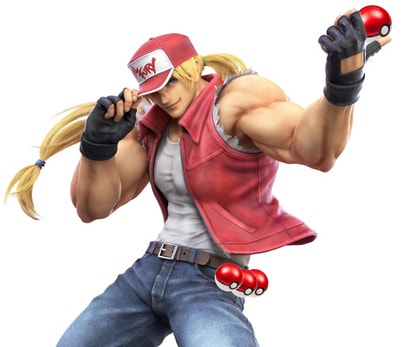 Image:
p_q_q_q_q
If you are steeped in SNK fighting game lore, then you are more than familiar with Terry Bogard. If you've never played Fatal Fury, you might not know who he is. If you like Pokemon, he might look familiar.
The announcement that Terry was coming to Super Smash Bros. Ultimate with met with puzzlement among some fans — and delight among others.
As pointed out on Pokemon Matome and NWK News, some people online in Japan have been referring to Terry as "muki muki Pokémon toreenaa" (ムキムキのポケモントレーナー) or the "brawny Pokemon trainer".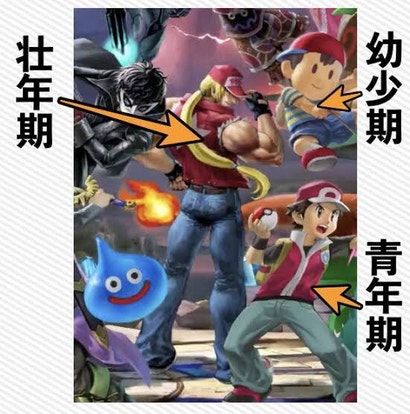 Image:
Hayabusa
The text pointing to Ness reads "childhood" in Japanese (幼少期 or youshou-ki), while the text pointing to Red is "adolescence" (青年期 or seinen-ki). The text directed at Terry reads "middle-age" (壮年期 or sounen-ki). The tongue-in-cheek comparison is like is a different stage in the same character's life!
テリーがマッシブポケモントレーナー扱いされてると聞いて

そういえばサウスタウンにクソ強いリザードン使いがいて
当時は皆から「たぶんアイツ自分1人でポケモンと戦える」とか言われてたっけなー

という記憶障害が起きた pic.twitter.com/ZmAmSGI7fL

— Mullar提督/旧FI:544 (@mullar) September 6, 2019
ムキムキなポケモントレーナーは草
最近の子は知らんのか… pic.twitter.com/JTI1PQnZ2Z

— ₩ヒッカス₩電動きゅうり₩ (@hikkastupid) September 27, 2019
スマブラに参戦したテリーがムキムキのポケモントレーナーって言われてたけど、そういえば俺もKOF13のカラエディでムキムキのサトシ作ってたわ pic.twitter.com/eXltbykFRH

— ぐち (@moon_over_25) September 10, 2019
テリー参戦嬉しすぎたし現代っ子の間でもムキムキのポケモントレーナーとして話題との事なのでコラ作った pic.twitter.com/zEBCBe8sVO

— ダンボール (@p_q_q_q_q) September 5, 2019
テリーボガードを「ムキムキのポケモントレーナー」と呼ぶのは、さすがに当を得すぎではないでしょうか。 pic.twitter.com/8qJiWcXqMH

— 衲僧 (@busterbonze) September 27, 2019
He isn't the only muscle-bound trainer, though!
筋肉ムキムキのポケモントレーナー?

あぁタケシのことだろ?

え?
テリー・ボガード? pic.twitter.com/y0ofZfAHtS

— 勇者ああああ (@yuusyaaaaa) September 27, 2019