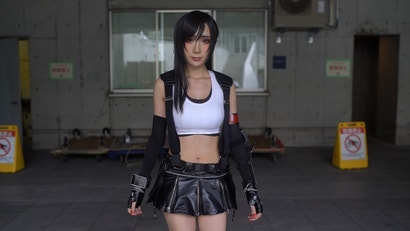 Screenshot: Rescue the Princess!,
YouTube
This year's Tokyo Game Show has come to a close. But these cosplay images will live on!
Cosplayers came out in droves during the show's two public days. Those wanting photos must line up to take snaps, which means a good chunk of time needs to be dedicated to cosplay.
乾たつみのコスコラ!更新しました。
東京ゲームショウでの陥りやすいコスプレルールの落とし穴を紹介。
ルールを守って楽しくイベント参加しましょうね♪https://t.co/46QaIAEcN8#CureWorldCosplay #CosplayToken #TGS #TGSコスプレ pic.twitter.com/G4SZmKMr8h

— Cure WorldCosplay (@curecos) September 12, 2019
The highlight clip below was taken by Rescue the Princess! (follow on Twitter here):
Let's have a look at some of this year's standouts:
今年のTGSのフロム集まり〜!#TGS2019コスプレ pic.twitter.com/zS6hNksUYV

— イザエル????TGSソラール (@hearts3582) September 14, 2019
2019/9/14 東京ゲームショウ
ぷよぷよ:アルル・ナジャ
希林まおはさん(@maoha_0x0)#TGS2019 #TGS2019コスプレ #東京ゲームショウ2019 pic.twitter.com/IRidq4occc

— にゅーとら@池ハロ (@Neutra_papan) September 14, 2019
バアドゥ様の撮影に成功。
中の人、イケメンでした。#TGS2019コスプレ #メトロイド pic.twitter.com/rG3L4xJBuw

— ヨハンそん@次回各種撮影、TGS、その他 (@ksk_johan_cos) September 15, 2019
Tokyo Game Show 2019
Cosplay
Final Fantasy VII Remake #TifaLockhart
:#TGSコスプレ #FF7R #FF7リメイク
Photo @usi800 さん pic.twitter.com/Gh43HfGyfh

— [email protected] (@cosmic_rabbit) September 14, 2019
ゲームショウに本物いたわ#TGS2019コスプレ #ボーダーランズ3 pic.twitter.com/REPAP4pDEX

— 能登☻ (@m_s_noto_kawaii) September 15, 2019
【TOKYO GAME SHOW 2019/09/14】

◾︎Detroit Become Human

▶︎AX400 カーラ(Kara)

「私はカーラ。
これは私達の物語。」

photo:(@sarang8_8 )#東京ゲームショウ2019 #TGS2019コスプレ #デトロイトビカムヒューマン #DBH#DetroitBecomeHuman pic.twitter.com/t3UsQhwxpg

— 茶東 せせり@TGS14 DBHカーラ (@seseseseseri) September 14, 2019
今日はノクトでTGSいるよ!#TGS2019 #TGSコスプレ #TGS pic.twitter.com/YgUcm4SAaI

— 類/Louis????TGS14→9/22札幌おでライ (@louistill3) September 14, 2019
【速報/コスプレ】
TGSお疲れ様でした????????

今日はコナンくんでいました????

コスもブース巡りもめちゃくちゃ楽しすぎた????????
とりあえずピン!差分のような物を三枚載せる!!

#TGSコスプレ #TGS2019 #TGS pic.twitter.com/tTnO4kiB3u

— あさみ???? 10/14裏稼業 西1ス17a (@asmn0602) September 14, 2019
オクタン祭りだぜ????ヒャッハー!!#TGS2019 #TGSコスプレ #APEX #ApexLegends pic.twitter.com/XArN2YcGyX

— コフィー@TGSオクタンでした! (@cofi225) September 14, 2019
キングオブファイターズ
SNKヒロインズ

テリーボガード

カメラ Qさん(@kameraman_Q )

速報でした☆
今回もめちゃくちゃ素敵に撮っていただいた〜????✨二枚め特にお気に入り!無加工!!#TGS #TGS2019 #TGS2019コスプレ #KOF #コスプレ pic.twitter.com/mjNulD6HZV

— 巻島桃天(たおてんって読みます。巻島は気にしないでください) (@TfMarvel) September 15, 2019
【コスプレ】

TGSで怪盗キッドやってきました!!

お声掛け下さった方々、ありがとうございました????????
ブース巡りも凄く楽しかった!!✨#TGS2019 #TGSコスプレ #TGS pic.twitter.com/GNdVYtMe3h

— 楽????????14日TGSキッド???? (@Ryh1n) September 14, 2019
Gundam Sailor Scouts #tgsコスプレ pic.twitter.com/UaNIZgYdVG

— Tonberry Manilow aka JM (@JoshMusashi) September 14, 2019
FINAL FANTASY Ⅹ2
ユウナ ヨル @yoru

こんきつねさん @kitoro1515
Seijiさん @seiji_xxxg00w0
いちさん @ichikame7
猪八戒さん @Warp2045

いつもありがとです(꒪˙꒳˙꒪ )♪♪

#TGS2019
#TGSコスプレ pic.twitter.com/URo369JhGc

— ヨル????TGSおひとりさま。 (@yoru_95) September 15, 2019
東京ゲームショウ 2019
ファイナルファンタジー7:エアリス
cosplayer:まりえ(@Marie_ps64)#TGS #TGS2019 #TGSコスプレ pic.twitter.com/wxJIf6hOvK

— 井田達也/ida@TGS (@idobataer) September 14, 2019
最終日!! Apex女子チームのコスプレしてます、、、????#TGSコスプレ #ApexLegends pic.twitter.com/2oKdA4FmIu

— むぎ/むー????!! (@m_65087) September 15, 2019
TGS 9/14
【GANTZ レイカ バニーVer.】

photo 煉さん @ren1918

初出し!自作衣装バニー????
綺麗に撮ってくださりありがとうございます????#TGSコスプレ #TGS2019 #GANTZ #cosplay pic.twitter.com/VJvw4oQUNe

— もりこ@9/14TGS (@moriko_0000) September 14, 2019
【速報】TGS1日目
モリガン・アーンスランド????

Let's play again sometime.

camera????
ジョウさん(@nijiurara )#東京ゲームショウ2019 #TGSコスプレ pic.twitter.com/hWsnZBme2z

— 照井るゐ@TGS1日目モリガン2日目江ノ島盾子 (@rui_cos_L) September 14, 2019
東京ゲームショウ 2019
ゴッド・オブ・ウォー/God of War

めっちゃクオリティ高いクレイトスのコスした外国人さん居たんですが、お名前聞けなかった……届けーー!!#TGS #TGS2019 #TGSコスプレ pic.twitter.com/2UFWkb0Ox0

— 井田達也/ida@TGS (@idobataer) September 14, 2019
9月15日(日)
ハデスを超えて届けに行きます@Kojima_Hideo#DeathStranding #デススト#TGS2019 #TGSコスプレ pic.twitter.com/AhBenC7XxN

— Raxy (@Raxy31643756) September 13, 2019
しごおわ
明日のTGSかなり悩んでたけど多分行く笑
ってことでビルドやるかもなのでよろしくお願いします????
#TGSコスプレ pic.twitter.com/4u1HUAuVMf

— タイプ (@next_rider3) September 13, 2019
2B #TGS2019 #TGS2019コスプレ pic.twitter.com/wW2Aoz5hJL

— 黒子きき (@kikikiringring) September 15, 2019
TGSそくほ…おそくほー!
おつかれさまでーす
FF10 ⭕ ワッカ ⭕ 本日初出しです‼️
ウィッグは相方ががんばってくれました!
ブリッツボールも持ってきました!相方が‼️

八割位は芙蓉くんの作品です!
明日もTGSに????コスプレ参加します!????

宜しくでーす!#TGSコスプレ#TGS2019 pic.twitter.com/vZgc6d2EvU

— パッチ先生@TGS両日参加⭕???? (@pachincoscos) September 14, 2019
フォトナレイヤー大集合!#fortnite #フォートナイト#フォートナイトコスプレ#TGS2019#TGSコスプレ pic.twitter.com/U0TCZmP28u

— yUmA (@yUmA05270) September 15, 2019
#新しいプロフィール画像#ストリートファイターコスプレ#TGS2019コスプレ

9月14日(土曜日)の東京ゲームショウ2019で、ストリートファイターのガイルのコスプレをします。
そのため、プロフィール画像をへんこうしました。
東京ゲームショウでお会い出来ましたら、よろしくお願いします。 pic.twitter.com/9ZqBS1kjtP

— 大七星@9.14TGSガイル(ストリートファイター) (@seven0927stars) September 7, 2019