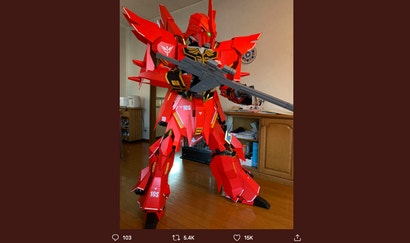 Screenshot:
zgokzogok
This isn't just a Gundam cosplay. Oh no, this isn't just a Gundam cosplay, but it actually looks like it's a plastic Gundam model and it's awesome!
Here is a close-up of Zgokzogok's Sinanju costume:
シナンジュ順調です
バックパックの製作中です pic.twitter.com/0dJHmpWVic

— くろぼうし (@zgokzogok) October 6, 2019
According to IT Media, Zgokzogok started the costume this January and finished it in September. As the site points out, the cosplay has been praised for looking like a plastic model. 
シナンジュのコスプレ完成しました pic.twitter.com/gJFgasMEpz

— くろぼうし (@zgokzogok) October 23, 2019
池袋ハロウィンコスプレフェスタ2019

MSN-06S シナンジュ

くろぼうしさん @zgokzogok

撮影させて頂きありがとうございました!
池袋に現れた赤い彗星、鮮烈でした。#池袋ハロウィンコスプレフェス2019 #シナンジュ #ガンダムUC pic.twitter.com/1iI9V1xLd9

— Hiro.C (@M9mii13zH) October 28, 2019