The Gion is one of the most picturesque parts of Kyoto. Earlier this year, Kotaku reported that tourists had been making the lives of geisha and maiko, who work in the area, difficult. Now locals have had enough.
As you can see in the footage below, a tourist mob stalks its photo prey.
本当にこれが、京都の観光の現状。悪質なのは舞妓や芸妓を発見する内容のツアーなどが売れてしまってるんだよね。彼女達は見ものじゃないよ。受け入れ側を考慮しない観光は本当に悪だ。 pic.twitter.com/69dItw4qOQ

— 西村環希 | Tamaki Nishimura (@tamaki_nisimura) June 21, 2019
There have also been reports that some tourists have touched their kimonos, while others have stuck their cameras in private businesses, residences, and gardens to take photos without permission.
According to NHK (via CNN), Gion residents have voted to prohibit photography in private roads, alleyways, businesses, and homes near Hanamikoji street. Violators will be fined 10,000 yen ($135).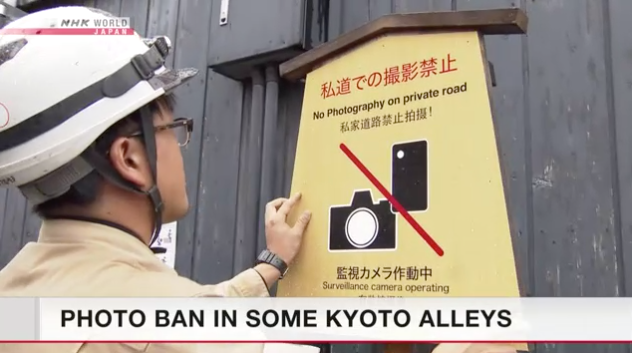 NHK" loading="lazy" > Screenshot:
NHK
While there are video cameras in the area, it is unclear how punishment will be enforced.