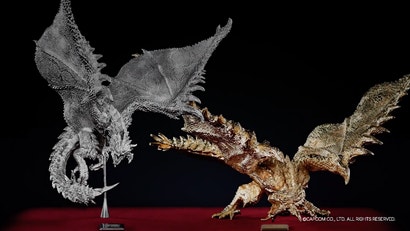 Screenshot:
U-TREASURE
If you are in the market for Monster Hunter sculpture and have lots of money to spend, have I got two items for you!
Created to celebrate Monster Hunter's 15th anniversary, here is a Gold Rathian, made from 24K gold, and a Silver Rathalos, made from Platinum. Each is 8,800,000 yen ($118,262) or you can buy both for a cool 16,500,000 yen ($221,741).
Famitsu points out that there are cheaper versions: a Gold Rathian made from silver and covered in a yellow gold coating as well as a Silver Rathalos made from, well, silver. Priced each at 880,000 yen ($11,826).