The Japanese Film Festival is rolling through Australia again for its 2019 iteration and we've got the top picks for you to throw cash out.
It's already shown in Canberra, Brisbane and Perth but now Sydney and Melbourne will be getting the 30-film lineup in Event Cinemas George Street for Sydney-siders as well as three venues across Melbourne. As much as we'd like to see every title on the festival's schedule, the reality is many of us will only get to catch one or two. To help you whittle down your shortlist, here's eight films that got our attention.
---
Image: ©2019 GOSHO AOYAMA/DETECTIVE CONAN COMMITTEE All Rights Reserved.
Detective Conan of long-running manga and anime fame returns for his 23rd feature film—even beating Avengers: Endgame in the Japanese box office! When Conan's friends travel to Singapore, he's forced to stay back in Japan because he doesn't have a passport. But there's no rest for this detective, as he's transported to Singapore against his will by his nemesis, the charismatic thief Kaitō Kid. He has the ability to transform his appearance into anyone—including Conan—and poses as him to fool Conan's friends, who are none the wiser. The two begrudgingly agree on a temporary truce and soon find themselves embroiled in a case involving a martial arts tournament and a mysterious blue sapphire. Kaitō Kid has big plans to steal the sapphire, but is shocked when someone else gets there first and frames him for the crime. When Kaitō Kid goes on the run, suddenly Conan's lack of a passport is the least of his problems!
Sydney: November 23 | 1.30pm
Melbourne: December 1 | 11am (The Capitol)
Image: Project ©Maidy/SQUARE ENIX
For Akio (Kentaro Sakaguchi), interacting with strangers in the online multiplayer game Final Fantasy XIV: A Realm Reborn is far easier than getting to know his own father, Akira. But when his father (Kotaro Yoshida) suddenly announces his retirement, Akio realises it's the perfect opportunity to rekindle his bond with the emotionally-distant
Akira. Despite the distance between them now, Akio has fond memories of playing the original Final Fantasy video game with his father as a child. Spurred on by this memory, Akio gifts Akira a copy of Final Fantasy XIV: A Realm Reborn in hopes of bringing a spark back to his father's life, and their relationship. He wants to reconnect with his father through the game, but since he knows it won't be easy, Akio devises a plan. It's time for Akio to begin an all-new quest — anonymously befriend his father in the virtual world!
Sydney: November 17 | 6.45pm, November 24 | 11am
Melbourne: November 24 | 8pm (Treasury Theatre)
Image: Homura Kawamoto,Toru
Naomura/SQUARE ENIX
Forget grades at Hyakkaou Private Academy, an elite school for the rich. Here, gambling is the only way to succeed. Blackjack, poker, rock- paper-scissors—as long as you bet, it doesn't matter! Winners rule the school, while the losers are stripped of their humanity and forced to become 'cats' and 'dogs'. This year, the ultimate prize is up for grabs: a 'blank future' that allows the winner to do whatever they want after graduation, rather than have their life's path decided for them.
Everyone knows the student council president will secure victory—that is, until new transfer student Yumeko Jabami enters the equation. She seems to love nothing more than taking risks, but does she have what it takes to topple the president?
Based on Homura Kawamoto's hit manga, Kakegurui is a comical satire of a society that is congenial on the surface but brutal underneath, with no second chances for anyone.
Sydney: November 16 | 3.25pm
Melbourne: December 1 | 5pm (Treasury Theatre)
Image: MAYU AKIYAMA / MOOSIC LAB
Do platonic friendships between the sexes really exist? Despite a lack of personal experience, columnist Nasa thinks it's possible. After a chance encounter with a charming friend-for-hire, she contrives to use his rented friendship to fuel a new article series exploring the topic. Intrigued by rented friend Sota's concept of a 'friendship-romance switch', Nasa secretly sets out to test their individual limits but quickly finds finds herself in too deep. When Nasa's vocalist roommate also finds an easy connection with Sota through their shared passion for music, a messy triangle blurring the lines of friendship and 'something more' emerges. As their personal connections slide into the danger zones, personal and professional boundaries become anyone's game.
Understanding her honesty and fakery in the rented friendship, Nasa begins to question: how much of Sota's friendship is authentic, and how much is the performance of a professional? More importantly, who in their friendship group will be the first to 'cross the line'?
Sydney: November 16 | 6pm, November 22 | 8.30pm
Melbourne: November 22 | 6.30pm (Treasury Theatre), December 1 | 1.30pm (The Capitol)
Image: Ride Your Wave Film Partners
TOHO
Surf's up every day for free-spirited Hinako after she moves to the seaside! When her apartment block catches ablaze and courageous firefighter Minato comes to the rescue, sparks of romance fly. Soon, the two are blissfully catching waves together and singing their song— Brand New Story—into the sunset.
Their happiness is cut tragically short when Minato runs into trouble while rescuing a stranger at the beach, leaving Hinako heartbroken, singing their song and clinging to precious memories.
The sun-drenched and vivid animation style from director Masaaki Yuasa and animation studio Science Saru (Lu Over The Wall; Night is Short, Walk on Girl) shines in this imaginative and heartfelt story of bravery and love. Voice actors Rina Kawaei (former AKB48 vocalist; Death Note: Light Up The New World) and Ryota Katayose (vocalist in Generations from Exile Tribe) infuse their characters with vivacity, capturing the sweetness and vulnerability of falling in love.
Sydney: November 15 | 9pm, November 24 | 1.40pm
Melbourne: November 22 | 8.15pm (The Capitol), November 30 | 2pm (Treasury Theatre)
Image: One Goose
Despite having a degree from a prestigious university, Kazuhiko is unemployed and living with his parents with no plans for the future. Having no work experience and a lacklustre attitude toward life, the strange, awkward and socially inept Kazuhiko eventually finds a job at the local bathhouse scrubbing tiles. While his days are rosier now with the regular stream of income, suspicious interactions between his boss and co-worker lead him to question the use of his workplace outside of hours. On one particular night, he is accidentally caught witnessing a yakuza execution in the bathhouse. What begins as a film about a lonely ill-fitting man drifting along the outskirts of society, quickly develops a cross-genre edginess that is viscerally thrilling, darkly funny and heart-warming.
Sydney: November 16 | 8.45pm, November 20 | 8.30pm
Melbourne: November 30 | 5.30pm (The Capitol), November 30 | 8pm (Treasury Theatre)
Image: Kinema Junpo DD
Rival amateur musicians, punk Kan and new-wave Shingo, are sucked inside the corporate beast of Japanese 80s music industry. Seduced by the allure of fame, they exit as the bedazzled and fabulous Stardust Brothers—complete with silver jumpsuits, cute choreography and the catchiest pop hit toppling the charts overnight. With their beautiful 'number one fan' by their side, the Stardust Brothers taste the glory of the spotlight, but their catchy lyrics 'once you reach No. 1, you can only go down' soon take on a new meaning.
At the age of 23, director Macoto Tezka (son of animation legend Osamu Tezuka) crafted the experimental film around an existing soundtrack by musician and 80s TV celebrity Haruo Chikada. Played by real-life musicians Shingo Kubota and Kan Takagi, the Stardust Brothers lead an eclectic cast of mostly non-actors including musicians (visual kei icon Issay; Sunplaza Nakano), manga artists (including Lupin III's Monkey Punch) and film directors (Kiyoshi Kurosawa). Resurrected from obscurity, this 8mm cult classic is an invitation to embrace the cringe and creativity, marvel at low budget 80's special effects and costuming, and tally the endless celebrity cameos.
Sydney: November 22 | 8.30pm
Melbourne: November 26 | 8pm (Treasury Theatre), December 1 | 3.30pm (The Capitol)
Image: MY DAD IS A HEEL
WRESTLER Film Partners
Pro wrestling champion Hiroshi Tanahashi makes his acting debut as the gentle giant dad to nine-year-old Shota, whose understanding of goodies versus baddies is challenged in the wrestling arena when he discovers his father is actually the despicable heel wrestler Cockroach (Gokiburi) Mask.
Confronted by the idea of having a father that cowardly grapples people and blinds them with bug spray, Shota misleads his classmates into believing his father is the popular blonde baby-faced Dragon George instead. Shota's lie creates a rift between his classmates and family, while his dad hopes to be taken seriously by the wrestling community once more. But Cockroach Mask is not without his zealous fans, such as journalist Michiko, who are excitedly looking forward to the special round between the underdog and hero.
Sydney: November 17 | 3.30pm, November 23 | 11am
Melbourne: November 24 | 11.30am (The Capitol), November 30 | 5.30pm (Treasury Theatre)
---
Check the full lineup and purchase your tickets on the festival's website.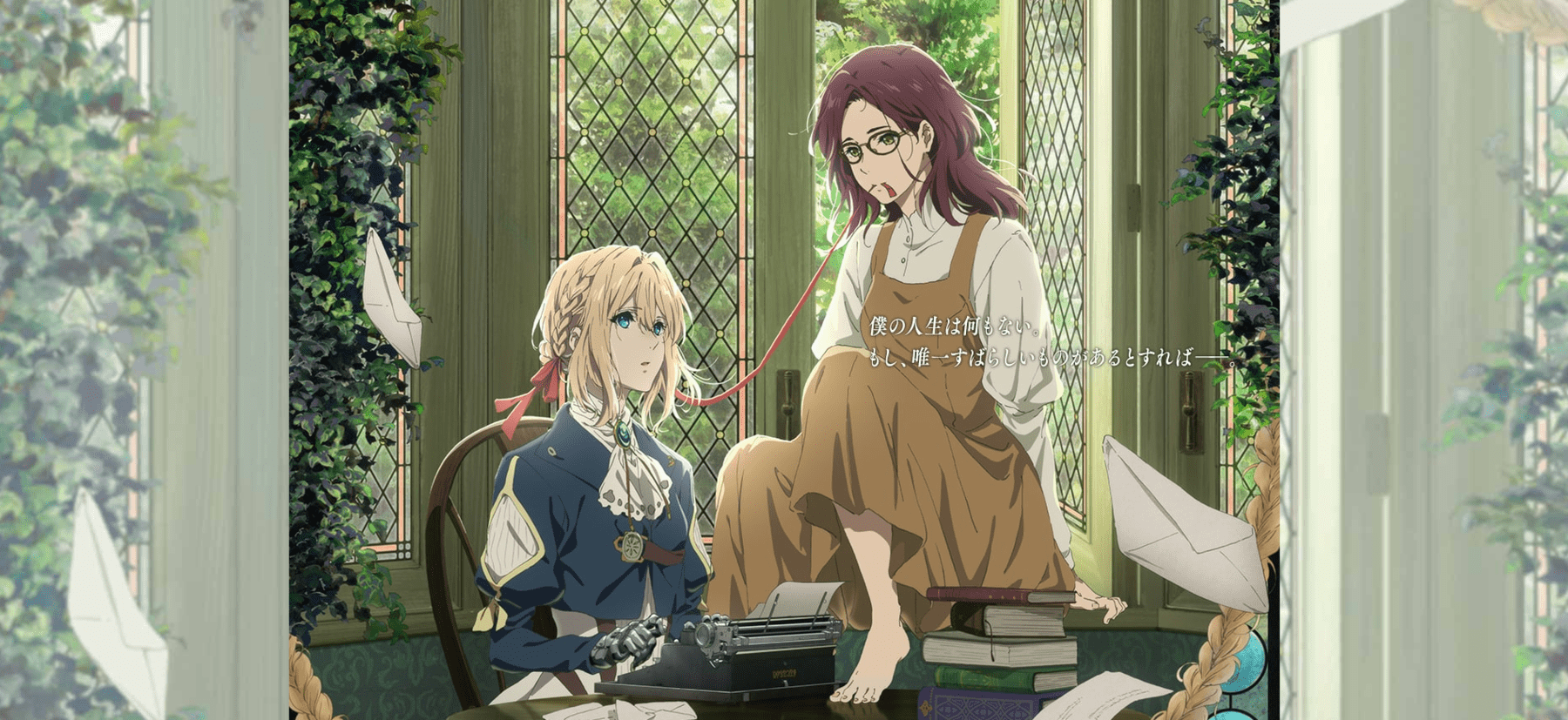 This September, Kyoto Animation's Violet Evergarden spin-off anime will be released as originally scheduled.
Read more