The best thing about living with a phone for a few weeks is that you discover things that don't come out from a spec sheet.
On paper, the Nubia Red Magic 3S has plenty of appeal. A Snapdragon 855+ is backed up with 12GB of RAM and a 90Hz, 6.65-inch HDR AMOLED screen. There's a headphone jack at the top, not the bottom, which makes a world of difference. There's a huge fingerprint sensor on the back that doubles as a button you can remap in games, along with two buttons on the right side that you can remap as well. The battery is 5,000mAh with 27W quick charging (although it's not Qi capable), and there's a 48MP f/1.79 rear camera and a 16MP f/2.0 module on the front.
The whole thing looks a bit like something ASUS would cook up, with the bright red/purple gradient on the back and the sci-fi looking cutout for the camera. Don't get me wrong, it's an enormous phone. The 6.65-inch screen is bigger than the iPhone Pro Max, which is already a huge phone to begin with, although Nubia have done a decent job making sure the chassis isn't too thick.
The benefit of that: not only do you get features like the headphone jack (thank God!), but also a SIM tray with microSD support, and the best bit: active cooling fans.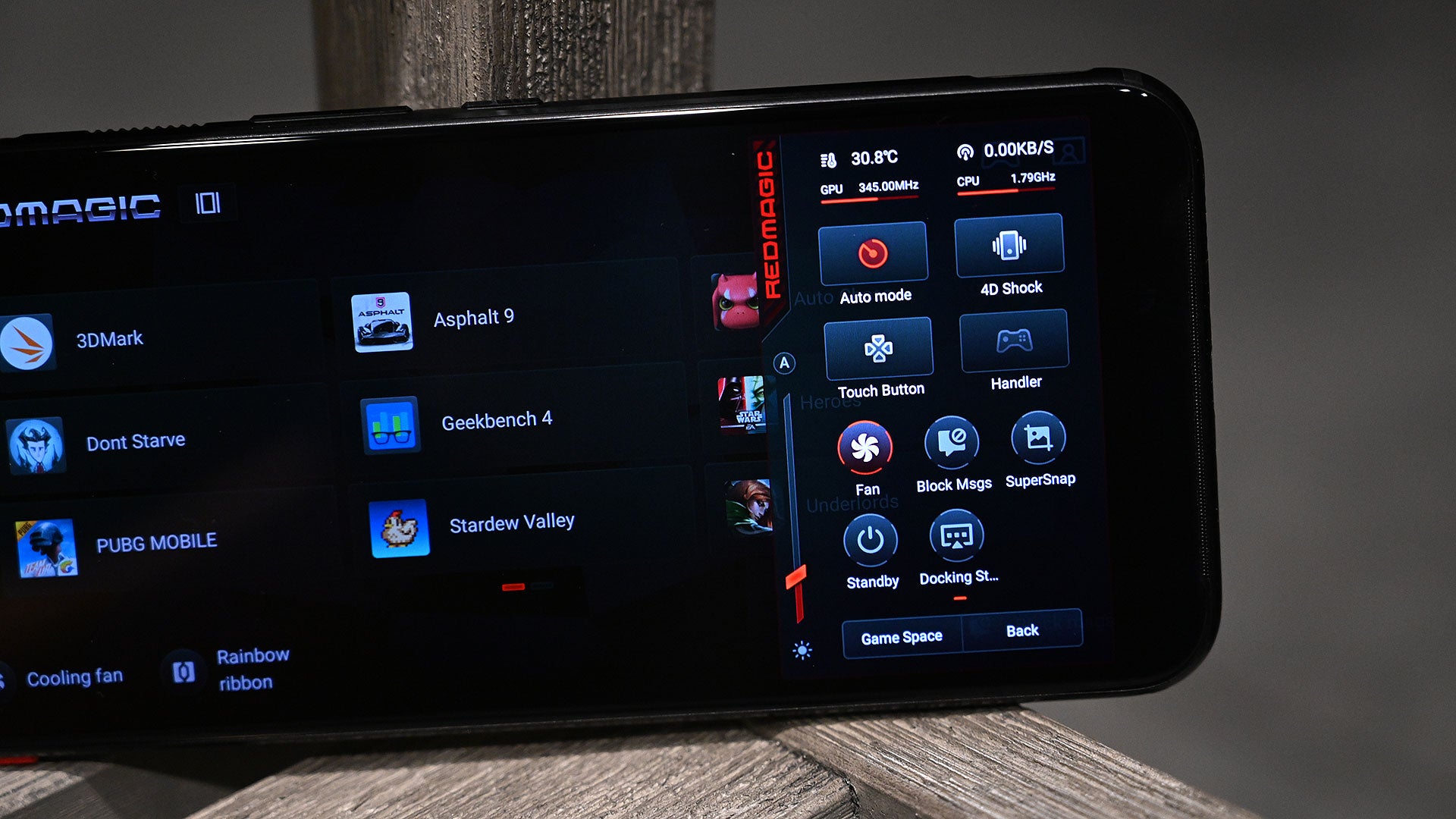 Image: Sam Rutherford (Gizmodo)
But before we get into any of that, I need to be upfront: I've completely smashed the screen.
It's one of those things that happens without you noticing. I was sitting in a chair, casually sharing some drinks with friends, and the Magic 3S slipped right out of my pocket. The shorts I was wearing at the time have a second slot inside the pocket exclusively for small wallets or mobile phones. It's there so you can tuck something away and have that bit of extra security, knowing it won't just fly out when you sit down.
The iPhone 11? No problem. Older phones like the Mate 20 Pro, LG G7 or the iPhone XR? Snug as a bug.
But the 6.65-inch Magic 3S doesn't really fit. It doesn't even sit snugly in a pair of jeans without a fair amount sticking out, so as soon as my legs were crossed and I was comfortably reflecting on the martini I'd just made, I heard the sound.
It wasn't the sound of glass crunching against metal I remember, it was the reaction from a friend.
"Oh no," he said breathlessly.
It's a problem that I've increasingly had with the Magic 3S, because the phone is so goddamn big. After falling out of my pocket a few times and eventually cracking the screen (not to mention a few bumps and scratches along the way), the screen couldn't take it. The whole unit is now adorned with that sheen of cracks and bumps extending from the bottom left, fanning out towards the top.
I get genuinely gutted every time I look at the screen — because I've had a blast with the phone.
Future iterations of the Snapdragon will bring in support for 144Hz screens, but for now the best you can hope for on a phone is 120Hz. That's only on the ROG Phone 2 — which just landed in Australia, and I'll be reviewing one of those units shortly — and the Razer Phone 2.
But 90Hz screens are becoming more popular. That's what the Magic 3S runs on, and it can't be understated what an improvement anything over the old 60Hz screens are. Just navigating around the UI, or fast scrolling through Instagram/Twitter/Facebook feeds is infinitely nicer. It obviously makes a huge difference with faster paced action like Call of Duty: Mobile and even games where reactions matter, like Mobile Legends or Arena of Valor.
To get the most performance, you flip a button on the top left of the phone. It's officially called the "Compete" button, and it's a nub that feels a bit like the iPhone's silent mode toggle. If you're on the home screen or browsing regularly, flipping the switch takes you into nubia's Game Launcher.
The Game Launcher is basically just a separate app that you launch other games from. When you're in there, Android's regular browsing controls are disabled. Instead, you're given a panel that appears from the side that has options for overclocking (CPU, GPU, a combination of the two or an automatic mode), the ability to enable or disable active cooling, control over more advanced haptics, the ability to block messages and calls, and "Touch Button", which lets you remap the shoulder buttons and fingerprint sensor to any virtual controls on the screen.
It's really, really handy. The only thing that became a major problem was really the size of the phone: it was too large for both the main shoulder buttons to be regularly comfortable. The natural way you'd play a game is to have both your thumbs tucked in on either side. To regularly use the shoulder buttons, your index fingers curl over, which puts the thumbs into a much more cramped position.
It wasn't comfortable over a long period of time. However, it also wasn't necessary, because the fingerprint sensor on the rear acted as a perfect add-on all by itself. In something like Call of Duty, you'll usually have your left thumb on the movement stick, your right assigned to shooting/zooming, and some combination of the two. Swiping on the screen is how you aim. But if you want to aim down the sights, shoot and move at the same time, you'll need three thumbs for that. So having the extra button on the rear, really, is an enormous advantage that other mobile players don't have. It's not as unfair as romping people with a mouse and keyboard, but still.
So while Modern Warfare is trying all sorts of things on PC and console, the franchise's biggest success has actually been on phones. Call of Duty Mobile has gotten hundreds of millions of downloads already, and for pretty good reason: it's basically a greatest hits of older COD maps, with a levelling system that's similar from the original Modern Warfare. But you know the best part? You can play the mobile game on your PC and just absolutely steamroll everyone. Officially.
Read more
Where gaming phones usually fall down is the camera. That's kind of the case here, although it's worth keeping in mind that you're basically buying a mid-range phone. Prices for the 6GB Magic 3S start from $715 in Australia, with the 8GB model for $840. That's still more expensive than the Razer Phone 2, which is available from $699 locally, but miles cheaper than the $1699 ROG Phone 2 launched in Australia last week. (You can order the 12GB/256GB Cyber Shade model direct from the Red Magic website, but it'll cost you $US599, which is about $876. If you're going to buy the phone from Kogan or Dick Smith anyway, you might as well get the extra RAM.)
The main kicker with the camera is that the app is relatively slow to use, and lacks the customisation and functionality you'd see on other mid-range competitors. Photography and post-processing isn't really what Nubia is known for – the Pixel 3a certainly won't have any competition from the Magic 3S – but everyone who buys a phone will, at some point, take photos with it.
You can get some good detail out of the 48MP rear sensor in good light, but even compared to the entry level iPhone 11 (since that's my current daily driver) there's an obvious difference in contrast details, white balance and low light performance. Like a lot of Android phones, the Magic 3S oversaturates colours, particularly in lower light. The Magic 3S does have night and beauty (or "PRETTY") modes, but as you'd expect, the software isn't as advanced as the bigger brands.
It's only a single lens setup, and it's obviously not as advanced as the latest Huawei, Apple, Google or Samsung offerings. But the results are pretty serviceable in good conditions — it's really only the sluggishness of the camera app itself and a tendency to make outdoor shots a little blue.
You can't shoot in RAW mode, which is a shame since it'd make editing in Snapseed or Lightroom a lot easier, but the phone itself is powerful enough that the editing process is pretty enjoyable. And it's not like the Magic 3S is a phone designed for Instagramming or photography in the first place. It does support 8K recording, HDR 10 videos and slowmo, though.
Other things worth noting: the Magic 3S is still running on Android 9, not Android 10. Nubia's implementation of the OS also resulted in a couple of odd crashes from time to time in apps that ordinarily haven't given me any pause on Android. Two crashes I distinctly remember: they caused the entire phone to hang, something I've not seen in a modern Android phone since … well, the time my LG G5 got stuck in a boot loop, really. A hard reset fixed everything within a minute, however, but it's worth noting.
But that's all picking at the sides. For the most part, I've really, really enjoyed using the Magic 3S. Sure, there's stuff that I miss on the day to day that I use a hell of a lot more than you'd think. Not having facial unlock, even the horribly inconsistent 2D face unlock (that was on the Huawei P30 Pro), kind of sucks. Fingerprint recognition is fine, and the Magic 3S's implementation works OK, but it's just not as efficient or as versatile. The Magic 3S only supports Wi-Fi 802.11 a/b/g/n/ac, but not Wi-Fi 6, so you won't get the best or most efficient speeds.
There's also that chunky battery, which topped out just shy of 13 hours in my testing (slightly below Gizmodo US, which clocked up 13 hours and 15 minutes). The fast charging is excellent, enough that you can get a regular day's usage with about 10 minutes of charge depending on how hard you're going. And if the size of the screen isn't physically uncomfortable, it's a great device for regular browsing and scrolling: having such a tall screen makes sites and social media a pleasure.
It's well priced in Australia, too. If the camera is your biggest concern, the Pixel 3a is still a strong challenger. It'll get security updates quicker, and there's the Android 9/Android 10 issue to consider. But if gaming performance is what you want the most, it's hard to justify getting something like the Samsung S9+, the iPhone 8 or even something like the 5G Xiaomi Mi MIX. The Nubia's going to give you a bigger screen, a smoother experience with the 90Hz display, better performance (since it's the Snapdragon 855+, not the standard 855) and more RAM/storage out of the gate. There's even a headphone jack, which is an instant win for some people.
Image: Alex Walker (Kotaku)
The only real kicker is that ZTE — owners of the Nubia brand — hasn't rolled out Android 10 to the phones, and they'll never be as timely with their updates as the bigger brands. ZTE isn't officially banned from buying US-made components anymore, having paid a $US1 billion fine earlier in the year. But the Chinese manufacturer is still under close scrutiny from the US. If the trade wars flare up again and ZTE finds itself on the outer, that could be supremely frustrating for consumers, resulting in bizarre scenarios like what happened with the release of Huawei's Mate 30 Pro, a phone with excellent hardware and bugger all Google support.
So that's a red flag for many. Putting the politics aside for a moment, though, it's worth praising the Magic 3S for actually making a gaming phone enjoyable enough to live with. The gaming performance is obviously superb, but nobody uses their phones just for gaming, especially ones that cost close to $1000. I just wish the Magic 3S came in a form factor that was a little bit smaller. At least it'd fit in my pocket a little bit better, because nobody wants to live under the fear of a smashed screen.