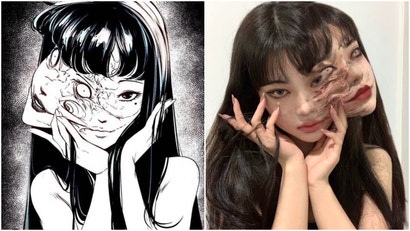 Image:
suksuk_z
Junji Ito has created some of the most striking horror manga ever made. His style is instantly recognisable and keeps inspiring cosplayers who aim to bring his nightmares to life.
As Kotaku previously posted (here and here), cosplayer Ikura has shown a master of Ito horror cosplay. 
But she's not alone. Twitter user Suksuk_z is the latest to do an unsettlingly accurate take on Ito's work. Below, she cosplays as Tomie Kawakami. 
かわかみ とみえ pic.twitter.com/2RQarloglM

— 周仙仙耶 (@suksuk_z) May 19, 2020
And Unholivera as Tomie: Again.
Tomie again ???? @junjiitofficial #伊藤潤二 #富江 pic.twitter.com/0SRmrkjvue

— 올리 / オリ (@unholivera) March 6, 2020
Among other talented cosplyers.
#富江 #伊藤潤二 #tomie #junjiito #コスプレ #cosplay #とみえ #川上富江 #自撮り #漫畫 #仿妝 pic.twitter.com/hOfMsPfcfp

— Ayuuro あゆろ (@AyuuroWgo32) May 31, 2019
私は富江です。
.
.
.
.
.#富江 #tomie #tomiekawakami #junjiito #junjiitocollection #伊藤潤二 #cosplay #cosplaygirl #cos #anime #コスプレ #kawakamitomie #かわかみとみえ @junjiitofficial pic.twitter.com/ohJPWhHF6E

— 伽慧子 (@kahoko60343112) May 20, 2020
コスプレ | 富江 × 第五人格
ㅤㅤㅤㅤㅤㅤㅤ
ㅤㅤㅤㅤㅤㅤㅤ
川上富江:ハス 
撮影:ふる
ㅤㅤㅤㅤㅤㅤㅤ#伊藤潤二 先生作品 #JACS #hs_cs pic.twitter.com/GqgSptt7Wb

— has????6/13エアコミックアーティナル (@LLodp1re) March 2, 2020
Excellent and scary.