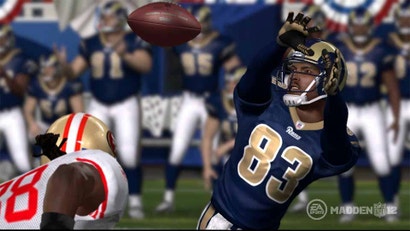 There are 32 players representing 31 teams — that's right, one franchise has no representative — in the second edition of Madden NFL's fan-voted playoff for the cover of the video game.
It's possible there may be two teams with no candidate in the contest before it's all over, too.
Befitting a promotion that opened as NFL free agency got underway earlier this month, there is a lot of intrigue in the pairings EA Sports announced moments ago. Madden's makers returned the choice of the cover to the fans for a second year, this time opening the balloting with a "play-in" round pitting two players from the same franchise against each other. After two weeks of voting on that, the main 32-player field has been chosen and seeded.
Yet since the play-in round began, some of those candidates have signed contracts with other teams. Wide receiver Brandon Lloyd, who prevailed as the St Louis representative (pictured above in his old threads), will play in New England next year. Therefore, he now represents the Patriots in this tournament.
That is in addition to his new teammate Rob Gronkowski, whom Lloyd will face in the first round of this tournament when voting opens in an hour on ESPN's SportsNation page. And Lloyd may not be the only one who changes shirts in this process. Tim Tebow, one of the favourites when the tournament was announced in early February, will almost certainly not be in uniform on opening day for the Denver Broncos, the team he currently represents.
That's because Denver signed Peyton Manning on Tuesday, an acquisition whose domino effect touches the NFL draft, numerous other free agent quarterbacks' futures, and, now, a video game.
EA Sports' Anthony Stevenson, Madden's top marketing officer, said that whomever wins out, the game will portray that player on his team at the time the game releases in August. Fans, Stevenson said, were aware that some of the candidates may leave via free agency, and if they chose them anyway, EA Sports would respect the decision and portray the man accurately. Only one time has Madden's cover featured a player in the uniform of a team he wasn't on at the time the game released: Brett Favre, who infamously unretired from the Green Bay Packers in 2008 and was traded to the New York Jets.
Seedings, Stevenson told Kotaku, reflect a player's overall appeal, the season he just had, and also the size of his team's media market and its overall fan base. In the opening round, players were matched both for the storylines the pairing would create as well as the natural rivalries, either between positions or teams, that they identified.
On the left side of the bracket, these are the matchups:
(1) Cam Newton (Carolina) vs. (16) LeGarrette Blount (Tampa Bay) (8) Antonio Gates (San Diego) vs. (9) Dwight Freeney (Indianapolis)

(4) Larry Fitzgerald (Arizona) vs. (13) Troy Polamalu (Pittsburgh) (5) LeSean McCoy (Philadelphia) vs. (12) Reggie Bush (Miami)

(2) Victor Cruz (Giants) vs. 15 Brian Orakpo (Washington) (7) Darrelle Revis (Jets) vs. (10) Stevie Johnson (Buffalo)

(3) Maurice Jones-Drew (Jacksonville) vs. (14) Sebastian Janikowski (Raida organisation) (6) Matt Forte (Chicago) vs. (11) Patrick Willis (San Francisco)
The winner of that half of the bracket will face the winner of this half:
(1) Aaron Rodgers (Green Bay) vs. (16) Joe Haden (Cleveland) (8) Marshawn Lynch (Seattle) vs. (9) Chris Johnson (Tennessee)

(4) Drew Brees (New Orleans) vs. (13) Matt Ryan (Atlanta) (5) Ray Rice (Baltimore) vs. (12) A.J. Green (Cincinnati)

(2) Rob Gronkowski (New England) vs. (15) Brandon Lloyd (New England) (7) Jared Allen (Minnesota) vs. (10) DeMarcus Ware (Dallas)

(3) Arian Foster (Houston) vs. (14) Tim Tebow (Denver) (6) Calvin Johnson (Detroit) vs. (11) Dwayne Bowe (Kansas City)
Voting begins in one hour on ESPN's "SportsNation" web page. This evening, Sportaku will return with an inside look at how the seedings were chosen, who EA Sports' Stevenson thinks can go all the way, and the risks posed by putting this honour up to the wisdom of the crowd.