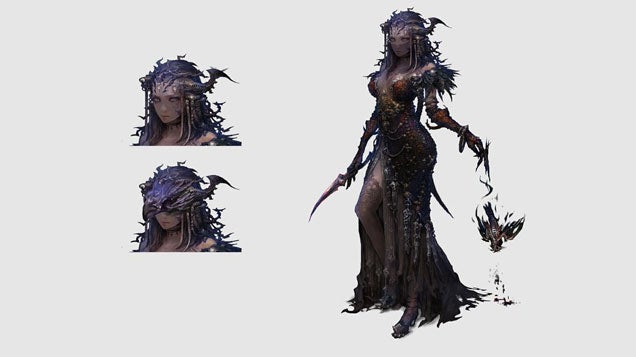 For all the toy lovers out there, yesterday was all about the new Skylanders game. But let's not forget about Prodigy either. The beautiful PC game that plays like a mashup of Activision's kid-friendly franchise and an intricate card game like Magic is still in development, but the toy fiends here at Kotaku have been relishing every opportunity to take it for a test spin.
French indie developer Hanakai was good enough to share some information with us about its newest character, a female magic-heavy fighter named Siren.
"Siren is a dark witch, the kind of character who could easily fall into the clichés of the genre, so we knew we had to create something unique," Jean Bey, Prodigy's creative director told Kotaku in an emailed statement. "I wanted a variation on the theme of the dark witch as it is known in the tale of Snow White — a Maleficent tailored for the Company of Thorns [one of the factions in the game]."
As Kotaku's resident toy addict Mike Fahey said when the game was first announced: "You officially have my attention, Hanakai Studio."
Prodigy blew past its original $US100,000 Kickstarter goal earlier this month. But if you want to snag yourself some extra goodies, you can still support the project for a few more days here.