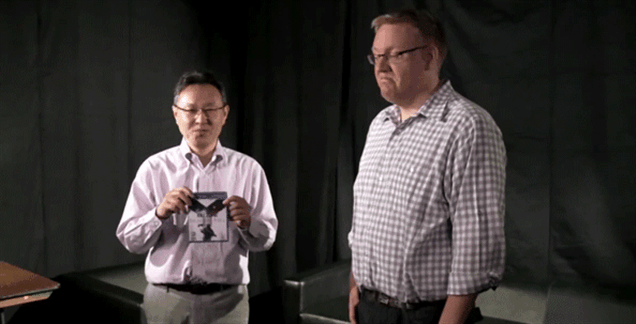 ---
Did Sony get hacked? Did someone working for their Twitch channel get a little frustrated with the camerawork at the PlayStation conference in Gamescom earlier this week? Are they mad about the whole Tomb Raider thing?
---
Hohokum came out for the various PlayStation platforms yesterday. The beautiful, weird exploration game isn't quite like anything else on the video game landscape lately. So it's really messed up that some folks who bought the game for the PS4 are saying that they can't play it.
---
Last time we saw The Order: 1886, we described it by saying it's like "shooting through an old movie". Sony just dropped a new trailer for the stylish third-person shooter during its Gamescom press conference that gives us all a new glimpse at some of its Tesla-inspired shooting devices, and they look pretty awesome.
---
Journey's coming to the PS4 later this year, along with cult PS3 fave The Unfinished Swan, according to a post on the official PlayStation blog. A line in the YouTube video's description mentions cross-buy: "Get more for your money with Cross-Buy – purchase this game for PlayStation 3 or PlayStation 4 and get the other version at no extra cost." We've reached out to Sony to confirm.
---
You'd be forgiven for thinking, if you watched today's Sony Gamescom conference, that Sony has already given up on the PlayStation Vita. Sony's 80-minute presser was all PS4, without much mention of its underappreciated handheld. In fact, the Vita even lost an exclusive — Tearaway — giving gamers one less reason to buy an expensive new portable system.
---
Millions of players might have been hoping — assuming, even — that all the work they'd put in levelling up and customising characters during the Destiny beta would continue on in the final version of the game. Nope. The characters built in the recent pre-launch test are being wiped, and all players will be starting fresh.
---
Last week, Electronic Arts announced a new online gaming service called EA Access for the Xbox One. It sounded like a promising deal to many gamers: a Netflix-style subscription service that would give people access to a library of EA games for $US5 a month, or $US30 a year. But many important questions remained unanswered.
---