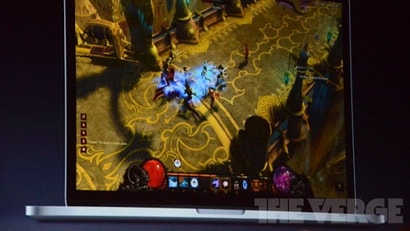 Apple revealed its next-gen MacBook Pro laptops at the WWDC keynote today, showing off Diablo III to demonstrate the machine's powerful new retina display.
Apple's newest laptop will have a 2880x1800 resolution, a quad-core i7 running up to 2.7GHz, up to 16GB RAM, GeForce Kepler graphics and 768GB internal flash storage. It will weigh a little over 2kg and ship with a 15-inch screen.
The graphics card is a GeForce GT 650M, which is certainly powerful enough to run games like Diablo III and even The Witcher 2, which is hitting Mac later this year.
The models that come with the retina display start at a whopping $2499 in Australia.
See Gizmodo for all the latest coverage.