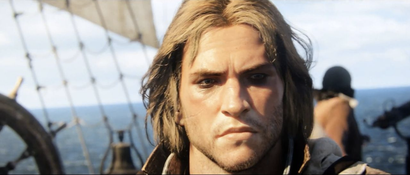 At first glance, Edward Kenway — the protagonist of the upcoming Assassin's Creed IV game — looks like your typical leading dude. Stoic, beefy, masculine. Nothing special, right?
Those with more astute observation skills over at Reddit, like zinadello13, noticed that Kenway bears a striking resemblance to Capt Edward Reynolds from Pirates. As in the (in)famous porn from 2005, which features references to the more family-friendly Pirates of the Caribbean: The Curse of the Black Pearl. Pirates is also the most expensive porn film ever made.
Here is Edward Reynolds, who is played by actor Evan Stone:
Kenway and Stone could practically be related!
Stone has also been featured in classics like Space Nuts, Batman XXX: A Porn Parody, A Mother's Love, and, naturally, Pirates II.
The resemblance is one thing, but the fact that Stone has also played a pirate, and in a porn film no less, makes it hilarious.
Under closer inspection, there is something kind of skeevy about Kenway's appearance, no?
So...is the lead character from Assassin's Creed 4 based on the lead character from Pirates, the best selling porno of all time? [zinadello13]