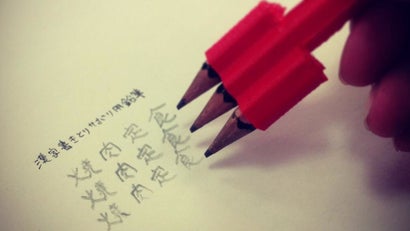 Homework sucks! It does. With the help of a 3D printer, one Japanese person figured out a way to make it go faster.
Japanese students (or students of Japanese, for that matter) have numerous writing exercises that force them to scribble the same kanji characters over and over again. It's rote memory.
Twitter user Hitoshinshi created this tri-pencil holder via a 3D printer, making it so easy to repeatedly write 焼肉定食 ("yakiniku teishoku" or "set meal with grilled meat"). Not sure why you'd do that phrase for homework, but whatever.
3D printers or not, cheating is bad. Don't do it!
書き取り練習用鉛筆を3Dプリンターで作って見た [ひとしんし2.0]