Apple is calling the new iOS 8, presented at WWDC 2014, its "biggest release since the launch of the App Store." And there's plenty of good news for gamers, including a new 'Metal' 3D engine for iOS with 10x the performance of the previous 3D rendering engine. Also: you'll now be able to share app/game purchases with up to six friends or family members. Let's take a look.
Metal: New 3D engine for iOS
Apple is claiming that their new Metal graphics engine offers 10 times the performance of the previous 3D rendering engine. One of the developers, from Epic, says that they were able to bring a full "console-level" engine to the iPad with full fidelity and full performance.
Metal reduces the overhead taken up by OpenGL and lets the game use more compute power from the A7 chip for faster end-user gaming.
EA, Unity, Crytek and Epic Games have also been working with Apple for a few weeks. They're bringing console-level games to iOS.
For casual game developers, there's a new piece of kit called SpriteKit with better light sources, field forces and per pixel physics.
Apple is also bringing SceneKit to the SDK for 3D scene rendering in casual games.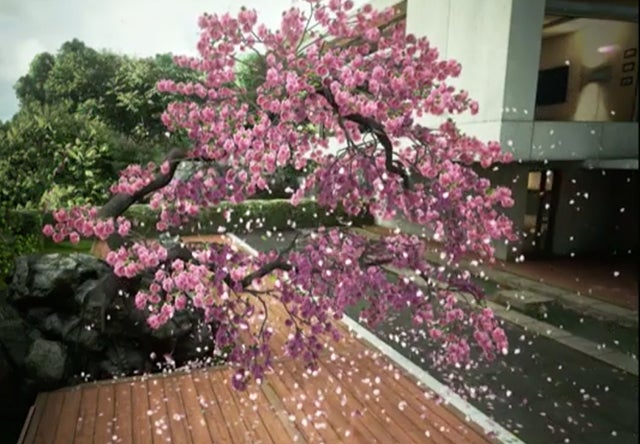 Family Sharing
Now you can share stuff with your family in a very easy way: family calendar, photos and locations (another nice feature that can end in very wrong places! Such fun ahead.)
You can share all the books, music and movie purchases between all the members of your family, up to six. Of course, you should use the same credit card for this to work. If you are a parent, don't worry, your kids will be able to use your credit card to buy the latest game, but you will always get a message asking for permission.
Healthkit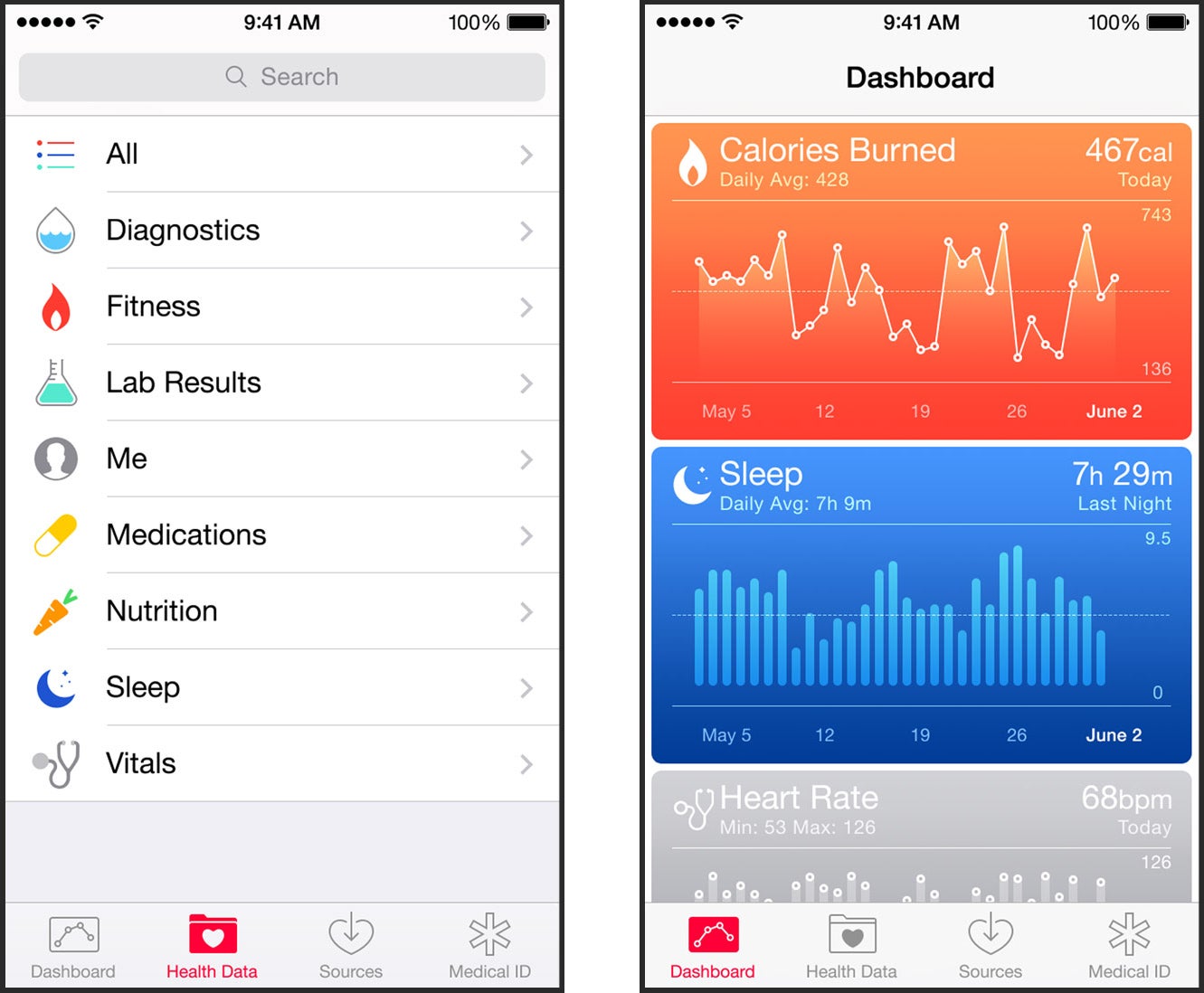 Apple has created a new API called Healthkit. Developers will be able to link applications to a central database of your personal health data.
Not only apps you can buy in the app store, but also your own doctor using specialised applications. So if you get your blood pressure or your sugar blood data from your hospital, your iPhone will receive a notification with this data. You will be able to store it privately and — even better — share this information easily with other doctors. Apple listed a lot of institutions that are jumping right in, including the Mayo Clinic.
Camera
Apple seems to be beefing up the camera software quite a bit. For users, iOS 8 will add Time Lapse photography, which is pretty cool. But the news may be on the developers' side, with a new camera application programming kit that will allow third-party apps to access the camera hardware in depth, with controls that weren't available before. This may indicate that the camera in the next iPhone may be beefed up quite considerably.
Photos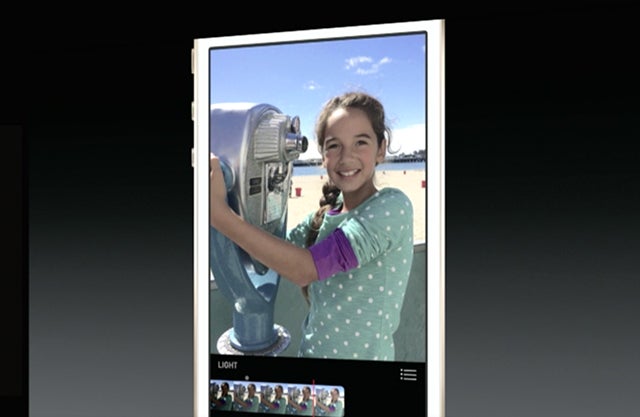 Apple has also included a new Photos app that includes new editing capabilities that can be used with a simple thumb gesture. It seems pretty easy to use, especially their equivalent to Photoshop's Shadows and Highlights, which uses smart image analysis to get pretty great results (at least in the demo.) The technology seems similar to the iOS version of iPhoto but with a much simpler interface.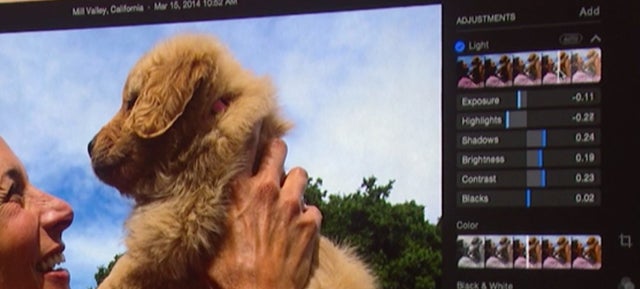 Apple is also building a OS X Yosemite version of Photos, fully built around Apple's cloud. This may indicate that they are going to phase out iPhoto.
All photos are now in the Cloud with 5GB of free storage. Other storage plans, Apple says, will start at $US1 per month. There's no more distinction between local and cloud. Your local device will act as a cache for what's on the cloud — hopefully with lots of security, so nobody can access your nudie pics.
Continuity
Continuity is one of the most exciting thing in iOS and OS X. It is a group of technologies that seamlessly integrates both Macs and iOS devices:
• Airdrop. Now works between Macs and iOS devices. You can drop a file from your Mac to your iPhone or iPad via Wi-Fi, seamlessly.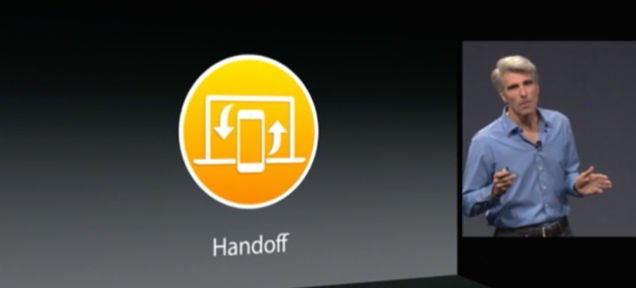 Handoff. Your iPad and iPhone are always aware of what you are doing on your Mac. So when you are working in a Mail message and you have to leave your workstation, you can pick it where you left it on your iPad or iPhone to continue that message right away. The iOS device will show a small icon on the bottom left corner of the lock screen. Clicking on an icon will open whatever you were working on before.
Text message integration. Now your iPhone can send text messages to your Mac, which is very cool feature. The iPhone would relay your regular text messages — sent by non-iOS phones — into the iMessage app in your Mac. All your messages, regardless of their origin, will be synchronised everywhere. I wish this worked with other chat services, like Gchat or Facebook, finally providing a centralised, seamless message centre.
Of course, it's yet to be seen how smooth this synchronisation is. Apple's troubled past history with iMessage is not a good sign.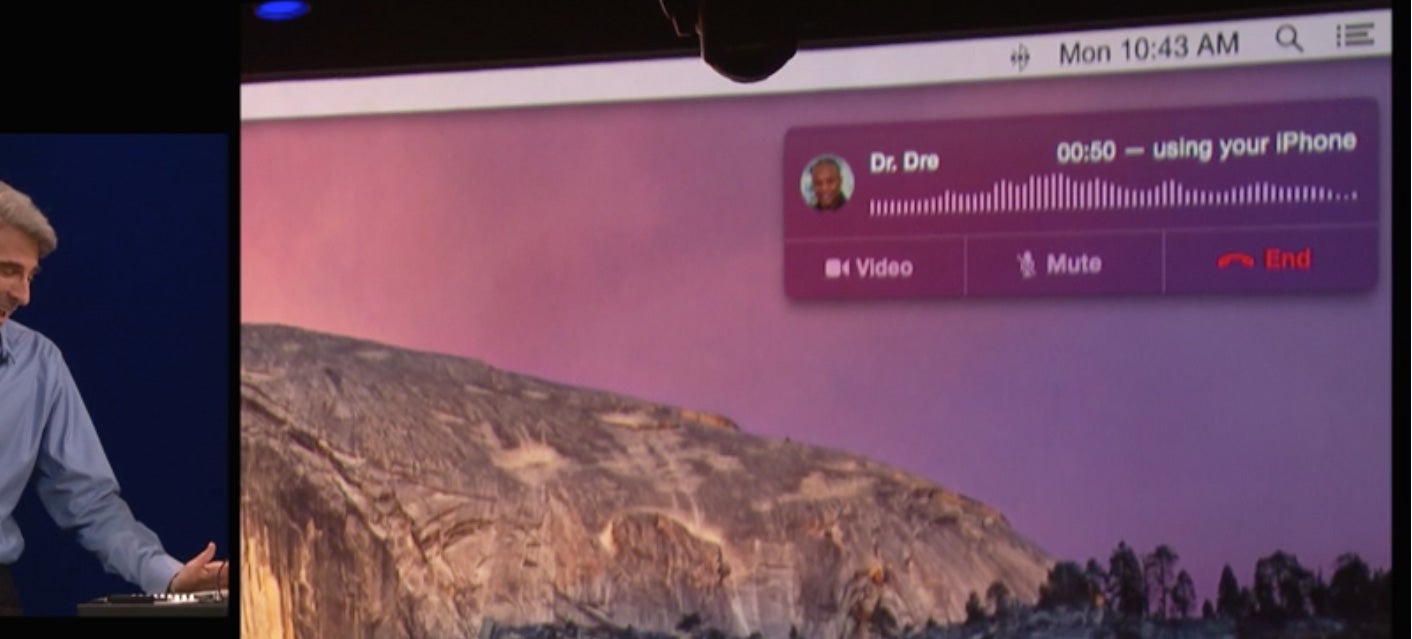 Call integration. Even cooler than the text messaging is that you can use your iPhone to relay voice calls to your Mac — complete with Caller ID — and call from your Mac through your iPhone. It's all automatic: the iPhone gets fully integrated and your Mac acts like a speaker and microphone.
New Notifications
Notifications have been enhanced. iOS 8 will provide a way to answer notifications without having to leave your app. You can also do the same from the lock screen, without having to unlock your phone.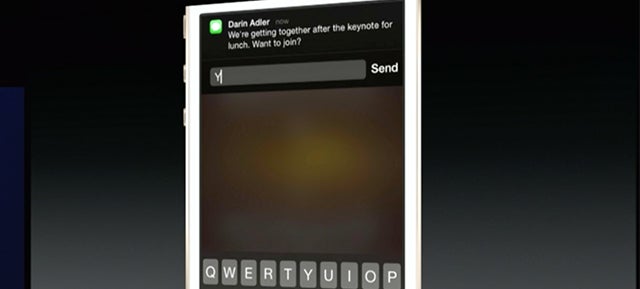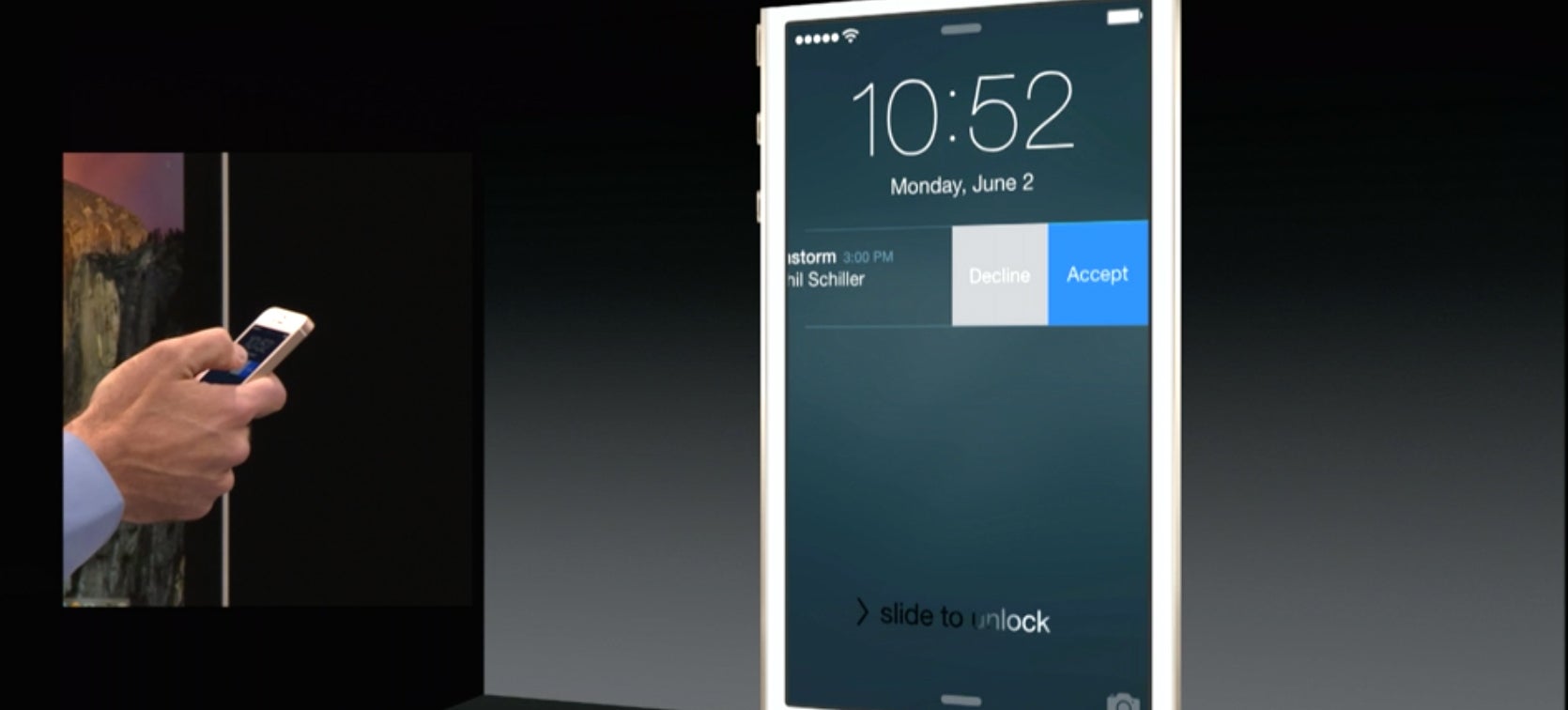 Accessing People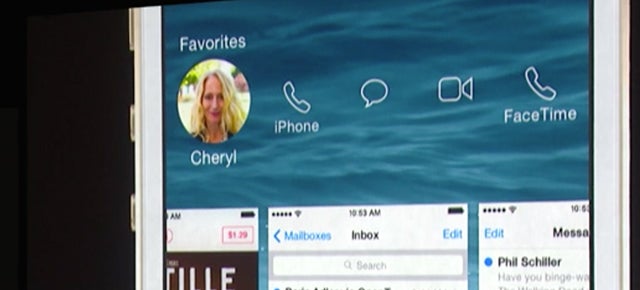 You can access people by double-tapping on the home button. The most contacted people will pop as a line of icons. Clicking on one face will give you access to all the forms of communication available: calls, chat, FaceTime or FaceTime Voice (I wonder if this could be extended to Whatsapp or Facebook Chat too — more on extensions below.)
Enhanced Mail
The new mail has a variety of enhancements, but the best is the gesture-based message manipulation, a la Mailbox. You can swipe to the left to delete a flag or reply to a message. Swipe a bit harder and you can easily delete the message itself. I'm a Mailbox fan, so I'm happy Apple has implemented a similar feature for email management.
Spotlight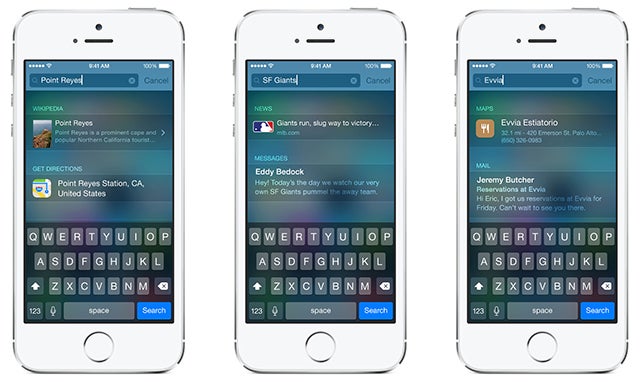 Spotlight — accessible from the lock screen and everywhere in iOS with a downward swipe — works across the entire iPhone to give you results, but it also now offers you suggestions of things that are not stored in your device. It will give you suggestions on:
• News • Wikipedia • Nearby places • iTunes store music, podcasts and movies • iBooks store • Suggested websites • Movie showtimes
Even apps that you haven't downloaded yet that are related to your search will be included (which may get quite annoying). It's similar to what Google does in Android or Microsoft on Windows Phone. It works in Safari too.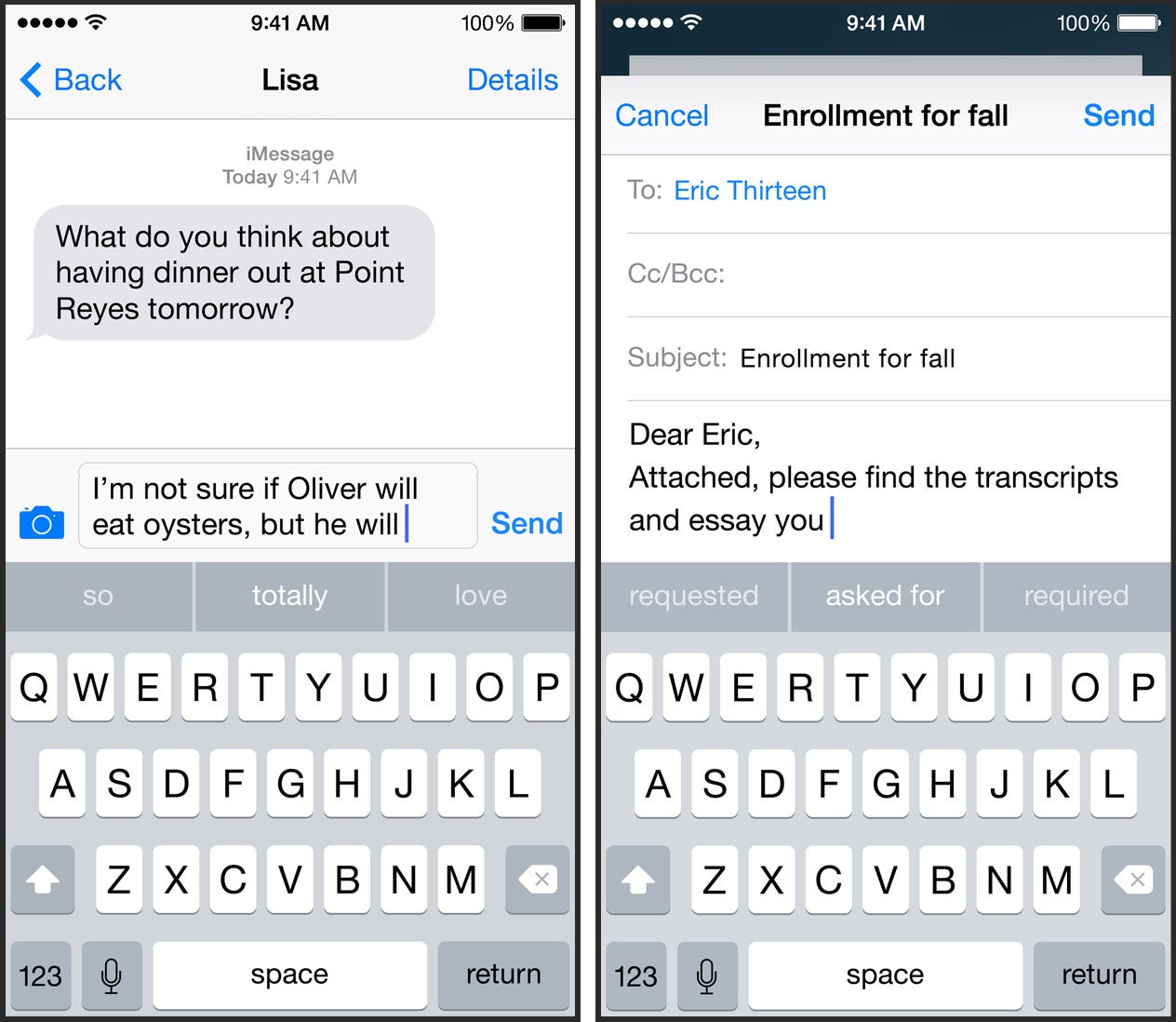 Keyboard Enhancements
One of our biggest frustrations with iOS devices has been the less-than-stellar stock keyboard. For the first time, Apple is renewing its keyboard. The new iOS finally supports context-sensitive predictive typing, giving you a list of words you can use to make your typing faster.
Quicktype has been revealed as a learns-what-you-say keyboard. So, if you happen to say "turn down for what?" a lot in your texts or emails, it will recognise when you start typing "turn down…" and offer to finish your phrase for you. This isn't new tech — Swiftkey users on Android devices will recognise this — but now Apple's finally, finally made the iOS keyboard a little less frustrating.
Apple claims it learns from the writer, learning how you write. It's so sensitive that it knows who you are talking to and adjusts the suggestions accordingly — it will suggest more formal language when talking to your boss or colleagues, and it will suggest a less formal language when you are talking with a friend, based on your previous communications. It learns constantly.
Apps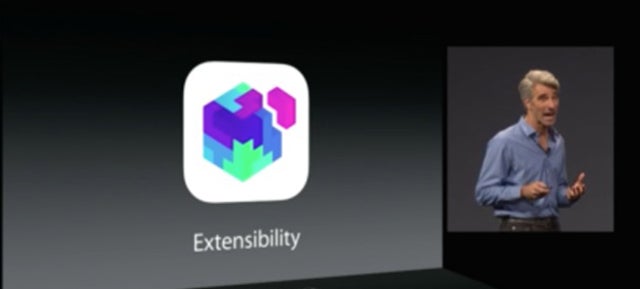 Until now, Apple has had very stringent rules about how apps can run in iOS. Apps have always run in "sandboxes" so they can't talk to each other. Apple is finally loosening this restriction so that apps can work together.
In short, Apple is expanding its support of extensibility, so that apps will be able to offer services to other apps. The extensions still live within sandboxes, but other apps will be able to reach in. For example Pinterest will be able to offer sharing to the system, or you you might be able to use VSCO filters directly from the photos app.
Admittedly, Apple is being a little vague about how this extensibility might work, but it's a pretty dramatic shift in posture from before.
Many prayers were answered when Apple announced that iOS 8 would support third-party keyboards. That means you folks complaining that Swype doesn't work on iPhone, don't need to complain anymore. This, in addition to the new native keyboard functionality means that typing on iOS device just got a lot better.
It is worth noting, however, that third-party keyboards have been around a while — sort of. SwiftKey appeared in iOS 7 earlier this year, although it was inside of a note-taking app. The new update means that you can take your keyboard of choice anywhere in the operating system now, and that is a beautiful thing.
Touch ID is now going to be a lot more usable. In iOS 8, it works alongside third-party apps. So, for example, if you wanted to log into a finance app, you just use your fingerprint, rather than having to remember a password.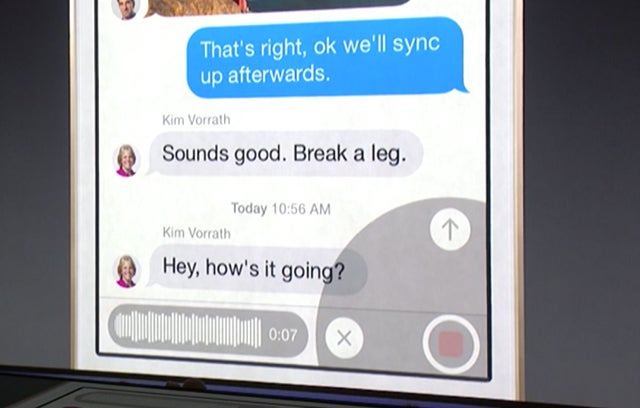 iMessages
You can mute particular conversations now, which will be very convenient. Another cool feature is the ability to share your location on a conversation by conversation basis, and for limited times.
You can send audio and video messages in iMessages too. Like SnapChat, the messages self-destruct. But unlike SnapChat you can select not to destroy the messages and they take a long time.
You can listen to audio messages sent via iMessage from the home screen. Just take your phone to your ear to listen, no touch required. The same to reply.
Group chats are the worst, but Apple is making them a little less bad in iOS 8, by giving you the ability to leave them.
Siri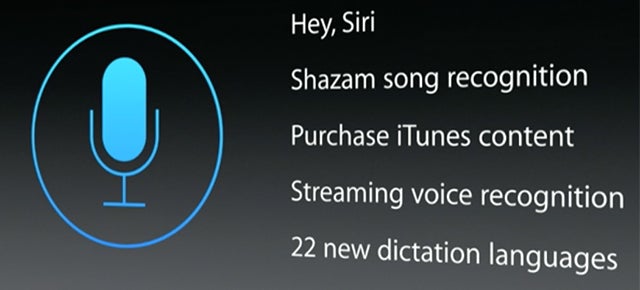 Siri has been updated to listen constantly. When you plug it into your car, for example, you just can say "Hey Siri" and it will activate automatically — without you touching the home button at all.
Another good addition is the integration of Shazam: Siri will now be able to recognise songs on the spot without opening that horrible app. It will also let you buy a new song from the results screen.
As rumoured, Siri will be getting Shazam song recognition in Apple iOS 8 so that figuring out what you're listening to is as easy as holding down your home button. This is faster, increasing the likelihood that the song won't end before you figure out what it is.
Extensions
This is, by far, the best feature of iOS: Like in OS X, Apple is now allowing app developers to provide extensions for iOS. Developers will be able to add services that other applications can use. An app will be able to use some other app's photo editing software, for example. Or maybe post to Pinterest using a Pinterest extension. For the user, this will be transparent: When you install any app, if it has any extension services, they will become automatically available.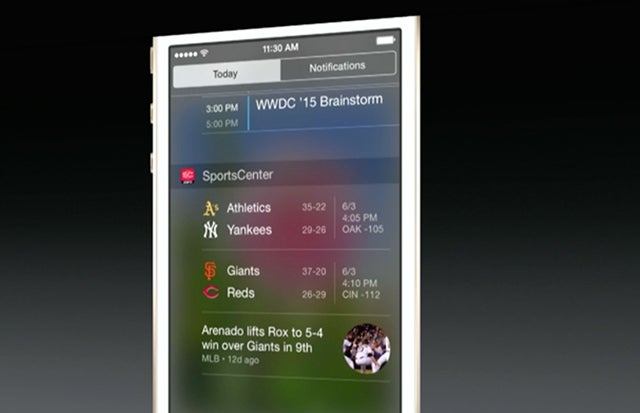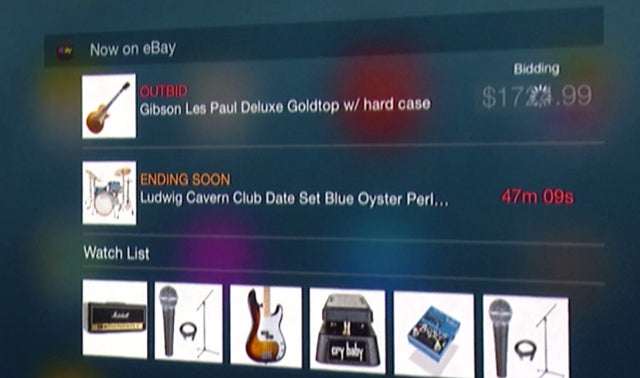 Apps will be able to offer widgets too, at last. Apple showed an eBay widget that allows for direct bidding on watched auctions.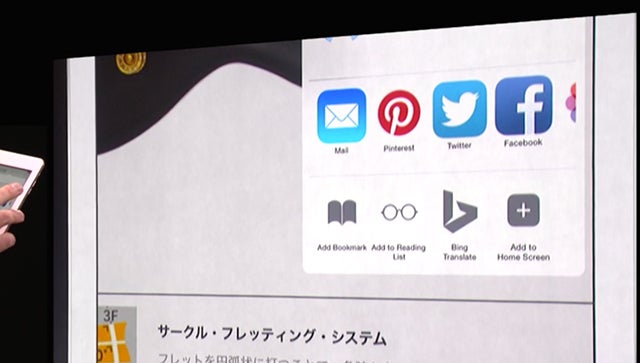 You will be able to extend Apple's Safari with other extensions too. Here's an image of how Bing Translate works within Safari. You can even extend the iOS itself, adding custom keyboards.
All these extensions run, according to Apple, with a lot of security layers so the user is always in control and no software can grab any information (without permission.)
Touch ID
Touch ID is a great idea, but it was pretty useless until now. Third-party apps will now be able to use Touch ID for authorisation. You will be able to use your thumbprint to access your account through your bank app.
Widgets
Apple has finally made its Notification Center functional. Now, you can include info-packed and function-packed widgets right in your Notifications screen.
The new widget functions are part of iOS's new, overall extensibility, but here your apps have been moulded into Notification Center-friendly form. For instance, if you have the eBay app, you'll be able to bid directly from your Notification Center. And as with everything else in your Notification Center, the layout is more or less totally customisable. You can pick and choose which apps get their widgets displayed and rearrange them as you see fit.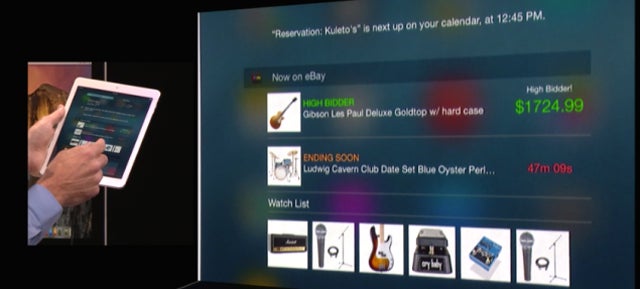 As far as we can tell, it doesn't seem like you'll need to enter a passcode to action the fairly extensive functionality of iOS's new widgets. Depending on which applications you choose to include, it could be a bit of a problem. Everything from purchases to private communications could be on the display. This seems like a big factor for Apple to have overlooked though, so hopefully there will be another layer of permissions we have yet to see.
Of course, all this is something that's been an Android staple for ages, and Apple is just barely catching up to the pack. But there's been a major void in iOS functionality as far as the Notification Center was concerned, so its about damn time we see Apple remedy one of the biggest drawbacks in the iOS ecosystem — with widgets and extensions in general.
iCloud Drive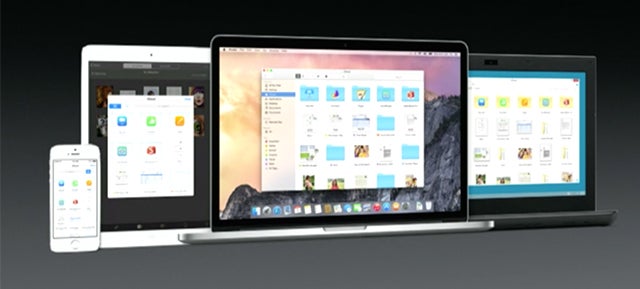 Of course, apps will be able to access iCloud Drive to enjoy the same "continuity" as Apple apps. A third-party application like Sketchbook will be able to save changes to documents automatically to your cloud, so now every bit of data from every application would be available across iOS devices and Mac (provided the developer uses this feature, of course.) It works with Windows machines too.
Enterprise Features
The new iOS has plenty of features for companies and corporations, Apple says. It supports new tools for device management by IT departments, it makes it easy to share documents through central company clouds, and it shows calendar availability when making appointments.
Availability
The iOS 8 update will be available in late 2014.
---
More Breaking Apple WWDC 2014 News
• Apple WWDC 2014 Live Blog: Follow All The News As It Happened • How To Get iOS 8 Right Now
• Mac OS X Yosemite: Everything You Need To Know • iOS 8: All The New Features For Your iPhone And iPad Explained
• Sorry, But Your iPhone 4 Just Became Obsolete
• Apple's HomeKit Is An iPhone-Powered Universe Of Gadgets • iOS Health: All The Important Data About Your Body In One Place • Apple Is Turning Your Mac Into A Phone • Apple's iCloud Drive Takes A Swing At Dropbox