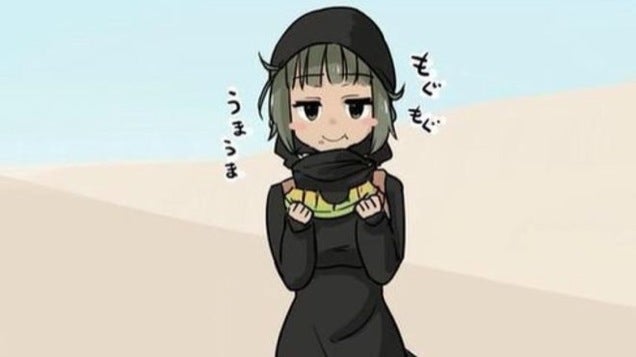 If there's one way to stand up to ISIS, I guess, it's with memes. This past January, Japanese Twitter users uploaded images Photoshopped with anime as a way to defy ISIS.
Picture: BBC
Around that same time, net users on Japan's largest bulletin board 2ch created ISIS-chan anime girls (which were, perhaps, inspired by Tumblr images dating from late last year).
The BBC (via IT Media) recently did a story on how Anonymous was "ramping up efforts to tackle sympathisers of the Islamic State group on Twitter". Their method, the BBC reported, was to flood ISIS-friendly accounts with anime girls.
Hey @BBCWorld @BBCNewsbeat That is our operation. We are the greatest / huge cynics. not Hacktivist. Therewith Google bombing team. Pls link

— ISISちゃん 普及bot(公式) (@isisvipper) July 22, 2015
However, Japanese Twitter account ISIS Vipper is claiming responsiblity and is targeting ISIS-friendly Twitter accounts Anonymous previously uploaded to a Pastebin. These accounts have been allegedly spreading propaganda.
As ISIS Vipper points out, there are rules about using ISIS-chan, such as not insulting Islam, not posting gore and not posting pornography as well as being respectful to Muslim beliefs and the victims and hostages.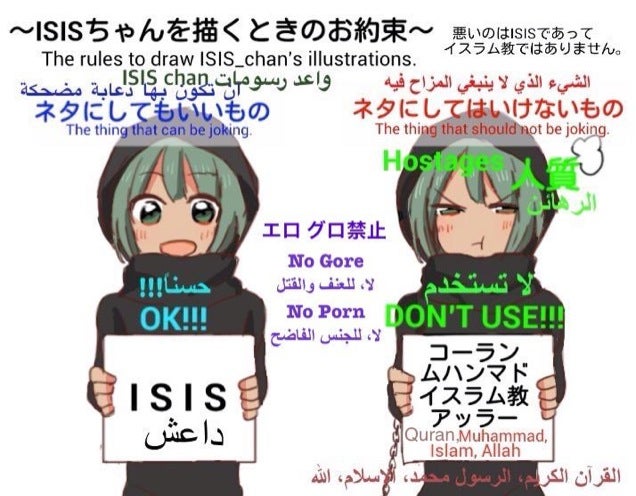 Pictures: isisvipper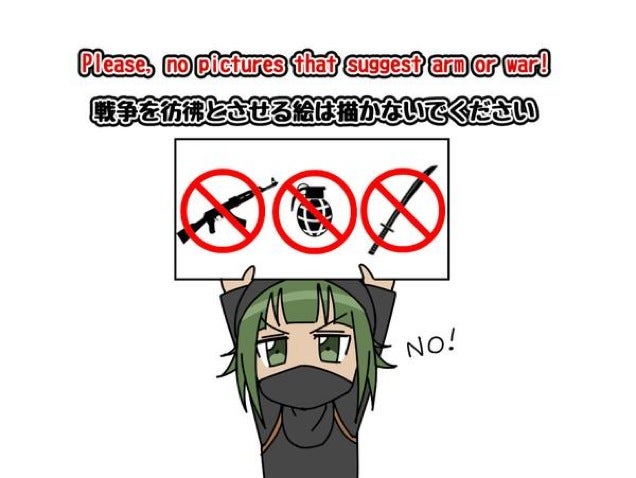 Pictures: aylan7x
The idea is that ISIS-chan, with her cute anime looks and love of melons, neutralises the horrific ISIS images circulating online. The ISIS Vipper "team" says it "disrupts" ISIS propaganda.
The Japanese Twitter account is uploading photos like this by spamming commonly used ISIS themed hashtags.
This is about message control and battling propaganda and fear with memes by reducing ISIS to anime characters. To some, it might come off as trivial, making light of a horrific events and making them "cute". Maybe it is. Or, perhaps, this is the only way for some to exercise control.
@MeLectable @HugBoxNinja @GenKnoxx rororor We are designed as content which disrupts to the ISIS propaganda through "enjoy" and "easy" way.

— ISISちゃん 普及bot(公式) (@isisvipper) June 23, 2015
@woeischinchila MOE/

Ain't she a beautiful sight... #ISISchan

ISISちゃんからの手紙

@Mehless @BRAIX3N ISIS-chan a run for her melon. Demand melons! #ISISchan #ISIS #ISIL #daesh #ISIS_chan #ISISちゃん #IS pic.twitter.com/ywIo8BSHqm

— ISISちゃん 普及bot(公式) (@isisvipper) May 16, 2015

@AMS_4301 やっぱ、ISISちゃんでしょ pic.twitter.com/hBFgC2mxQ7

— MS-06S ザクⅡ (@FoxQbee) July 13, 2015

メロンを寝て待つISISちゃん

plz? @takkazura @shotabukkake Just need melons. Demand! #ISIL #ISISchan #IslamicState #داعش #الدولة_الإسلامية #الدولة pic.twitter.com/T0XNK5yNbS

— ISISちゃん 普及bot(公式) (@isisvipper) May 19, 2015

The Japanese text reads: "You thought this was going to be a gruesome image? Too bad! It was ISIS-chan."