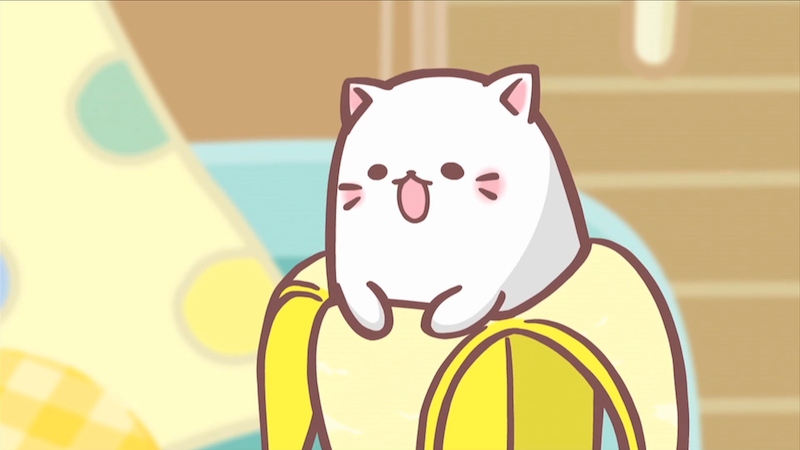 A new anime about a "strange cat" that is also a banana is proving popular among Western adults. It is called Bananya and is best characterised as slice-of-life-meets-annoying-plush-toy. Bananya is a combination of the words "banana" and "nyan", the Japanese version of the Western "meow". Originally a mascot for stationary company Q-Lia, the fruit-feline hybrid Bananya now stars in an eponymous anime series, which first aired on July 4. Likely, Bananya's anime treatment by studio Gathering is due to the plush toys' celebrity among kawaii fans worldwide (the anime was crowdfunded last March).
That celebrity, apparently, extends to the new show. Anime fans on Twitter and Reddit are professedly very into it.
honestly bananya is so cute and im so happy and relaxed watching it i wish it was full 20 minutes episodes tbh

— ʅ( 少)ʃ (@nynfia) July 18, 2016
definitely watching an anime about a cat in a banana wtf

— Lady V (@ladyMKV) July 18, 2016
bananya is still best anime ever
people who says otherwise don't get it. pic.twitter.com/RfSpd2sxTt

— A R I I (@Arisapocky_chan) July 18, 2016
Bananya was born when a cat head burst out of a hanging banana. The episodes follow the strange cat's daily routine, which includes sleeping, watching television and incessantly meowing. His dream, the first episode explains, is to become a "trendy chocolate-covered bananya". OK, dude. Go for it.
Amazingly, Attack on Titan's Yuki Kaji, who plays protagonist Eren Jaeger, stars at Bananya himself. Picturing Kaji repeatedly mewing into a microphone after his performance as the vengeance-fuelled Titan-killer is just perfect. Acclaimed actor Ebisu Yoshikazu narrates over Kaji's cat sounds.
Episodes are, thankfully, only three minutes long. Frankly, I don't know how much more nyaning I could take.